Bowdoin National Wildlife Refuge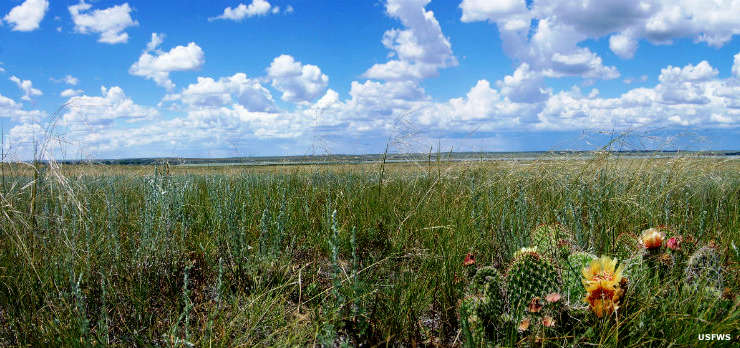 A view on Bowdoin National Wildlife Refuge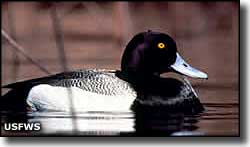 Located about 7 miles northeast of Malta in Phillips County, Montana, Bowdoin National Wildlife Refuge occupies some 15,551 acres in the Milk River Valley. This is typical prairie pothole countryside: a mix of grassy uplands and depressional wetlands left behind by the retreating glaciers at the end of the last Ice Age. Lake Bowdoin itself (5,459 acres) is actually an oxbow of the ancient Missouri River from the days when the river flowed north and emptied into Hudson Bay, before the time of the glaciers. Today, the main channel of the Missouri is about 70 miles to the south and the river now flows east, then south.
Bowdoin NWR was designated in 1936 as an important nesting, resting and breeding habitat for migratory waterfowl and other birds. Contained on the property is 7,226 acres of saline and freshwater wetlands. The remainder of Bowdoin NWR is comprised of short and mixed-grass native prairie and planted dense nesting cover with shrubs. In the early years, water levels would often drop precipitously in this area because, on average, the region only gets about 12" of precipitation per year. One of the first things done by Fish & Wildlife was to build a system of dikes and ditches to more easily hold back spring runoff and control water levels. Then funds were shifted toward the Bureau of Reclamation construction project at Fresno Dam in trade for 3,500 acre-feet of water annually from the Milk River System to help maintain water levels in the NWR.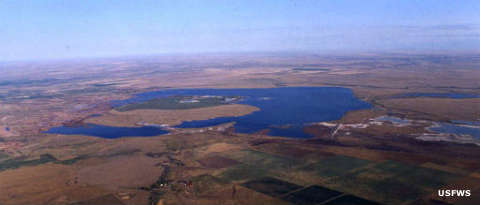 An aerial view of Bowdoin National Wildlife Refuge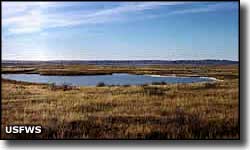 Bowdoin National Wildlife Refuge attracts thousands of ducks, Canada geese, colonial-nesting water birds (like American white pelicans) and grassland songbirds in season. More than 260 species of birds have been documented here, along with 26 species of mammals and numerous amphibians, reptiles and fish. Bowdoin NWR also sees threatened species like piping plover, bald eagles and the occasional peregrine falcon.
Bowdoin NWR offers a 15-mile auto tour route and a 0.4-mile universally accessible foot trail with an overlook and photo blind at the Display Pond near refuge headquarters. The auto tour route encircles Lake Bowdoin and is open unless bad weather forces its closure. Foot access is allowed almost everywhere on the refuge except along the railroad right-of-way and where otherwise posted. The best time to visit is during the spring and fall migration seasons. Camping and fires are not allowed on the property.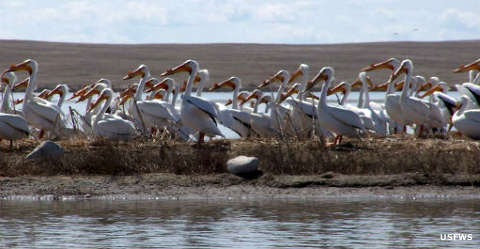 White pelicans at Bowdoin National Wildlife Refuge
There are designated hunting areas at Bowdoin National Wildlife Refuge where waterfowl and upland game bird hunting are allowed during the appropriate state hunting seasons. Be aware that there are refuge specific regulations also. Among them: hunters are required to check in and out at the refuge headquarters. Trapping and big game hunting are not allowed on the property. As far as fishing goes, Lake Bowdoin is too alkaline to support any populations of sport fish.
Refuge staff also manage the Bowdoin Wetland Management District (7 waterfowl production areas and numerous grassland and wetland easements spread across 3 counties) in addition to the Black Coulee, Creedman Coulee, Lake Thibadeau and Hewitt Lake National Wildlife Refuges.
Bowdoin National Wildlife Refuge
US Fish & Wildlife Service
Photos and maps courtesy of the US Fish & Wildlife Service