Superior National Forest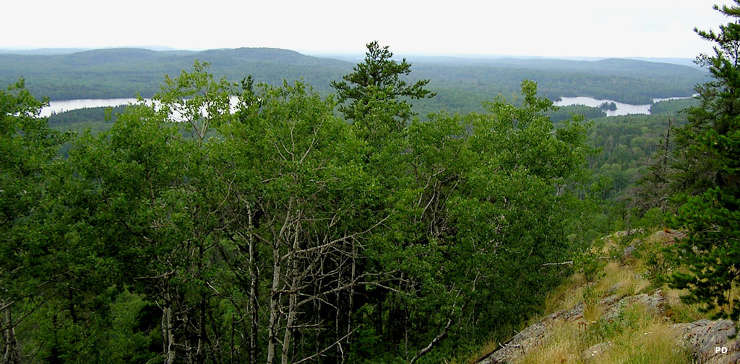 View from the top of Eagle Mountain, in Superior National Forest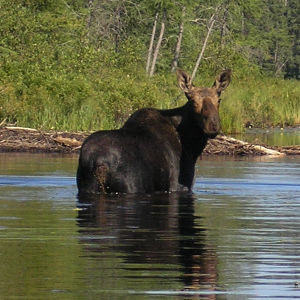 A moose in the forest
Superior National Forest is a 3.9-million-acre property located in the Arrowhead region of northern Minnesota. Contained within the forest is the popular Boundary Waters Canoe Area Wilderness. Almost 450,000 acres of the forest is under water.
The landscape is part of the Canadian Shield, rock that was formed perhaps 3.9 billion years ago during the Archean Eon. The volcanic eruptions that formed the surface rock we see now originally occurred deep beneath an ancient ocean. That bedrock formed the heart of the Laurentian Craton and it has finally become exposed to the atmosphere by eons of erosional forces. The most recent massive erosional event was the Ice Age that ended about 12,000 years ago. The glaciers of that time scraped off the surface materials of the area and left the naked granite exposed. The glaciers also essentially leveled the land, leaving today's surface of rolling hills and locally dramatic cliffs but never varying more than a few hundred feet in elevation.
Highest point in Minnesota is Eagle Mountain in the Misquah Hills. The Misquah Hills lie along the Laurentian Divide, that line that separates the watersheds of the Great Lakes and Atlantic Ocean from Hudson Bay and the Arctic Ocean. In the western parts of the forest are some areas of silt left behind in the fluctuations in water level of Glacial Lake Agassiz about 10,500 years ago. Some of the lakes we see today are remnants of that ancient lake but most of today's water surfaces cover potholes left by the glacial scrape.
There are more than 1,300 miles of cold water streams and about 950 miles of warm water streams in the forest. The area is home to moose, deer, black bear and gray wolf, the last natural holdout of the gray wolf in the lower 48 states.
The highest natural point in Minnesota is marked by a brass plaque on Eagle Mountain. 15 miles away is the lowest point in Minnesota, on the shoreline of Lake Superior. The summit of Eagle Mountain is only a couple hours hike from a parking area but portions of the trail enter the Boundary Waters Canoe Area Wilderness and permits are required there.
The forest is managed for multiple uses, including logging, mining and recreation but about one-quarter of the forest is official designated wilderness area where only human-powered recreation is allowed.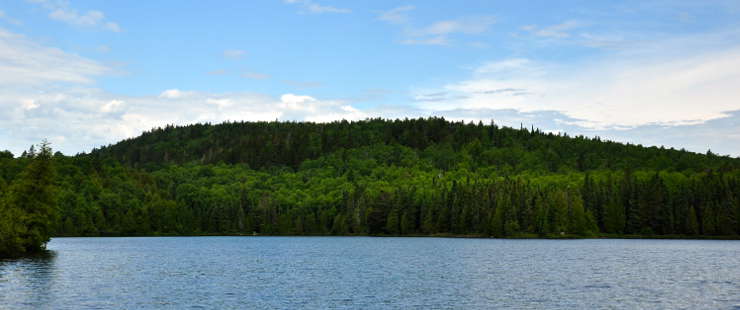 Eagle Mountain, 2,301', Highest natural point in Minnesota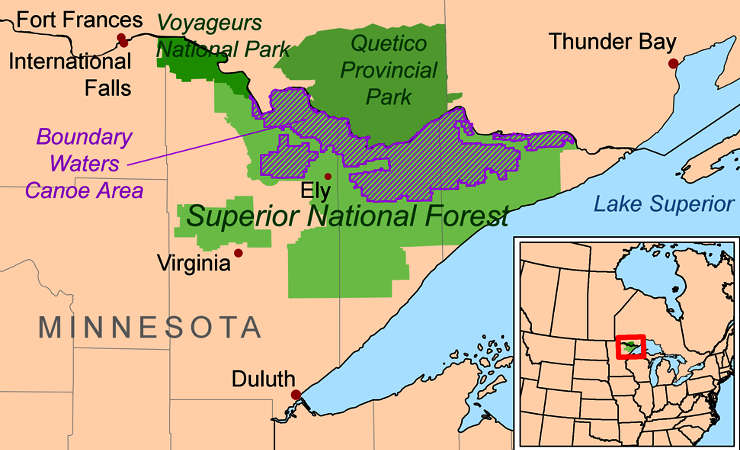 Superior National Forest
US Forest Service