Antietam National Battlefield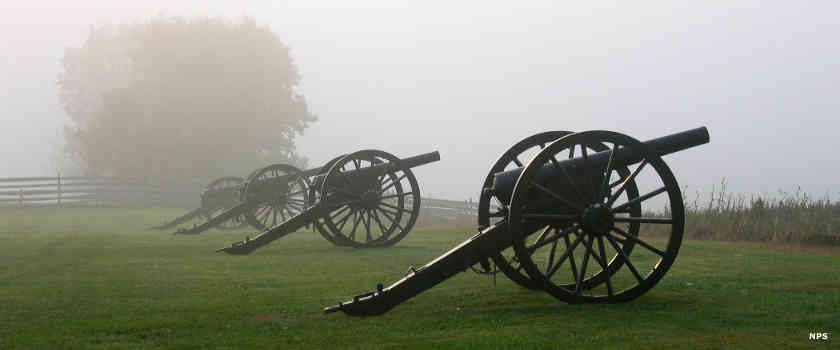 Cannons lined up in the fog at Antietam National Battelfield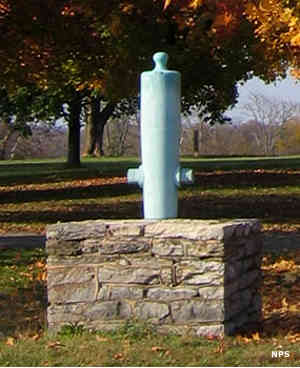 A cannon mortuary monument
Antietam National Battlefield marks the site of the single bloodiest day of the Civil War. 23,000 men were killed, wounded or went missing during 12 hours of combat on September 17, 1862. It was General Robert E. Lee and his Confederate Army of Northern Virginia's first attempt to invade the North and they were stopped at Antietam. President Lincoln felt it was such a victory for the North that he issued his preliminary Emancipation Proclamation a few days later. Until then, the war had been just about preserving the Union but with that speech, it also became about ending slavery.
The battle began early in the morning of September 17 with an attack from the Union Army of the Potomac on the north flanks of the Confederates. An hour later came an attack from the northeast, an hour later another attack from the east. About the same time came Union General Ambrose Burnside from the southeast, intent on crossing Antietam Creek via (what is now known as) Burnside Bridge. None of these attacks was successful enough to allow Union Major General George B. McLellan to advance his center front lines so a significant number of his Union troops were never in the fighting.
Both sides took the day after the battle to gather up their wounded and take care of their dead, and that night, the Confederates pulled back across the Potomac River, back into Virginia.
Antietam was notable for six generals being killed in the fighting, three from each side. In addition, twelve more generals were wounded, six from each side. Those were the days when a brigadier or major general would often lead his troops into the fray. Scattered around the National Battlefield are cannon mortuary monuments sited at the places where the different generals were either killed or mortally wounded. The battlefield also presents several different memorials, each built by the states from which the different units of the Union Army came.
The park was first established by the War Department in 1890 and was transferred to the National Park Service in 1933. The National Battlefield site now encompasses some 3,230 acres, 2,472 acres of which are owned by the National Park Service. Adjoining the park are the 11.36 acres of Antietam National Cemetery.
The park is open during daylight hours all year round but the visitor center is only open from 9 am to 5 pm, every day except Thanksgiving, Christmas and New Year's Days when it is closed. The Antietam National Battlefield Visitor Center was built in 1962, part of the 10-year Mission 66 plan to repair and expand National Park Service infrastructure in time for the National Park Service's 50th anniversary of founding in 1966. The park is day-use only.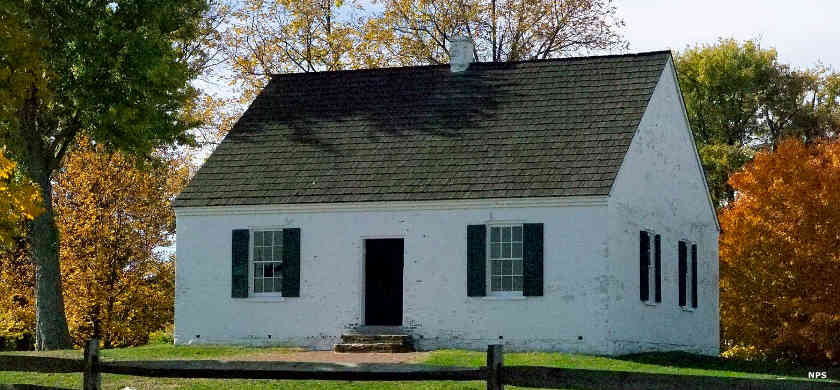 Dunker Church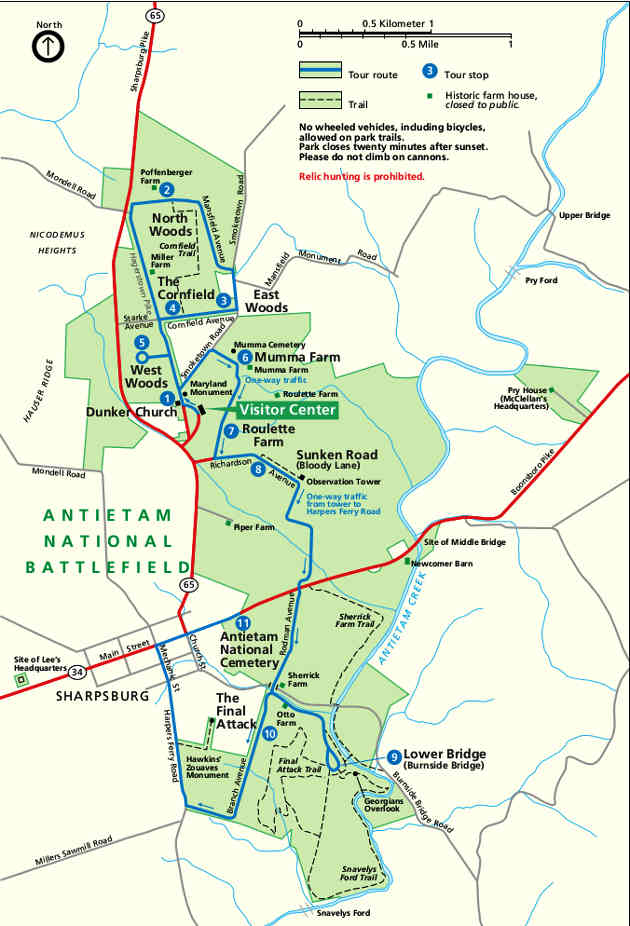 Antietam National Battlefield site map
Antietam National Battlefield
National Park Service
MD Highway 65 North of Sharpsburg

,

Sharpsburg

,

MD

21782
301-432-5124

Photos and map are courtesy of the National Park Service