Sunkhaze Meadows National Wildlife Refuge

Sunkhaze Meadows National Wildlife Refuge from the air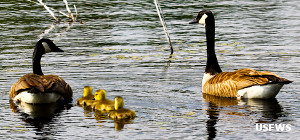 Geese and goslings
There are three units that comprise Sunkhaze Meadows National Wildlife Refuge: the Sunkhaze Meadows Unit (11,485 acres), the Benton Unit (334 acres) and the Sandy Stream Unit (58 acres).
US Fish & Wildlife acquired Sunkhaze Meadows in 1988 to preserve and protect the second largest peat bog in the State of Maine. The meadow is crossed by Sunkhaze Stream and its six tributaries, making a veritable wetland wonderland surrounded by a rich and diverse upland. There are five bog domes on the property, areas of thick layers rich in live and decomposing peat moss. Because the primary water input is rainwater and rainwater contains almost no nutritional "supplements" for a plant community, only those kinds of plants that can efficiently capture what little nutrients do exist can survive. That means large amounts of peat moss mixed with baked-apple berry, cranberry, sheep laurel, leatherleaf, black crowberry, dwarf huckleberry, cotton grass, pitcher plant and stunted black spruce.
The Benton Unit is a mix of small riparian habitats, grasslands and a mix of young softwood and hardwood forest. The Sandy Stream Unit is a mix of former cultivated fields, floodplain forest and upland shrub. Among the three units the refuge provides habitat for at least three invertebrates, two mollusks, three plants and seven birds considered either threatened or endangered by the State of Maine.
The refuge is open from half-an-hour before sunrise to half-an-hour after sunset every day of the year. Hunting and fishing are allowed subject to state regulations and seasons.
The Sunkhaze Meadows Unit is located about 14 miles northeast of Bangor, about 3 miles east of the Penobscot River. The property is bounded on the south and east by a county road, on the north and east by Stud Mill Road and on the west by a railroad line. The Benton Unit is about 5 miles northeast of Waterville in the town of Benton. The property is just east of the Sebasticook River, bounded on the west by Route 39, on the south by Albion road and on the east by Fowler Brook. The Sandy Stream Unit is in Unity, bounded on the south by Route 139 and by town-owned land, on the west by Prairie Road and on the east by Sandy Stream as it flows north to Unity Pond.
Sunkhaze Meadows National Wildlife Refuge is administered by the Maine Coastal islands National Wildlife Refuge out of an office in Rockland, ME.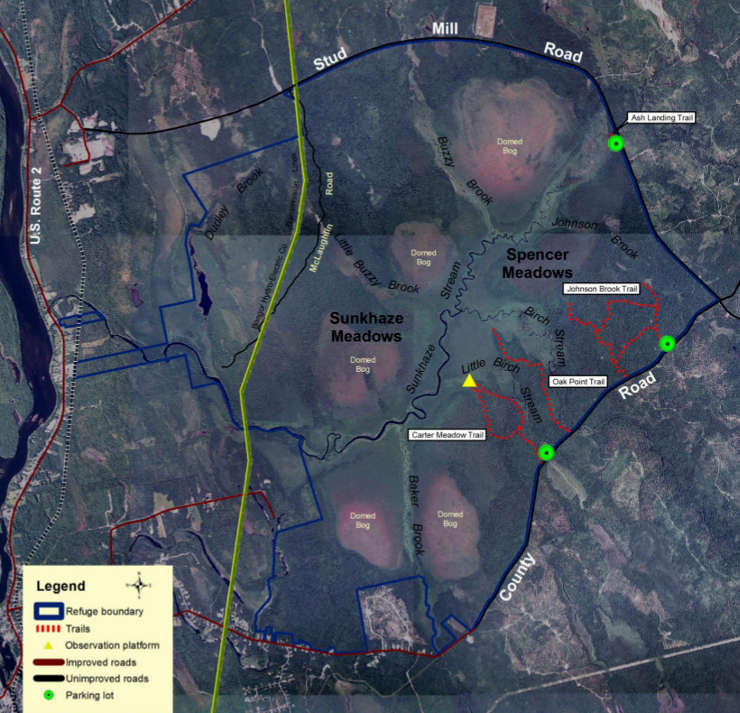 Sunkhaze Meadows National Wildlife Refuge

Photos and maps courtesy of the US Fish & Wildlife Service