Abraham Lincoln Birthplace National Historical Park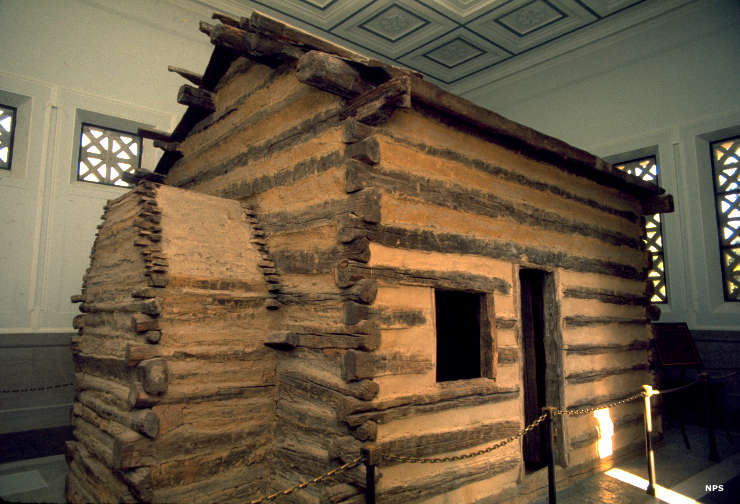 The reconstructed Lincoln cabin inside the Memorial Building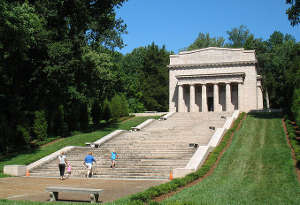 The Memorial Building
The Abraham Lincoln Birthplace National Historical Park preserves two sites where Abraham Lincoln lived as a child. His actual birthplace was in a one-room log cabin on Sinking Spring Farm and he lived there until he was two years old. Then his family moved a few miles to the north and he lived there on Knob Creek until he was seven.
The original log cabin he was born in was dismantled (and parts reused) sometime before 1865. A New York businessman bought the property in 1894 and built a reconstructed log cabin on the site using some of the logs from the cabin where the original logs were supposedly reused. Shortly thereafter, that cabin was dismantled and traveled around the country being erected and dismantled several times at different exhibition venues. Eventually, the Lincoln Farm Association bought the collection of logs and tried to reassemble it on the original site. That's when workers discovered the logs were mixed together with logs from several different cabins. At that point they bought a log cabin very similar to the original cabin and had it reconstructed inside the Memorial Building that was then in place on the site.
The Memorial building was designed by John Russell Pope in the Beaux-Arts neo-classical style. President Theodore Roosevelt laid the cornerstone in 1909 and President William Howard Taft dedicated the finished construction in 1911. The Lincoln Farm Association owned the property until it was transferred to the War Department in 1916 and became the Abraham Lincoln Birthplace National Park. It was then transferred to the National Park Service in 1933 and became the Abraham Lincoln Birthplace National Historical Park in 1939. In 1959 the property was renamed the Abraham Lincoln National Historic Site. The Knob Creek site was added to the park's definition in 1998 and both sites were designated a National Historical Park in 2009.
The Knob Creek site was added to the National Historical Park in 2001. That site also contains a replica cabin in addition to a historic 20th century tavern and tourist site. On the Sinking Spring Farm site is the Nancy Lincoln Inn, a privately owned property that has served visitors to the birthplace for many years.
The visitor center at the main section of the park is open in summer (late May to early September) from 8 am to 6:45 pm and the rest of the year from 8 am to 4:45 pm. The Knob Creek Unit is open to the public during daylight hours year round. There are no fees involved.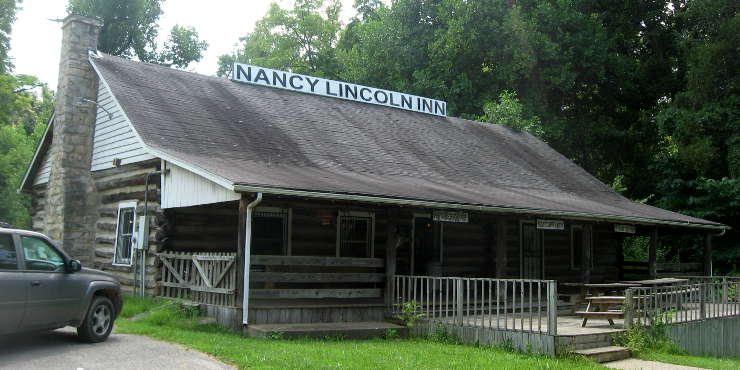 The Nancy Lincoln Inn
Abraham Lincoln Birthplace National Historical Park
Upper photo courtesy of the National Park Service
Upper left photo courtesy of Jamie Curio,
CCA 2.0 License
Lower photo is in the public domain