Papahānaumokuākea Marine National Monument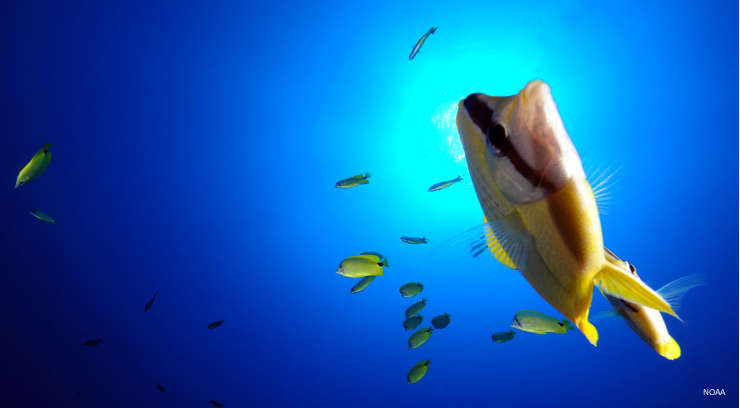 Underwater at Papahānaumokuākea Marine National Monument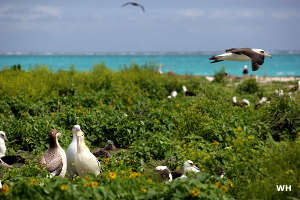 Papahānaumokuākea Marine National Monument is a 139,797-square-mile conservation property in the Northwestern Hawaiian Islands. The protected zone stretches from the island of Kauai to Midway Atoll and includes all the islands and seamounts in between. Larger than all US National Parks combined, Papahānaumokuākea Marine National Monument is the single largest conservation area on Earth. It was expressly created to preserve and protect an exceptional array of cultural and natural resources. Included in the Marine National Monument are the Midway Atoll National Wildlife Refuge and the Hawaiian Islands National Wildlife Refuge.
Governmental protection of the area began in 1903 with President Theodore Roosevelt and, over the years, six other presidents have increased the protections and areas under protection until President George W. Bush signed the proclamation designating Papahānaumokuākea Marine National Monument in 2006.
Papahānaumokuākea Marine National Monument is managed by a consortium of federal and state agencies including the National Oceanic and Atmospheric Administration, US Fish & Wildlife Service and the Hawaii Department of Land and Natural Resources. Papahānaumokuākea Marine National Monument became a UNESCO World Heritage Site in 2010. With critical nesting grounds for more than 14 million seabirds, Papahānaumokuākea is the largest tropical seabird rookery on Earth. Also protected on the property are habitats critical for many endangered and threatened species of birds, fish, sea turtles and marine mammals.
Currently, the National Monument is primarily used for research, education, Native Hawaiian practices, a small number of recreational trips and visits to historical sites on Midway Atoll. Fishing is limited to eight well-established local fishing ships only. The emergency trans-oceanic landing strip on Midway Island is open, too.
Papahānaumokuākea Marine National Monument

Large photos and maps courtesy of the National Oceanic and Atmospheric Administration
Upper left photo is in the public domain