Kealia Pond National Wildlife Refuge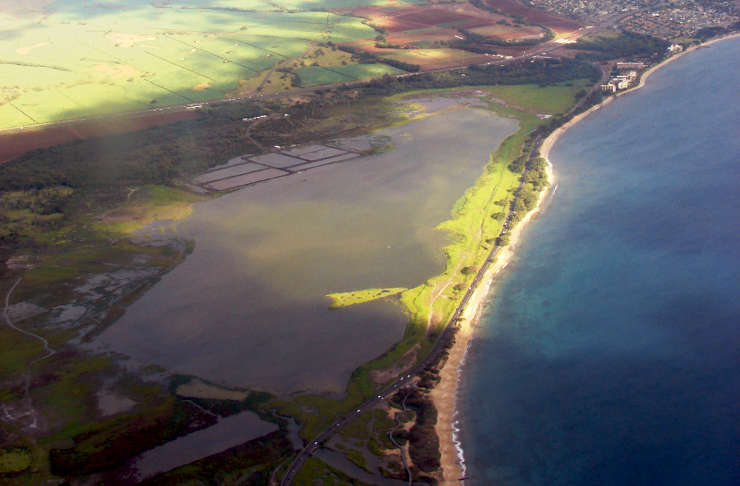 An aerial view of Kealia Pond National Wildlife Refuge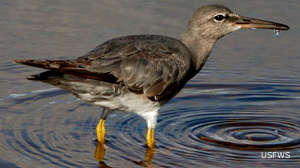 Kealia Pond National Wildlife Refuge is a 700-acre property on the island of Maui. Contained on the property is what remains of an ancient Hawaiian fishpond. During summer these days the pond shrinks to a freshwater marsh about 200 acres in size. During the wet winter, the pond grows to about 400 acres in size. Just to the west is another area of shallow pond and mudflats that are used by the birds when water levels are high but when the area dries in mid-summer, all bird activity shifts to Kealia Pond.
During World War II this area was used as a training site by the 2nd and 4th Marine Divisions. That area to the west was used as a runway for one of the first airports in the region in those days. These days, the area sees a pretty good population of migratory waterfowl from Alaska coming in for the winter. The refuge also sees regular visits from Hawaiian coots and Hawaiian stilts, both native Hawaiian species high on the Federal endangered species list.
This is a day-use only property, open to the public Mondays through Fridays from 7:30 am to 4 pm. There are times when areas are closed to access to protect nesting waterbirds. Visitor access is mainly along the tops of the Kanuimano Ponds levees: flat and easy walking. Though a bit bumpy the levee trails can also accommodate wheelchairs. Those ponds were constructed around 1970 as part of a catfish-rearing venture that ended in 1995. The ponds were restored by Fish & Wildlife in 2005.
The refuge biologist tends to conduct a bird census on the 1st and 3rd Thursdays of each month. On those days the walking trails might not open until after 9 am. The Kealia Coastal Boardwalk is also available next to the refuge along Maalaea Bay. It's across the road from Kealia Pond NWR and offers views of very similar wildlife along its beautiful and tranquil journey. The boardwalk encloses the bird sanctuary next to Sugar Beach and is open from 6 am to 7 pm daily.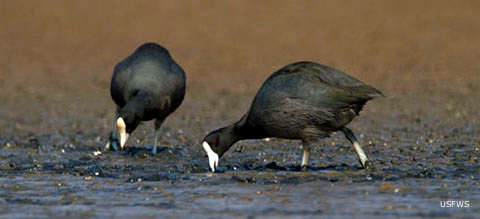 Hawaiian coots
Kealia Pond National Wildlife Refuge
US Fish & Wildlife Service
300 Ala Moana Boulevard

Room 3-122,

Honolulu

,

HI

96850
808-792-9400
Upper photo courtesy of Forest & Kim Starr,
CCA-by-SA 3.0 License
Other photos courtesy of the US Fish & Wildlife Service