Kalaupapa National Historical Park

Kalaupapa National Historical Park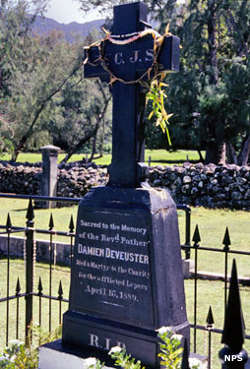 The grave of Father Damien
Kalaupapa National Historical Park is a 10,779-acre park preserving and protecting the former Kalaupapa Leper Settlement on the island of Molokai. No one knows when leprosy first appeared in the Hawaiian Islands but once it appeared (sometime in the 1830's), it spread quickly: the native Hawaiians had no immunity to it. In 1865, the Hawaiian Kingdom took steps to isolate those with the disease by arresting them and transporting them into isolation, first at Kalawao, then at Kalaupapa. Much as the precautions were taken to protect Hawaiian society, there are a couple tragedies involved in this. In order to construct isolated settlements, isolated property had to be cleared of any native Hawaiians resident there. The Kalaupapa Peninsula had been inhabited for more than 900 years and as much as it fit the definition of "isolated," the folks who lived there had developed deep ties to the land. They had to be removed and that caused upset all across Hawaii. Then those in the islands diagnosed with leprosy had to be transported to the isolated place and their living needs had to be taken care of. That caused yet more upset across the whole of Hawaiian society, upset that is still being felt today.
More than 8,000 people were confined to Kalaupapa between 1866 and 1969. There have been effective cures for leprosy since the first antibiotics were discovered in the 1940's and there are presently no active cases in Hawaii. But Kalaupapa continues to be inhabited by elderly sufferers of the disease and some of their descendants.
The colony gained fame when the Belgian priest-missionary Father Damien took up residence and began his mission of caring for the residents in the late 1800's. The Congregation of the Sacred Hearts of Jesus and Mary continued sending missionaries after Father Damien's death until the last priest, Father Joseph Hendricks, died in 2008. Father Damien was canonized as a Catholic Saint in 2009.
The site was listed on the National Register of Historic Places in 1976 and became a designated National Historical Park in 1980. To visit the park, Hawaii state law requires a permit. The only way to get a permit is to book a tour with Father Damien Tours (owned and operated by a resident of Kalaupapa). People who do not prearrange with Damien Tours will be denied access to the park. For many folks, getting to the park requires hiking an extremely steep 3.5-mile trail along the edge of the cliffs in and out. There is a commercial airport in the park (book with Makani Kai Air) and an outfitter who rents mules, too (Kalaupapa Rare Adventure, LLC). It is illegal to approach by boat within 1/4 mile of the shore without a special use permit.
As a restricted access park, there are no opening and closing hours: all access is controlled by Father Damien Tours. Tours operate Monday through Saturday except for Thanksgiving, Christmas and New Year's Days. Father Damien Tours offers tours of the Kalaupapa Settlement and of Kalawao. The rest of the Kalaupapa Peninsula is a treasure trove of ancient Hawaiian archaeological resources as the area has been virtually untouched and undeveloped since the establishment of the colony in 1866. There are hundreds of sites dating back up to 1,000 years.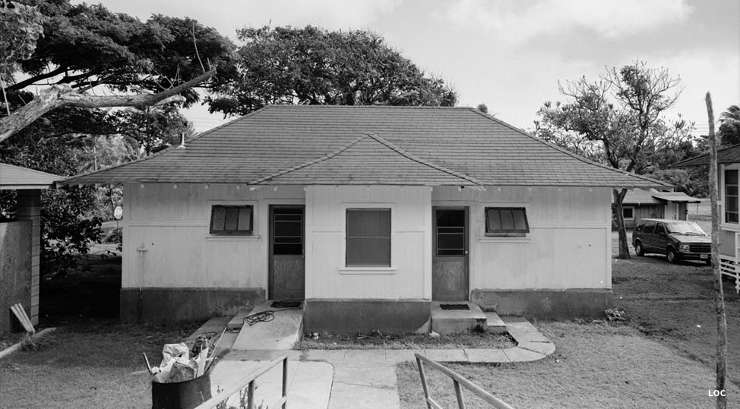 Fumigation Hall at Kalaupapa National Historical Park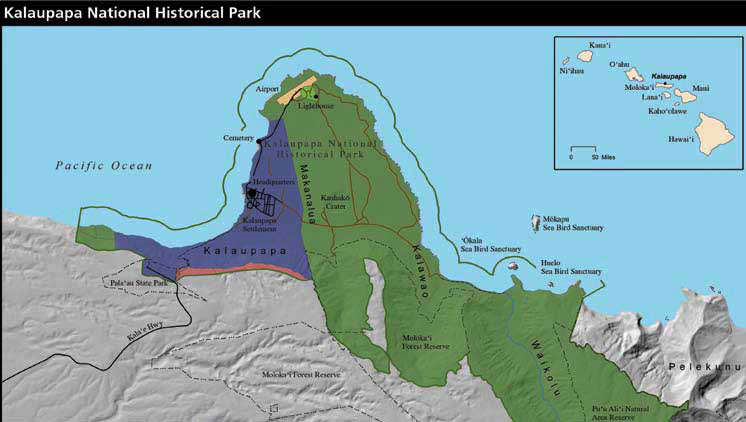 Kalaupapa National Historical Park
National Park Service

Lower photo courtesy of the Library of Congress
Map and other photos courtesy of the National Park Service