Hanalei National Wildlife Refuge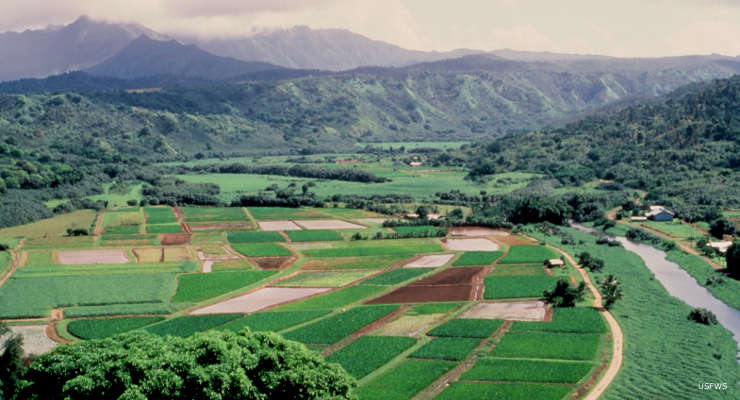 Hanalei National Wildlife Refuge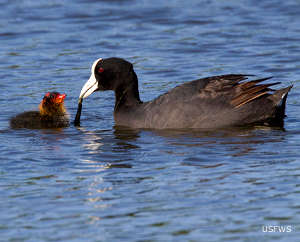 Hanalei National Wildlife Refuge is a 917-acre property located in the Hanalei River Valley on the north side of Kauai. The refuge is in a flat river valley ringed with steep wooded hillsides rising up to 1,000 feet. The area is world-renowned for the number and beauty of the waterfalls draping those hillsides. The average annual precipitation is above 75 inches, the average annual temperature about 73°F.
The Hanalei River flows north out of the mountainous center of the island to enter the refuge. Almost immediately, the river is diverted into east and west supply ditches which are used to irrigate about 180 acres of taro, about 90 acres of wet pasture and feed water into about 75 acres of water impoundments for the waterfowl the refuge is meant to support: the Hawaiian duck, Hawaiian coot, Hawaiian gallinule, Hawaiian moorhen and Hawaiian stilt, all endangered species of native waterbirds. Eighteen other species of endangered native birds have been reintroduced to the wild at Hanalei National Wildlife Refuge to make a total of about 45 bird species that are regularly seen on the property.
For human visitors, access to the wetlands and crop areas is closed. There is limited public access along a county river road. There are interpretive panels located at the Hanalei Valley Overlook, across the road from the Princeville Shopping Center.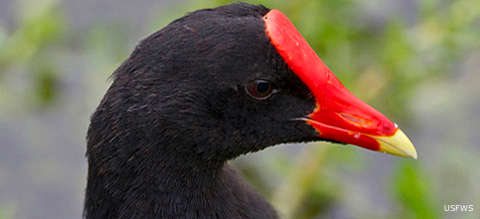 A Hawaiian moorhen at Hanalei National Wildlife Refuge
Hanalei National Wildlife Refuge
300 Ala Moana Boulevard

Room 3-122,

Honolulu

,

HI

96850
808-792-9400
Photos are courtesy of the US Fish & Wildlife Service