Hakalau Forest National Wildlife Refuge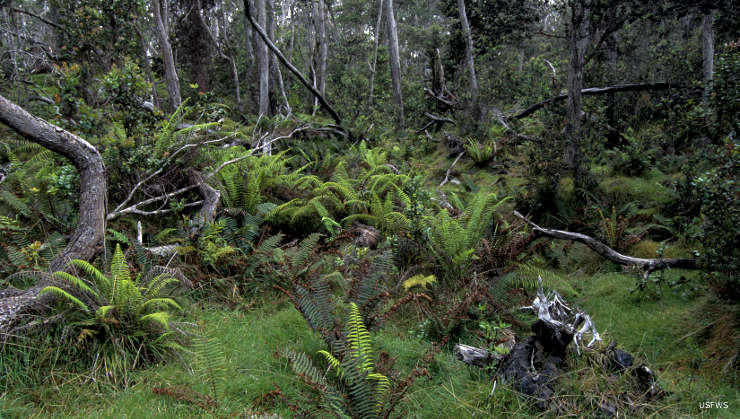 Hakalau Forest National Wildlife Refuge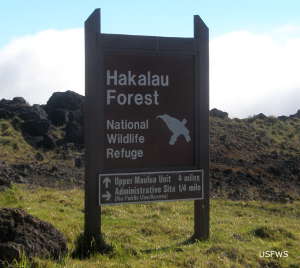 Hakalau Forest National Wildlife Refuge is a 32,733-acre property on the windward slope of Mauna Kea, Big Island of Hawaii. The refuge was established in 1985 to preserve and protect certain species of threatened and endangered plants and wildlife and their native rainforest habitat.
Elevations on the property rise from about 2,000 feet to more than 6,000 feet. Below 4,000 feet, the forest receives more than 250 inches of rainfall every year. Scrubby forest with bogs and fern patches dominate this area. Between 4,500 feet and 6,000 feet the rainfall averages about 150 inches per year. This is a zone where flowering trees form a closed canopy over the forest. Above 6,000 feet the annual precipitation averages less than 100 inches per year. This is the zone where early Euro-American settlers tried to establish farms and ranches by clearing the forest and planting the soil with the types of forage their imported animals were used to. Today, these areas are abandoned pastureland filled with non-native grasses and weeds. Refuge personnel have been working years to replant these areas in native species.
Visiting Hakalau Forest National Wildlife Refuge is not easy. Visitors are only allowed on the Upper Maulua Unit, every other division of the NWR being closed to the public so as not to disturb the many species of plant and wildlife endemic to Hawaii that live here. Access to Upper Maulua is permitted on Saturdays, Sundays and holidays from sunrise to sunset. Access is by reservation only, too. The drive to the parking area is 50 miles each way from Hilo or Kona, 4WD only. You could also tour a different area of the refuge in the company of one of a few commercial guides with a Special Use Permit or you could make a reservation and come to visit during National Wildlife Refuge Open House Week in October...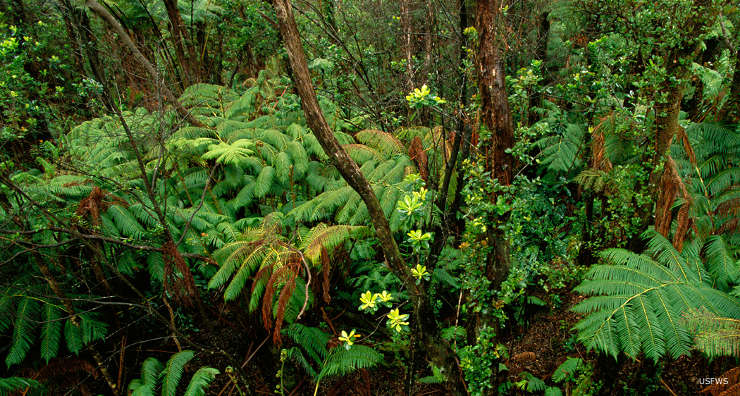 Ferns at Hakalau Forest National Wildlife Refuge
Hakalau Forest National Wildlife Refuge
Photos courtesy of the US Fish & Wildlife Service