Yulee Sugar Mill Ruins Historic State Park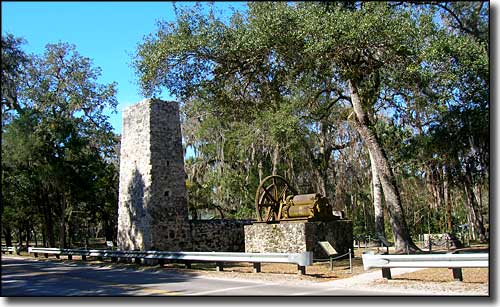 Yulee Sugar Mill Ruins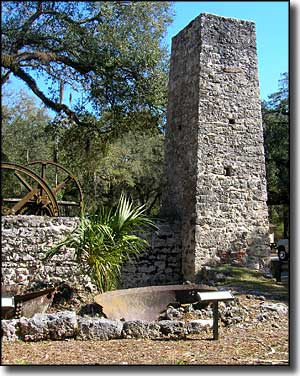 David Levy Yulee was an early Florida settler who also served as a member of the Florida Territorial Legislature and worked on the early drafts of the state constitution. After statehood, he served in the US House of Representatives and the US Senate.
In the Homosassa area he had a 5,100-acre sugar plantation. He built this steam-driven sugar cane squeezing-and-processing plant in 1851. It ran until 1864, the last few years of its life as a sugar products supplier to Confederate troops during the Civil War (it was in 1864 that a Union naval force burned his nearby home and while the mill wasn't attacked, it never reopened after that).
Today, all that remains of the enterprise is a 40-foot tall limestone masonry chimney, a cane press, some iron gears and several syrup boiling kettles used in the refining process. As you walk around the contraption you'll find several interpretive panels that discuss what you're looking at and how it all worked. The site was stabilized and renovated by Florida State Parks with some assistance from the National Park Service in 2006.
Yulee Sugar Mill Ruins Historic State Park is bisected by State Road 490 with the ruins on one side of the street and a group picnic area on the other side. To get there, turn west off US Highway 19 in Homosassa Springs on Yulee Drive and go about 2.5 miles to the park. If you miss the ruins right beside the road you'll probably also miss the large brown signs...
The park is open from 8 am to sunset every day of the year. The picnic pavilion has six picnic tables, available on a first-come, first-served basis. There are no fees involved.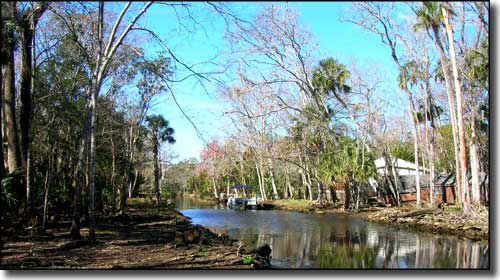 Yulee Sugar Mill Ruins is located beside this canal at the edge of Homosassa
Yulee Sugar Mill Ruins Historic State Park