William Bartram Scenic and Historic Trail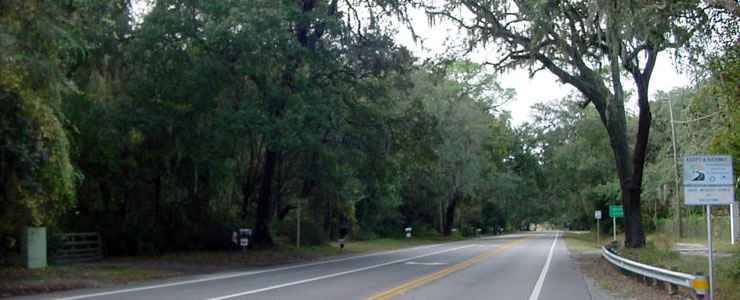 Passing through Orangedale
The William Bartram Scenic & Historic Trail is a 17.3-mile route that parallels the St. Johns River estuary in northeast Florida on State Road 13. This is a very scenic drive through the kind of countryside that makes Florida the subtropical paradise that it is: 300-year-old live oaks, hanging Spanish moss and lots of other jungle-type flora, bald eagle and osprey nesting high above, easy access to boating, fishing and hiking... The area offers abundant wildlife, natural landscaping and many scenic vistas of the St. Johns River.
You can hike and bike meandering trails beneath the live oak canopy and across hardwood hammocks and wetlands through small agricultural villages along the estuary. Trails parallel the whole length of the driving road, and offer sitting benches at various points where the sights and sounds can drown out the hustle and bustle of the modern world.
This window into "Old Florida" also offers remembrances of the plantation days with the many small citrus groves and gracious historic homes. There are numerous cultural destinations and parks along the St. Johns corridor that cater to a variety of interests, and offer plenty of accommodations and amenities for all who venture here.
William Bartram was a famous naturalist (some say he was America's first naturalist) who came to the area with his father in the 1770's and attempted to establish a citrus plantation here, beside the St. Johns River. Their timing was a bit off: they got caught up in the on-again, off-again wars between Spain, Great Britain and the United States. So as much as the citrus farming idea never really got off the ground, William Bartram did do a lot of exploring for the King of England, visiting with the natives everywhere he went and collecting and cataloging plant and animal specimens. His published journals sold well, too, and influenced many people down through the years... people like the early American naturalist poets Emerson, Wordsworth and Coleridge.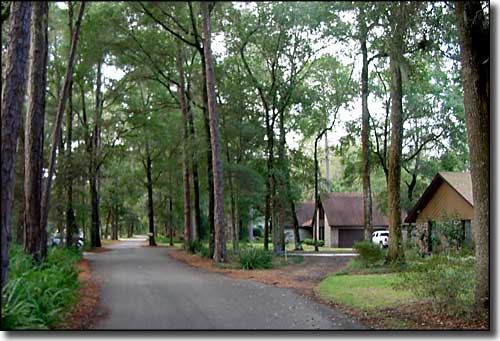 Fruit Cove
Photos courtesy of Byways.org