St. Johns National Wildlife Refuge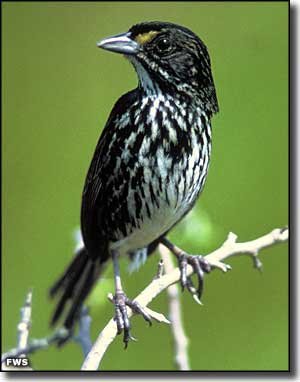 The Dusky seaside sparrow,
now extinct
St. Johns National Wildlife Refuge was established in 1971 specifically to preserve and protect the now extinct Dusky Seaside Sparrow, as directed by the Dusky Seaside Sparrow Recovery Plan. The effort eventually failed with the tiny bird being declared extinct in December, 1990. At that point, the critical habitat at St. Johns National Wildlife Refuge was delisted from the recovery plan. Since then, the purpose of the Refuge has been adjusted to one of providing protection for other species of animals that frequent this area that are also listed on the state and federal Threatened and Endangered Species Lists.
The 6,194-acre property is broken into two parcels. The Highway 50 Unit is located off State Road 50, just west of Titusville and against the banks of the St. Johns River. The Beeline Unit is located west of Interstate 95 and south of State Road 407.
From the date of establishment in 1971, the primary focus of work at St. Johns National Wildlife Refuge has been to restore the marshlands to their original condition (what it was like before DDT was first sprayed on the marshes in 1940). At this point in time, the primary management activity is restricted to prescribed burns in an effort to maintain and improve the habitat. As a result of US Fish & Wildlife Service efforts, the area now supports a healthy population of black rails, a very secretive species of bird. Other species of birds that are seeing a comeback in the area include the eastern meadowlark and the loggerhead shrike. This is an area where you might also find the threatened indigo snake and the gopher tortoise.
St. Johns National Wildlife Refuge is administered as part of the Merritt Island National Wildlife Refuge Complex and is closed to the general public, although plans are in process that might open the Refuge up to some compatible, wildlife-oriented uses.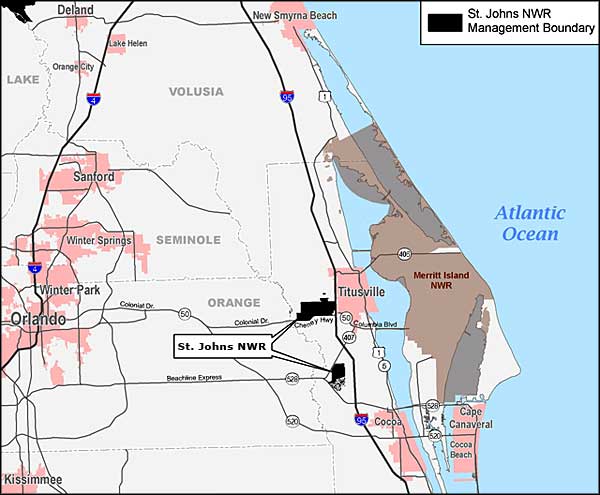 Merritt Island National Wildlife Refuge Complex
US Fish & Wildlife Service
Photo of Dusky Seaside Sparrow and location map courtesy of the US Fish & Wildlife Service