Rainbow Springs State Park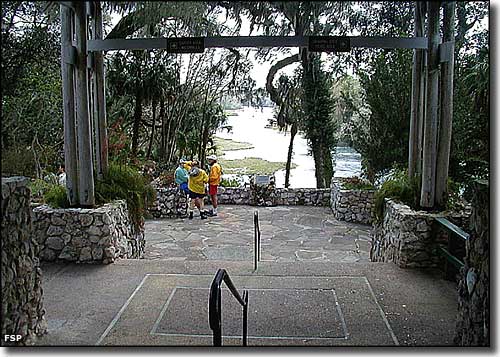 On the steps outside the entrance to the visitor center at Rainbow Springs State Park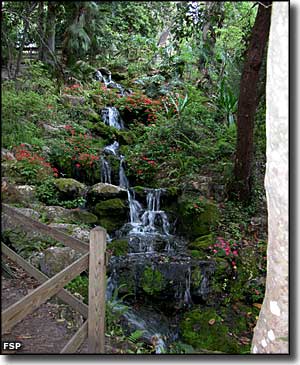 The fourth largest fresh water spring in Florida, Rainbow Springs has seen human use for about 10,000 years. From the 1930's to the 1970's the property was the site of a popular private attraction. Several different owners held the property over the years, among them Holiday Inn and S&H Green Stamps. But it was the lack of a nearby Interstate Highway and the development of the larger theme parks in Orlando that finished attractions like Rainbow Springs. In 1990, local citizens convinced the state to buy the property. It was also local citizens who did most of the repairs. In 1995, it was opened to the public as Rainbow Springs State Park.
Today, the three man-made waterfalls in the park have been rebuilt and the gardens around them replanted. The old paths were built before the days of ADA guidelines and tend to be steep and rocky. Rainbow Springs State Park offers camping, kayaking, canoeing, picnicking, hiking/nature trail, swimming, snorkeling, tubing and wildlife watching. Swimming and snorkeling in the Head Springs Area is limited to the marked area on the water. Canoes and kayaks can be launched in the Head Springs Area but tubes are restricted to the Tuber Entrance area, 1.4 miles downstream.
5.6 miles long, the Rainbow River flows from the head springs to the Withlacoochee River at Dunellon. Along the way is a wonderland of moss-draped cypress, river otters and flocks of wading birds. Rainbow Springs is a National Natural Landmark and the river is a designated Outstanding Florida Water and aquatic preserve.
The campground has 60 full-facility campsites (3 are pull-through RV only, 7 are walk-in tent only, 50 are for RV or tent). Eight of the campsites are universally accessible, as are some of the restrooms. There are three restroom facilities with showers, a playground, central RV dump station and a camp store. Maximum RV length: 40 feet. The campground offers easy access to the river for fishing purposes and canoes are available for rent at the campground. Only registered campers are allowed to launch canoes or kayaks at the campground.
Rainbow Springs State Park is open for day use from 8 am until sunset every day of the year. The Tuber Entrance to Rainbow Springs State Park is open from April through September, from 8 am to 5 pm. However, tubers are not allowed to enter the river after 2:15 pm to ensure that they are able to complete their float and be out of the park by closing time.
To get there: The Head Springs, Tuber Area and Campground each have separate entrances. The Head Spring Entrance is on the east side of US Highway 41 about three miles north of Dunellon. The Tuber Entrance is about 1.1 miles north of County Road 484 on SW 180th Avenue Road. The Campground Entrance is located about 1.4 miles north of the Tuber Entrance on SW 180th Avenue Road. (The map below explains it better.)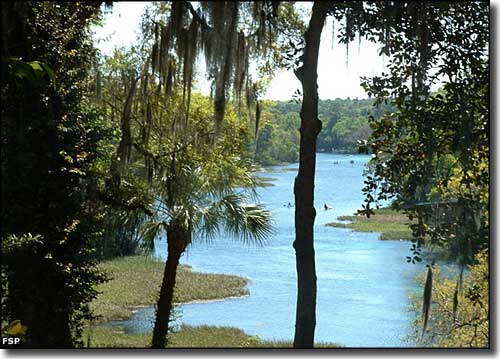 View from the overlook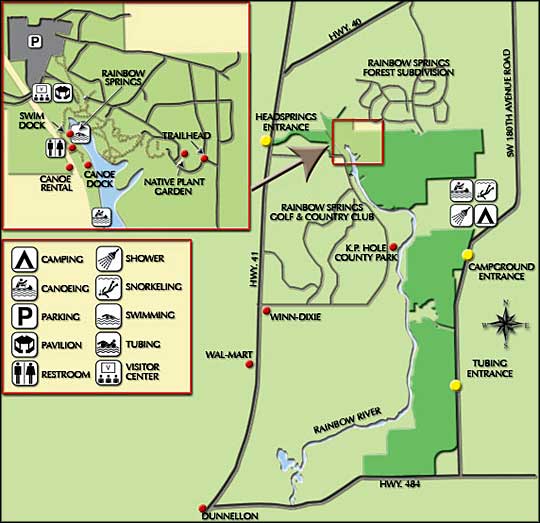 Rainbow Springs State Park
Upper photo courtesy of Jack Brockmeier, Florida State Parks
Lower photo courtesy of Elissa Motte, Florida State Parks
Upper left photo and map courtesy of Florida State Parks