Arthur R. Marshall Loxahatchee National Wildlife Refuge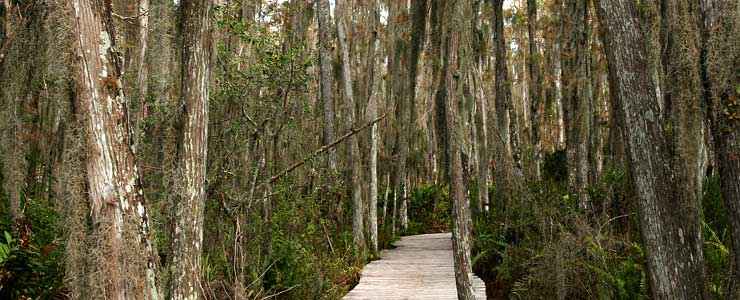 Boardwalk to the swamp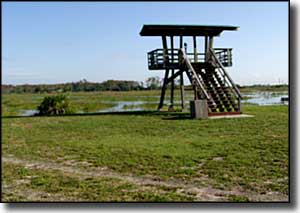 Included in the 147,392 acres of the Arthur R. Marshall Loxahatchee National Wildlife Refuge is a 400-acre remnant of the old Bald Cypress swamp that used to separate the flatland pine forest to the east from the Everglades wetland habitats to the west (which is what most of this National Wildlife Refuge consists of). While some 257 species of birds frequent this area, Loxahatchee NWR is also home to the American alligator and the locally endangered Everglade Snail Kite. The property has been designated as a "gateway" site for the Great Florida Birding Trail.
Loxahatchee NWR offers a butterfly garden, observation towers, boat ramps, fishing platform, bike trail, canoe trail and several walking trails for use by the general public.
The Loxahatchee National Wildlife Refuge Visitor Center is open from 9 am to 4 pm, every day except Christmas and Thanksgiving. There is an entrance fee.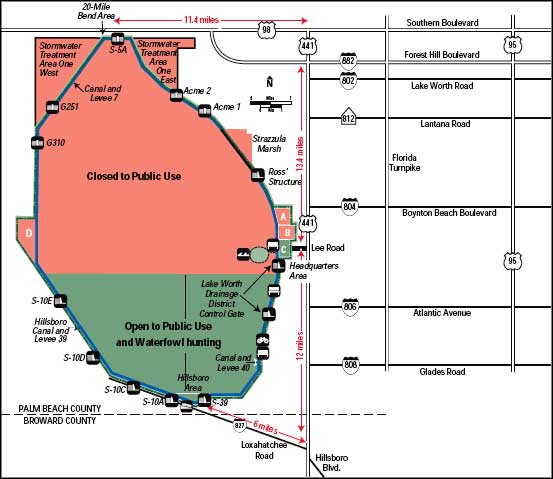 Arthur R. Marshall Loxahatchee National Wildlife Refuge
US Fish & Wildlife Service
Photo of the boardwalk at Loxahatchee NWR courtesy of Daniel Schwen,
CCA-by-SA 3.0 License
Photo of the viewing platform at Loxahatchee NWR courtesy of Wikipedia userid Johnskate17
Wetland photo courtesy of Ryan Hagerty, US Fish & Wildlife Service
Map courtesy of the US Fish & Wildlife Service