John D. MacArthur Beach State Park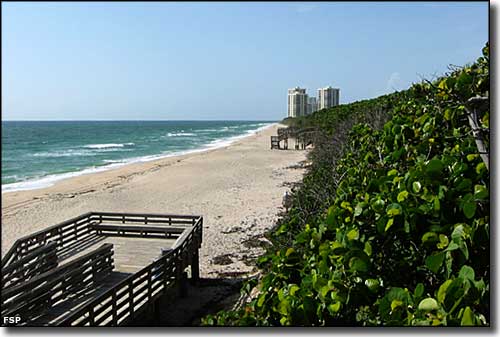 Looking down the beach at John D. MacArthur State Beach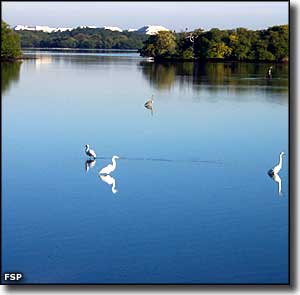 John D. MacArthur Beach State Park is located on the barrier island in North Palm Beach. The park contains a unique mix of mangrove forest and coastal and tropical hammock in addition to the white sandy beach. This is one of the last remaining undisturbed pieces of south Florida's ecosystem before the hordes of people arrived. During the 2010 sea turtle nesting season, the almost two-mile stretch of beach and dunes at John D. MacArthur Beach State Park played host to 1,138 loggerhead turtle nests, 480 green sea turtle nests and 49 leatherback turtle nests.
John D. MacArthur State Park offers three nature trails for hikers to enjoy a stroll through the ancient Florida landscape, although the views in almost every direction except east are limited by the rising of city structures. The park also offers several individual picnic tables scattered through the area and two large rentable picnic pavilions with cooking grills: one will seat up to 80 people, the other up to 72 people. The larger pavilion is a bit more secluded and offers restrooms, water and electric while the smaller offers electric only. The smaller pavilion has restrooms, snack machines and a water fountain nearby.
Swimming, snorkeling and scuba diving are popular along the beach but folks hanging out underwater need to have a "Diver Down" flag on display nearby.
The William T. Kirby Nature Center is open daily from 9 am to 5 pm and offers exhibits and displays detailing the park's natural communities and live animals. The Nature Center also has an auditorium with a 15-minute video about the park running all day.
John D. MacArthur Beach State Park is open for day use from 8 am until sunset every day of the year. To get there: Go 2.8 miles south of the intersection of PGA Boulevard and US Highway 1 on State Route A1A in North Palm Beach.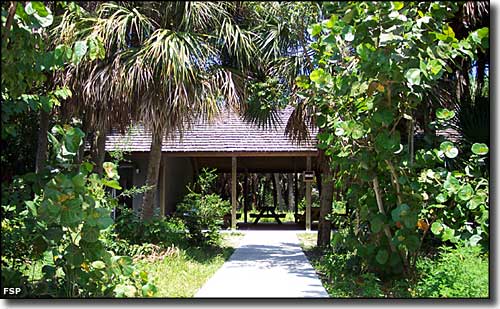 A picnic pavilion hidden in the sea grape and palm trees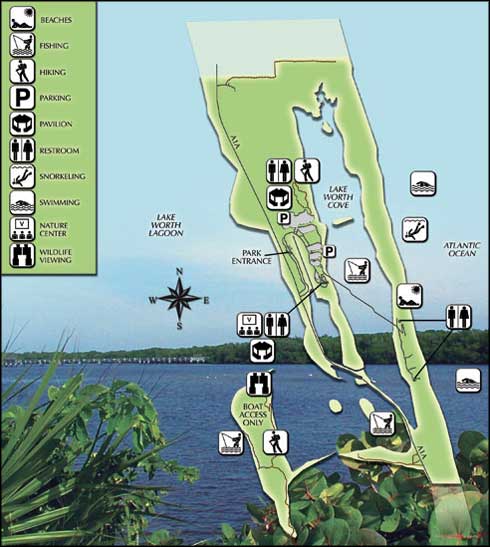 John D. MacArthur Beach State Park
10900 Jack Nicklaus Drive

,

North Palm Beach

,

FL

33048
561-624-6950
Photos and map courtesy of Florida State Parks