Highlands Hammock State Park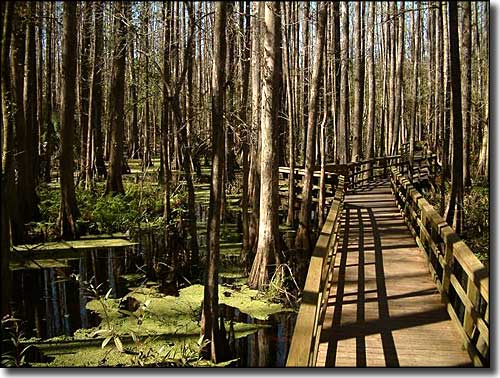 One of the boardwalks at Highlands Hammock State Park
Highlands Hammock State Park is a 9,000-acre property that opened as a park in 1931, four years before the official establishment of the Florida State Parks system. The property is about 4 miles west of Sebring off US Highway 27. Local citizens had banded together and bought the property back in 1931 when a big agricultural operator was looking at draining the swamp and turning the place into farmland. They tried to interest the federal government in making the property a national park but it finally became one of the four original Florida State Parks when that system was established in 1935. The Civilian Conservation Corps built the headquarters building and developed other facilities for the park in the later 1930's. Just before the US entered World War II, the CCC camp was closed and the CCC operations were merged into Highlands Hammock State Park. The botanical garden the CCC had begun building was never finished but some of the works around that project are still operational as parts of Highlands Hammock State Park's infrastructure.
Highlands Hammock State Park features elevated boardwalks that meander through an old-growth cypress swamp filled with cabbage palms, bromeliads, orchids, various other epiphytes and many ferns. One of the live oaks you'll pass by is believed to be the largest oak in Florida with a girth of more than 36 feet.
For wildlife in the area, you'll find American alligators, white-tailed deer, otters, opossums, golden silk spiders, gopher tortoises, frogs and other reptiles. You might also see bobcats and Florida black bears at times, and the endangered Florida panther makes an appearance now and then, too. Red-shouldered hawks, Pileated woodpeckers, white ibis and barred owls are relatively common, and there are a few bald eagles and rare Florida scrub jays, too.
There are nine hiking trails, all accessed from a three-mile loop driving route through the park. The longest trail is 11-miles-long and is open to hikers, bicyclists and horseback riders. Highlands Hammock State Park is another great place for bird watching and is duly registered as a site on the Great Florida Birding Trail.
The campground at Highlands Hammock offers primitive, group and full-hookup camping facilities with a picnic area and playground nearby. There's also a restaurant on-site. The Highlands Hammock Museum, showcasing the history of the CCC, is open daily from 9:30 am to 3:30 pm.
Highlands Hammock State Park is located on SR 634 (Hammock Road) off US Highway 27 about 4 miles west of Sebring. The park is open for day use from 8 am to sunset every day of the year.
The cypress swamp at Highlands Hammock State Park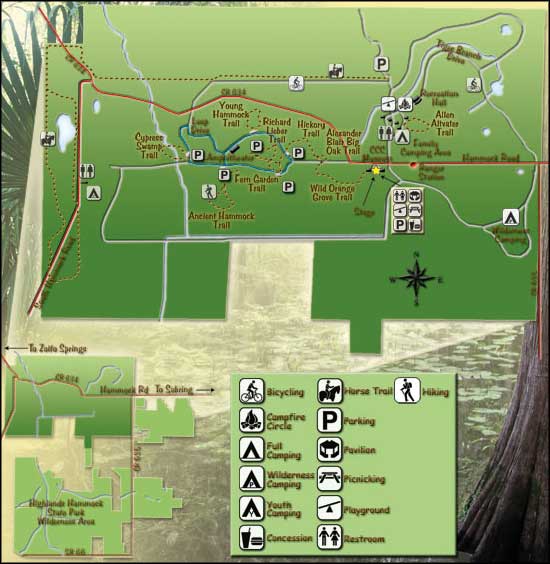 Highlands Hammock State Park
Photo of the boardwalk at Highlands Hammock State Park courtesy of Wikipedia userid WV-Mike,
CCA 3.0 License
Photo of the cypress swamp at Highlands Hammock courtesy of Wikipedia userid Mwanner,
CCA-by-SA 3.0 License
Map of Highlands Hammock State Park courtesy of Florida State Parks