Green Mountain Scenic Byway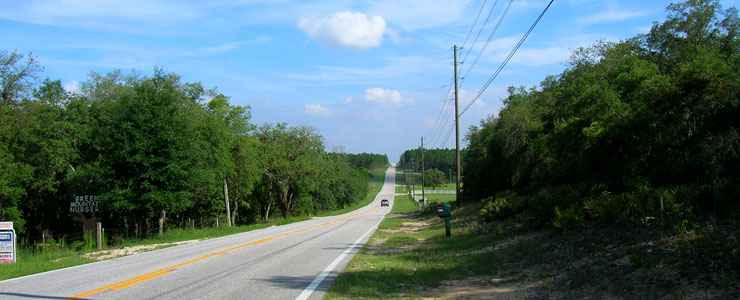 Near the northern end of the Green Mountain Scenic Byway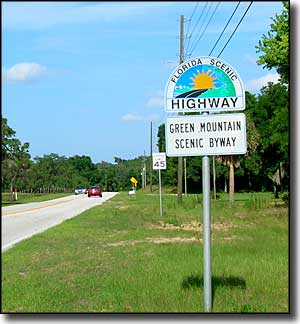 The Green Mountain Scenic Byway is only a 12.5-mile route but it holds a lot of what makes most of Florida Florida: small towns and rural communities spread across a countryside of rolling hills, big live oaks draped with moss hanging over the roadway, historic and stately buildings from a time before "Anywhere America" architecture...
The Green Mountain Scenic Byway is a route that figures prominently in the annals of bicyclists, motorcyclists and triathletes: there's a lot of them who visit this road on a regular basis.
Near the north end of the road I came across some real hills (which are relatively hard to find in Florida) and what looked like a failed housing sub-division. This was located in the bottom of a beautiful green valley with a traffic rotary (which might have been appropriate if there were any cross-traffic, but there wasn't). Then I climbed the other side and passed through more greenery before I started getting glimpses of Lake Apopka to the east. Next came signs for the Ferndale Preserve (a sand pine scrub sanctuary), then the tiny community of Ferndale. Rising beyond Ferndale I started seeing a more successful housing sub-division off to the west, then came the town of Montverde.
Probably the biggest marker in Montverde is the Montverde Academy. I was there too late in the day to really learn anything about the place but the campus was beautiful. From there, the route was mostly downhill into Oakland. It was there that I made the turn across the Florida Turnpike and went on to the miles-long strip mall that marks Florida State Road 50. If I hadn't turned, I have gone into Oakland where I'm told there's a turnoff to the Oakland Preserve which offers a 3,100-foot boardwalk through a forested wetland and out to the Lakeside Pavilion beside Lake Apopka. But I wasn't prepared and didn't see any signs. I guess I'm going to have to go back...
Green Mountain Scenic Byway follows the line of Lake Wales Ridge, a high point running north/south in central Florida. You'll pass through some rare remnants of Lake Wales Scrub and possibly come across some of the 23 species of plants and animals indigenous to that scrub habitat that have been designated as either endangered, threatened or of special concern. As this is a long, high ridge above the plain of central Florida, you'll get some great sweeping vistas, even of the Orlando skyline. You might even stop and "climb" Sugarloaf Mountain: at 312 feet, it's the highest point on the peninsula of Florida.
The Green Mountain Scenic Byway travels along County Road 455 and Old Highway 50, around the western side of Lake Apopka. The scenic byway may be only 12.5 miles long but most folks reckon it will take up to 5 hours to see what's there. You'll find most of the amenities you might want or need in the towns of Ferndale, Montverde and Oakland along the way. And from the southern terminus of the designated route, Orlando is only 15 miles to the east.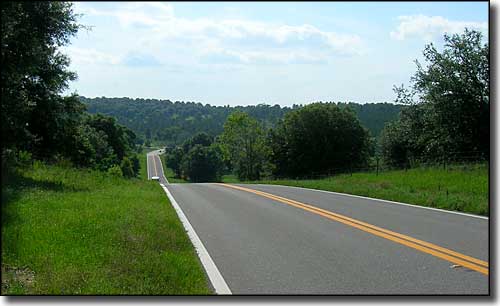 Over the hill and through the woods on the Green Mountain Scenic Byway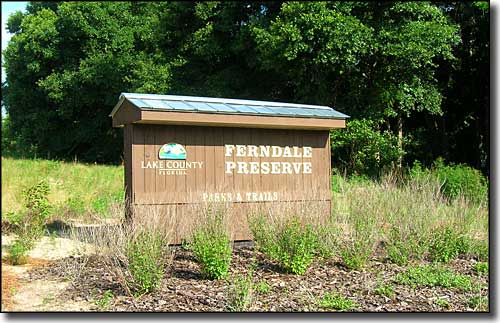 Ferndale Preserve: a Lake County Nature Preserve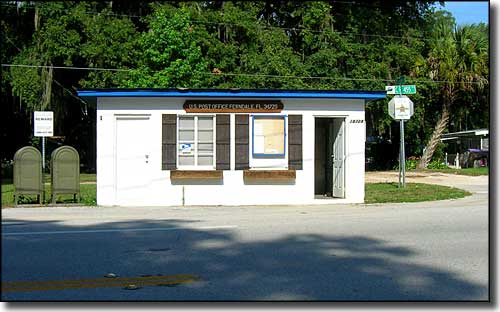 The Ferndale Post Office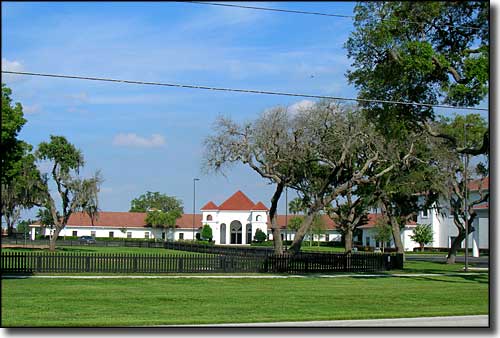 Montverde Academy, near the southern end of the Green Mountain Scenic Byway