Goethe State Forest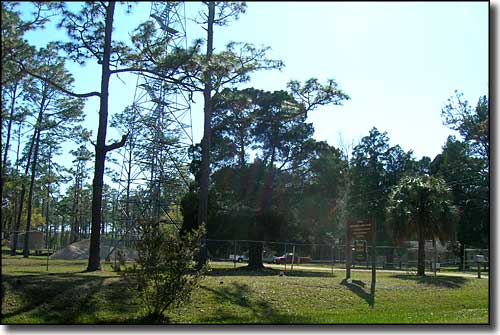 The administrative compound at Goethe State Forest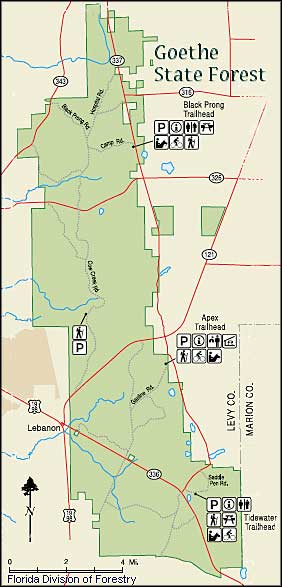 Most of the 53,587 acres of Goethe State Forest were purchased from J.T. Goethe in 1992. That land is in the southeastern corner of Levy County. The one area of the forest not purchased from Mr. Goethe is the Watermelon Pond Unit which straddles the county line between Alachua and Levy Counties. The property was acquired under the Florida Conservation and Recreation Lands Program.
The land/vegetation at Goethe State Forest is a mix of sandhill, basin swamp, dome swamp and scrub pine flatwoods. Goethe State Forest may contain the largest contiguous tract of old-growth longleaf pines in Florida. And those old-growth trees may support one of the largest populations of the threatened red-cockaded woodpecker. Other rare species found on the forest include gopher tortoise, bald eagle, Florida black bear and Sherman's fox squirrel. Among the rare plants are the coontie and the carnivorous hooded pitcher plant.
Goethe State Forest offers opportunities for hiking, bicycling, horseback riding, fishing, hunting, picnicking and wildlife viewing. Overnight camping is allowed by permit only but there are private campgrounds located around the forest. The trail system in Goethe State Forest is well developed with three major trailheads.
Horses on the property need to carry proof of a negative Coggins Test on them, and children under the age of 16 on any horse must be wearing a helmet.
The Goethe Wildlife Management Area is comprised of about 45,000 acres on that chunk of land formerly owned by Mr. Goethe in southeastern Levy County. Hunters on the property will find white-tailed deer, small game, feral hogs and wild turkey.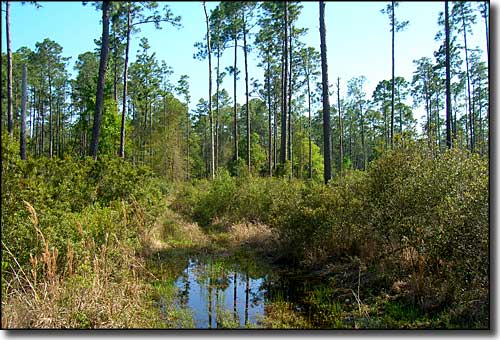 Pine flatwoods and a depression marsh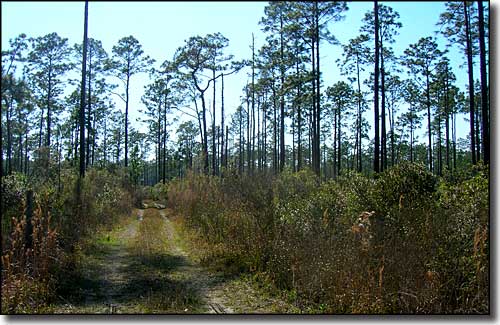 Typical roadway in the forest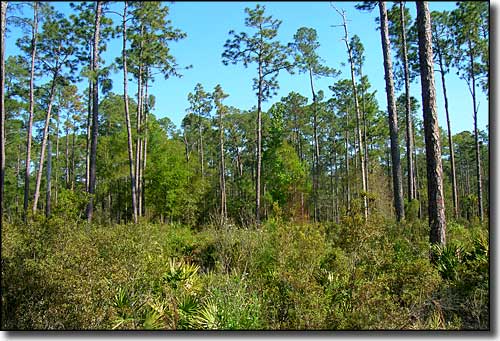 Understory in a recently logged area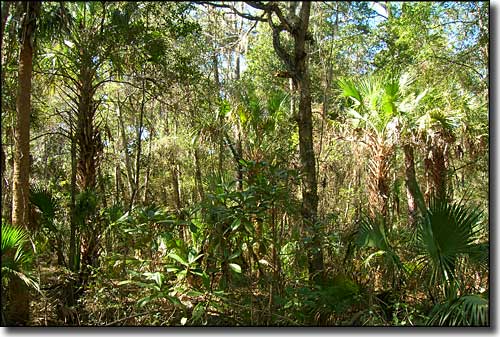 An unburned, un-logged area in Goethe State Forest
Goethe State Forest
Latitude:

29.200136°N

Longitude:

82.576012°W
Photos courtesy of TheArmchairExplorer,
CCA-by-SA 3.0 License
Map courtesy of the Florida Division of Forestry