Fort Pierce Inlet State Park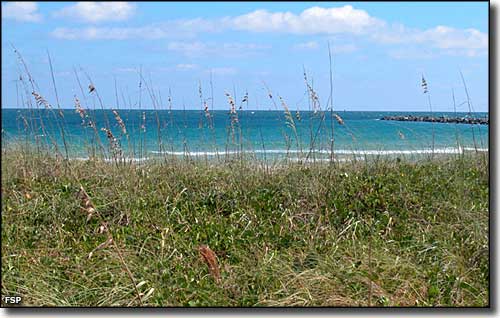 The view over the dunes at Fort Pierce Inlet State Park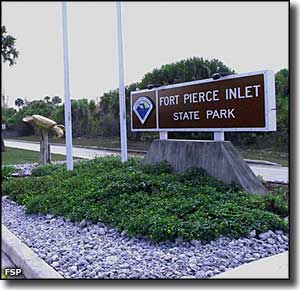 Fort Pierce Inlet State Park offers a half-mile of white, sandy beach for swimming, snorkeling, scuba-diving, surfing and beachcombing. This area was part of a training site for Navy Frogmen during World War II. The park straddles the barrier island with ocean-front beach to the east and rocky coast to the west (on Indian River Lagoon).
The Oak Hammock Trail is the only established hiking trail on the property. It leads through one of the last few oak hammocks in south Florida. Hiking leisurely, you can complete the route in about 30 minutes. The other hiking "trail" is along the beach and you'll be sharing that with bicyclists, sunbathers, swimmers, etc.
Swimming, snorkeling and scuba diving are popular here. The beach features a reef about 100 yards offshore and the waters tend to be very clear (it all depends on the weather and the wave action). That reef also makes Fort Pierce Inlet State Park the site of several surfing competitions between September and February, when the wave action is at its highest.
Fort Pierce Inlet State Park offers a primitive youth camping site on the Indian River Lagoon. The site can accommodate up to 32 campers but is limited to organized youth groups and requires one adult chaperon for every five youths. It's primitive: two self-composting toilets, three covered picnic pavilions with tables, two cold showers, two standard charcoal grills, one large charcoal grill and a flagpole but no electric. There's also access to Indian River Lagoon for canoe and kayak launching. The ocean beach is about 3/4 of a mile from the camping site.
For day users, Fort Pierce Inlet State Park is open from 8 am until sunset every day of the year. To get there: Fort Pierce Inlet State Park is located on the North Causeway, about four miles east of Fort Pierce.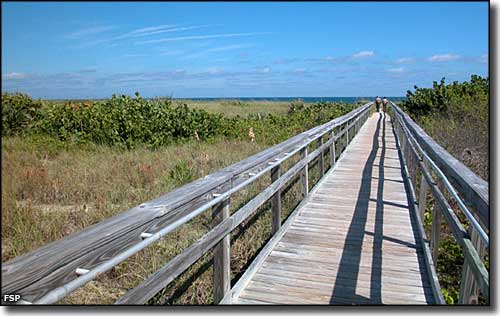 The boardwalk from the parking area to the beach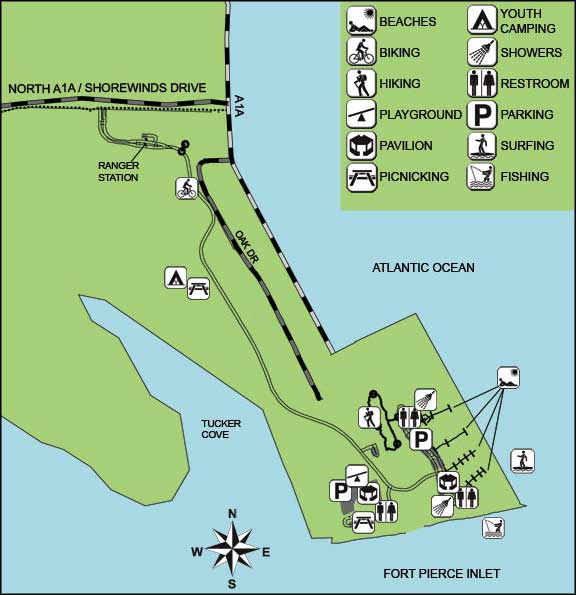 Fort Pierce Inlet State Park
Photos and map are courtesy of Florida State Parks