Fort Mose Historic State Park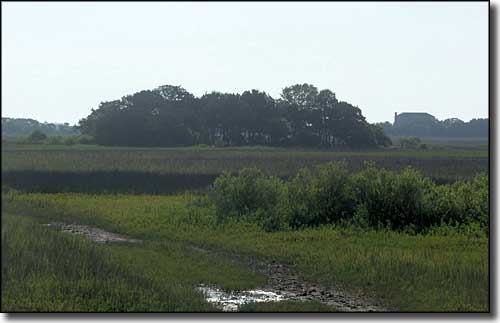 Site where the original Fort Mose stood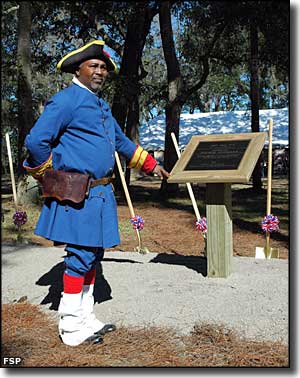 Fort Mose Historic State Park is on the site of what was originally known as Gracia Real de Santa Teresa de Mose, the first free black settlement legally sanctioned in what would shortly become part of the United States. The fort was first established in 1738 and was manned by freedom-seeking runaway slaves who were taken into the Spanish militia to serve a four-year enlistment before fully earning their freedom. They also were required to convert to Catholicism as part of the deal. In 1740, English forces under the command of James Oglethorpe attacked and destroyed the fort. The black militia fled to St. Augustine and stayed there until the fort was rebuilt in 1752. Then they returned to man the fort until 1763 when Spain ceded Florida to the British. At that time, many of the Spanish settlers and nearly all the black militia migrated to safety in Cuba.
These days, Fort Mose is considered a precursor site to the Underground Railroad because of its status as a haven for fugitive slaves from the American colonies. There's nothing left standing at the site of the former fort but visitors can have a look from the nearby 1/4-mile long boardwalk.
The grounds are open from 8 am until sunset every day of the year. The visitor center is open from 9 am to 5 pm, Thursday through Monday. To get there: From US Highway 1 (north of the intersection with Florida State Route 16) turn east on Fort Mose Trail and go to the end of the road.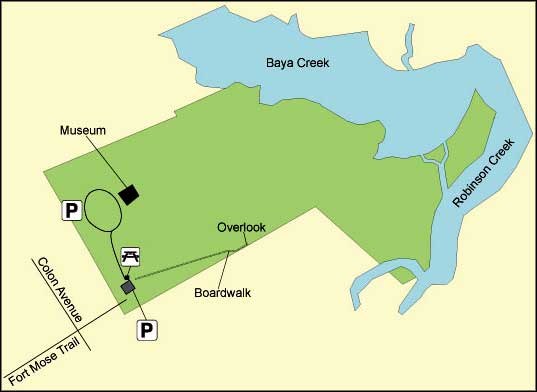 Fort Mose Historic State Park
Upper photo courtesy of Wikipedia userid Ebyabe,
CCA-by-SA 3.0 License
Upper left photo and map courtesy of Florida State Parks