Fort Cooper State Park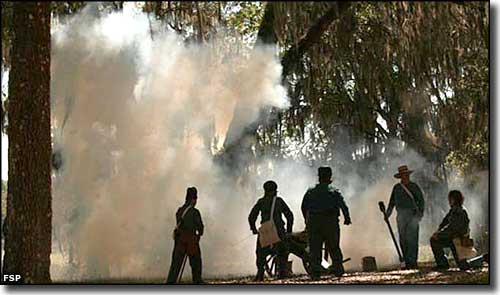 A Seminole War reenactment at Fort Cooper State Park
In April, 1836, as General Winfield Scott was marching to Tampa during the Second Seminole War, he ordered Major Mark Anthony Cooper and his First Georgia Battalion Volunteers to build a fort near the edge of Lake Holathlikaha to protect the sick and wounded. He was told Scott would be back with relief troops in nine days. Scott continued to Fort Brooke (near present day Tampa) and picked up reinforcements and supplies, then returned to Fort Cooper 16 days later. The men at the fort had been under almost constant attack from Osceola and up to 500 Seminoles almost the entire time but they held out and were waiting when Scott returned. During the fighting they had sustained 20 wounded, 1 dead. After Scott returned, everyone marched back north to Fort Drake (near present-day Ocala). The small stockade was used as a dispatch, observation and reconnaissance outpost until 1842.
Today, not much remains of the original fort but the area is now a popular park offering hiking, primitive camping, fishing, swimming (when the lake water level is high enough) and picnicking. Private boats are not allowed on Lake Holathlikaha but you can rent canoes and paddleboats. There are more than six miles of developed trails for hikers and anyone wanting to visit the site of the old fort has to actually walk there (the parking areas are a distance away).
The primitive camping sites are mostly meant for youth organizations with space for up to 20 campers at each of three sites and a fourth site with room for up to 8 campers. The camping sites each offer picnic tables, barbecue grills, fire rings, drinking water and port-a-potties. To use the campsites you need to call the park and make reservations.
Fort Cooper State Park is open from 8 am to sunset, every day of the year. Fort Cooper State Park is located about two miles south of Inverness, just off US Highway 41 on South Old Floral City Road.
Fort Cooper State Park is part of the Great Florida Birding Trail. In addition to a couple hundred different species of birds you might see deer, opossum, wild turkey and bobcat.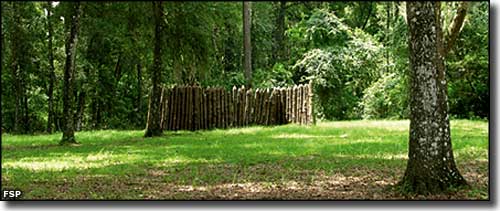 Part of the reconstructed stockade wall at Fort Cooper State Park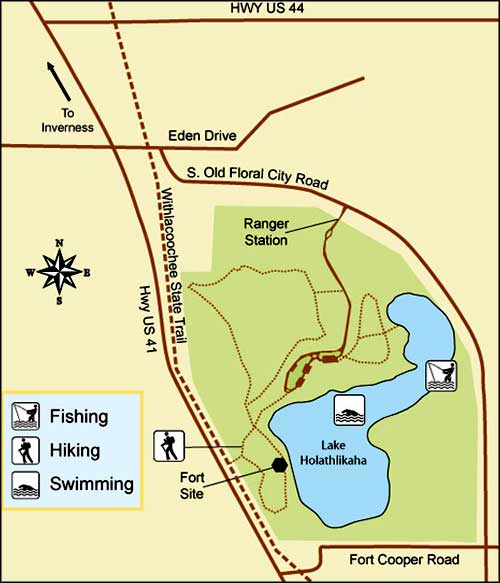 Fort Cooper State Park
3100 South Old Floral City Road

,

Inverness

,

FL

34450
352-726-0315
Photos and map are courtesy of Florida State Parks