Fort Caroline National Memorial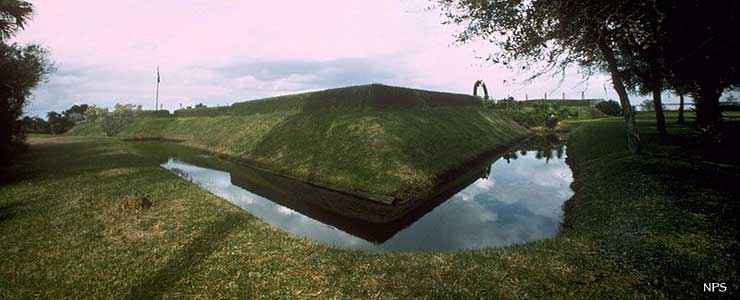 Fort Caroline National Memorial
Fort Caroline was the site of the first French colony in what is now the United States. It was established by a colony of Huguenots (French Protestants) on June 22, 1564. The French had landed in the area 2 years previous but left and dropped 28 men on Parrish Island in South Carolina to build "Charlesfort." 27 of those men had sailed back to Europe after only a year and had to be rescued when they got into English waters. They had sailed across the ocean in an open boat and were reduced to cannibalism before they were saved.
The group that landed here in 1564 were about 200 settlers led by René Goulaine de Laudonnière, who had been second-in-command during the 1562 expedition. They founded Fort de la Caroline on St. Johns Bluff, naming the fort after Charles IX, the reigning French king. For the next year they suffered mutiny, Indian attacks and hunger, then they attracted the attention of the Spanish authorities.
Jean Ribault (commander of the 1562 expedition) arrived from France in late August, 1565, with hundreds of soldiers and settlers in a large fleet of ships. He took command of the colony but the Spanish arrived in force a few days later. There was a bit of skirmishing but then the Spaniards moved south and started setting up at St. Augustine. Ribault chased after the Spanish with most of his troops and several ships but a hurricane caught them and sank most of his ships. The remaining ships all ran aground south of St. Augustine.
In the meantime, the Spaniards had marched back to Fort Caroline and took the fort in a surprise attack at dawn. About 50 women and children were taken prisoner, a few men escaped but the rest were all executed by the Spanish. As for the survivors of the shipwrecked fleet, they were found by the Spanish and asked to surrender. Believing they would be well treated by the Spanish, the French surrendered. The Spaniards then executed all the French as heretics at a place now known as "Matanzas" (Spanish for "massacres") Inlet. News of this atrocity reverberated all across Europe, even in those bloody times.
The Spanish returned to Fort Caroline and destroyed it, then built their own fort in the same place. Then in April, 1568, a French force arrived and attacked and burned the Spanish fort. Then they slaughtered all their Spanish prisoners. The Spanish did return and build again but they permanently abandoned the site a year later.
Fort Caroline National Memorial was established on January 16, 1953. The Memorial features a scaled-down reconstruction of the original Huguenot fort based on historic renderings from the time. A visitor center was built, too, and now serves as the visitor center for the Timucuan Ecological & Historic Preserve.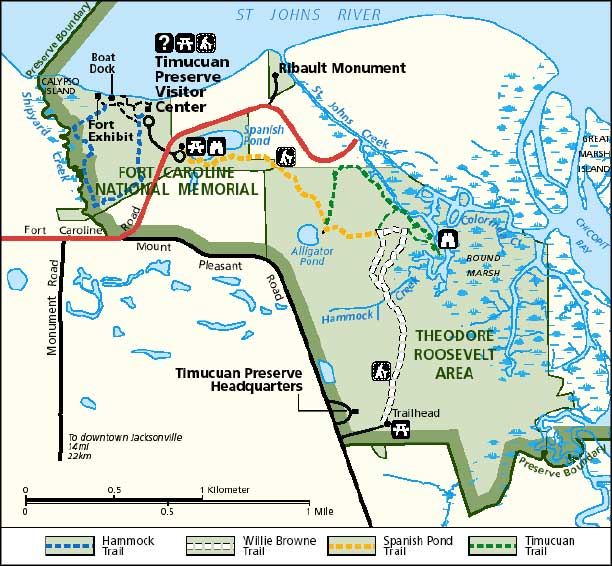 Fort Caroline National Memorial
12713 Fort Caroline Road

,

Jacksonville

,

FL

32225
904-641-7155
Photo and map are courtesy of the National Park Service