Dade Battlefield Historic State Park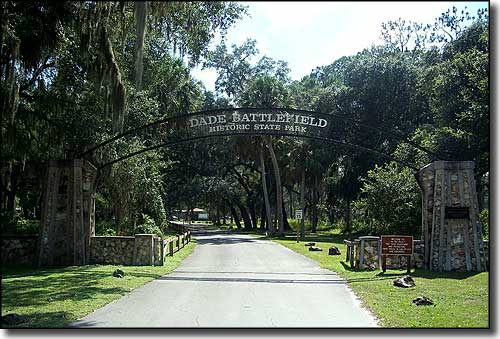 The entrance to Dade Battlefield Historic State Park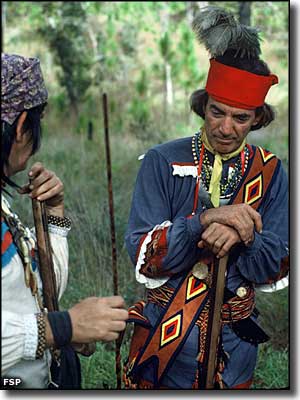 Seminole warriors ambushed 108 US soldiers under the command of Major Francis L. Dade at the place that is now known as Dade Battlefield on December 28, 1835. Only 3 soldiers survived the battle. That was the first engagement of the Second Seminole War (the First Seminole War having ended in 1818). This 80-acre property protects and preserves that historic battlefield and the natural communities that surround it, much as they were back in those days. This is an area of pine flatwoods and a live oak hammock where you might come across songbirds, woodpeckers, hawks, indigo snakes or gopher tortoises as you walk the half-mile trail to and across the battlefield.
The Park's amenities include a recreation hall, picnic area with shelters and a playground. The visitor center offers information and interpretive displays about the battle, and also shows a 12-minute video about the battle: This Land, These Men.
Every January, Florida history lovers gather to re-enact and commemorate the battle. This property is also listed as a US National Historic Landmark under the name "Dade Battlefield Historic Memorial."
Dade Battlefield Historic State Park is open from 8 am to sunset, every day of the year. The visitor center is open from 9 am to 5 pm, daily.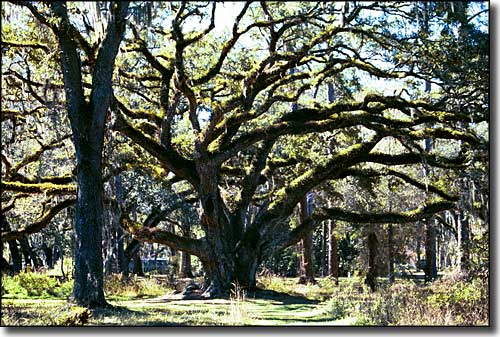 A 400-year-old live oak near the battlefield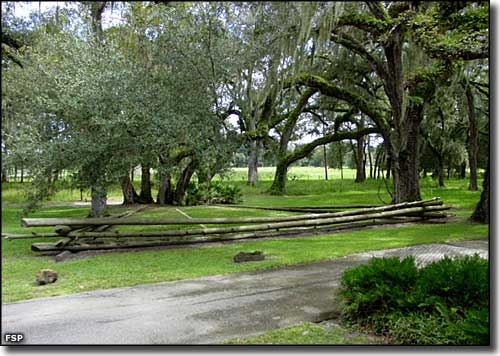 Breastwork fort at Dade Battlefield Historic State Park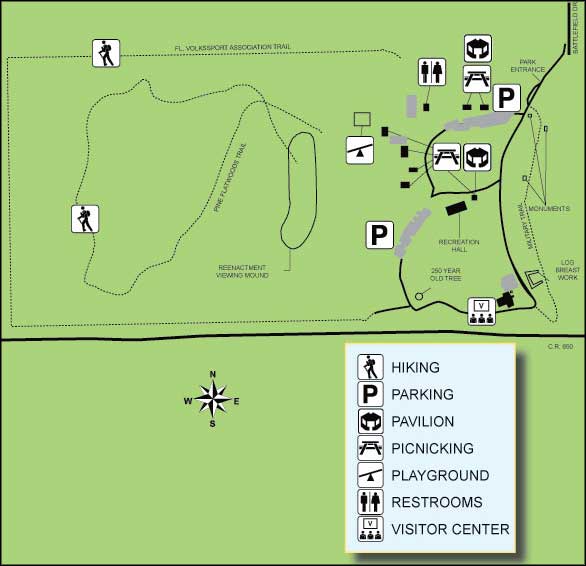 Dade Battlefield Historic State Park
Photo of Dade Battlefield entry feature courtesy of Wikimedia userid Ebyabe,
CCA-by-SA 3.0 License
Photo of live oak courtesy of Mike Reichold,
CCA-by-SA 2.5 License
Other photos and map courtesy of Florida State Parks