Colt Creek State Park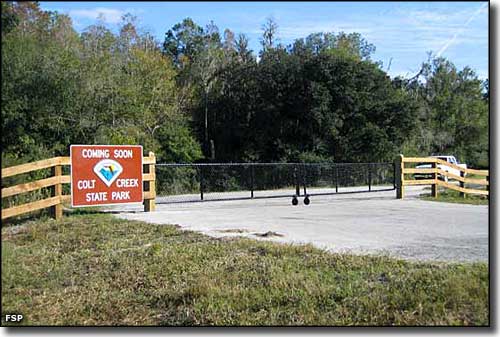 The entry gate at Colt Creek State Park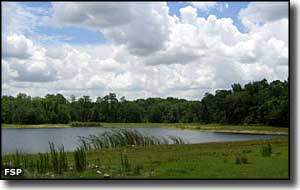 Colt Creek State Park is a 5,067-acre property within the Green Swamp Wilderness Area. The park was purchased from the Overstreet family in May, 2006. The Overstreet's had run cattle on the land for more than 60 years. The property had also been used for turpentining, citrus production, lime rock mining and timber harvesting. The landscape is a mix of open pasture land, cypress domes, hardwood hammocks and pine flatwoods.
Fishing is allowed on three different lakes in the park. The lakes vary from two to twenty-five acres in size and from twelve to seventy feet in depth. The lakes were created by a lime rock mining operation in the 1990's. There are bluegill, bream, largemouth bass, catfish and shell cracker in the water (largemouth bass are catch-and-release only). Boating is allowed but gasoline-powered motors are not.
Hikers and horseback riders will find more than twelve miles of marked trails on the property. The trails run through pine flatwoods, hardwood hammocks, cypress domes and around the edges of pasture land. Sometimes you'll see bobcat, white-tailed deer, bald eagles and fox squirrels. During 2007, biologists did monthly surveys of wildlife on Colt Creek State Park and documented 79 species of butterflies and 149 species of birds. Equestrians need to always have proof of a negative Coggins test for their horse in their pocket and hikers will always want some bug repellent and sun screen out there. A good hat, a trail map and plenty of water might be helpful, too.
There are three primitive youth camping sites that will accommodate up to twenty people each. The sites offer an amount of shade but there is no electric or running water. There are picnic tables, benches, campfire rings and lantern holders. There's only one portable toilet for all three campsites. The park requires there be one adult chaperon present for every ten youths.
Colt Creek State Park is open from 8 am until sunset, every day of the year. To get there: Colt Creek State Park is located on State Road 471, just south of the Withlacoochee River, about 16 miles north of Lakeland. The entrance to the park is about 17 miles south of State Road 50 and about 3.8 miles north of US Highway 98 on State Road 471.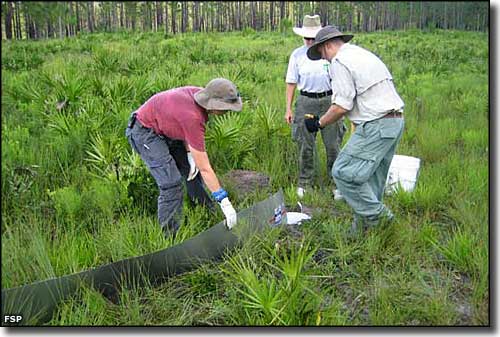 State Parks biologists doing an environmental survey of the park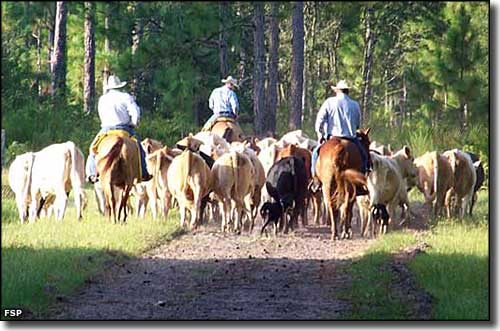 One of the last cattle drives at Colt Creek State Park
Photos are courtesy of Florida State Parks