Delaware's Bayshore Byway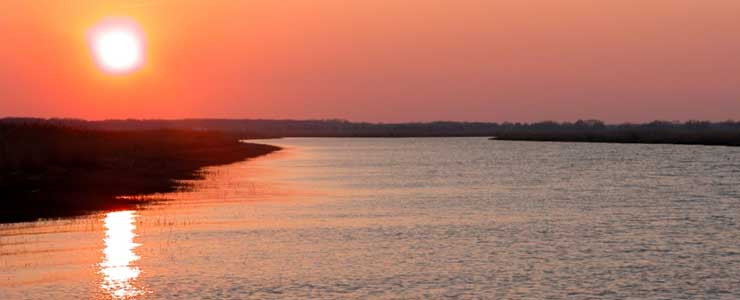 Sunset over Collins Beach
Delaware's Bayshore Byway (formerly the Route 9 Coastal Heritage Scenic Byway) is a 52-mile route between New Castle, Delaware and John Dickinson Plantation (just south of Dover Air Force Base). The route parallels the western shore of Delaware River and Bay within the Atlantic Flyway... which means lots of migrating birds in the area in season. The Delaware Bayshore also sports the largest concentration of spawning crabs in the world, which makes the area critical for those migrating shorebirds who find horseshoe crab eggs a delicacy. Fall sees massive numbers of geese, ducks and other waterfowl passing through on their way south.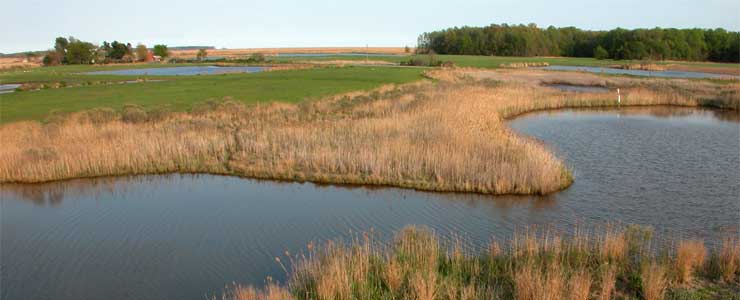 Tidal pools in the Woodland Beach area
Route 9 is a two-lane route passing through the largest area of preserved coastal marshland on the East Coast. Along the way you'll pass by Fort Delaware State Park with its Civil War prison located on Pea Patch Island. Pea Patch Island is also home to the largest heron rookery on the East Coast north of Florida. Just south of that is Fort DuPont State Park, site of another decommissioned military base that housed German prisoners-of-war during World War II.
As the route passes so close to the water of the estuary, the route is also very flat. There are areas where the only thing between the pavement and the water is a seawall. In areas where marsh is on both sides of the road, you might come across 20-pound snapping turtles crossing the pavement.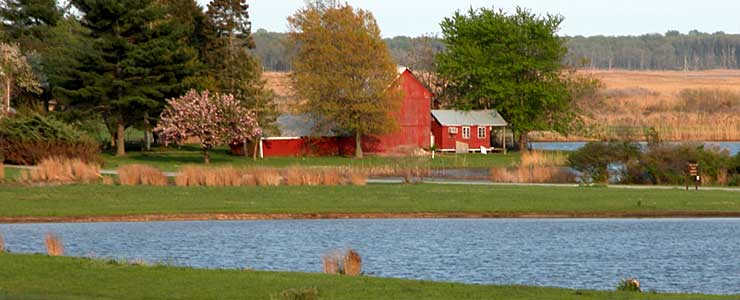 Woodland Beach Wildlife Area
At Augustine Beach the road turns inland a bit more and passes through a countryside carpeted with pastures, fields and historic farmhouses, many of which have been preserved by the Delaware Agricultural Lands Preservation Foundation. Preserving the farms also preserves much of the marshland against the bay and estuary. Still, at one time about 40% of the marshland that existed when the Europeans first arrived in the New World had been destroyed. Some of that has been reclaimed/restored but close to 60% is still in that pristine, un-messed-with state from so long ago. Some of this preservation effort has happened at the hands of the Delaware National Estuarine Research Reserve, a cooperative program between the National Oceanic and Atmospheric Administration, the Delaware Division of Soil and Water Conservation and various Delaware Coastal Programs. DNERR manages the Blackbird Creek and Marsh area and the St. Johns Reserve (both along Route 9 just north of Bombay Hook National Wildlife Refuge) for research and education purposes. Both sites are along the Delaware Estuary and contain substantial areas of fresh water and brackish water.
Delaware's Bayshore Byway may be only 52 miles long but if you don't take a few hours to drive it, you're going to miss a lot of what makes Delaware, Delaware. It's not a busy road for vehicles and for bikes, it's a long but easy ride.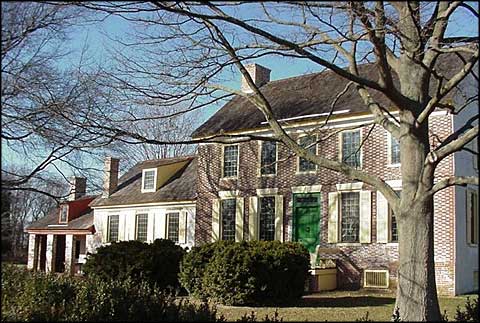 John Dickinson Plantation
Collins Beach photo courtesy of Brad Killian
Photo of John Dickinson Plantation courtesy of the Delaware Division of Historic & Cultural Affairs
Other photos courtesy of Jamie Ritchie