Bombay Hook National Wildlife Refuge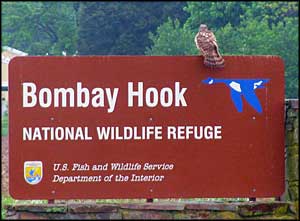 Bombay Hook National Wildlife Refuge is comprised of some 16,251 acres of property spread out along eight miles of the Delaware coast. The refuge was established in 1937 and its importance has increased every year as more and more wildlife habitat in the Northeastern States is turned into residential subdivisions, streets and shopping malls... Four-fifths of the refuge is tidal salt marsh with a mix of mud flats, cordgrass meadows, rivers, creeks and tidal pools and streams. The rest of the property is upland and includes freshwater impoundments, forest, timbered and brushy swamps and scattered fields of herbaceous plants.
The Refuge is managed primarily to support the large numbers of migrating waterfowl that pass through the area in the spring and fall. There is also effort to support migrating shorebirds and songbirds in the spring and allow tall wading birds to nest in the summer. You'll also find red fox, white-tailed deer, beaver, muskrat, river otter, woodchuck, opossum, insects, turtles, frogs, non-poisonous snakes and salamanders. For humans there is a 12-mile self-guided auto tour, five walking trails (2 of which are universally accessible), three observation towers, hunting opportunities, wildlife photography, interpretive displays and a variety of nature and educational programs.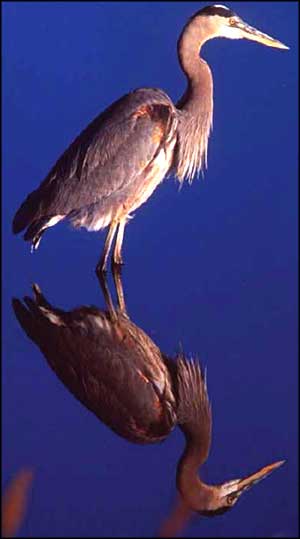 Water levels in the various impoundments are manipulated to stimulate the production of emergent and underwater plants for the waterfowl. Pools get drawn down regularly to open mud flat areas for large populations of shore and wading birds. About 850 acres of the upland areas are cultivated to grow additional food for the waterfowl and other migratory birds.
Waterfowl populations are at their peak in spring and fall when more than 150,000 ducks and geese descend to rest and feed for a couple days before moving on. May is when the horseshoe crabs crawl up on the beach to deposit their eggs. The summer months are when the egrets, herons and glossy ibis reach their population peaks.
Between 1938 and 1942 an African-American company of the Civilian Conservation Corps worked on the property building a dike and several water-control structures to create Raymond Pool, then enclosed Shearness Pool and built a causeway at Finis Pool. They also cleared timber and undergrowth from the areas of Shearness and Finis Swamps and built a headquarters building, a boathouse, two residential houses and a 90-foot observation tower. They also planted more than 50,000 trees ad built and maintained roads around the property. When World War II began, parts of the refuge were used by the Army Air Force for training pilots in the use of air-to-ground rockets.
Most of Bombay Hook National Wildlife Refuge is open to the public all year round, from sunrise to sunset. The only exception comes during deer hunting season: part of the refuge is closed to the public for 15 days. The Visitor Center and Refuge Store are open year round Monday through Friday, 8 am to 4 pm. From March through May and September through November (spring and fall migration seasons) both places are also open Saturday and Sunday from 9 am to 5 pm.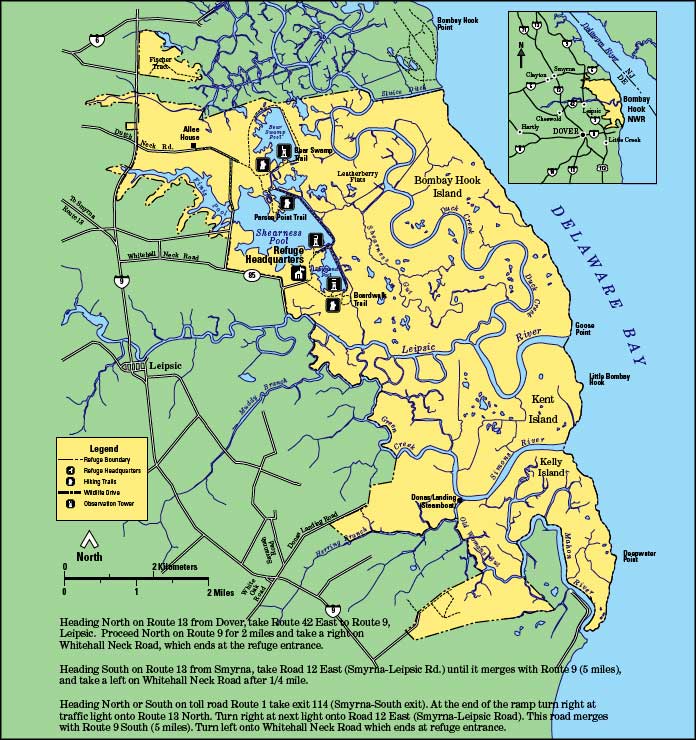 Bombay Hook National Wildlife Refuge

Photos and map courtesy of the US Fish & Wildlife Service