San Francisco Maritime National Historical Park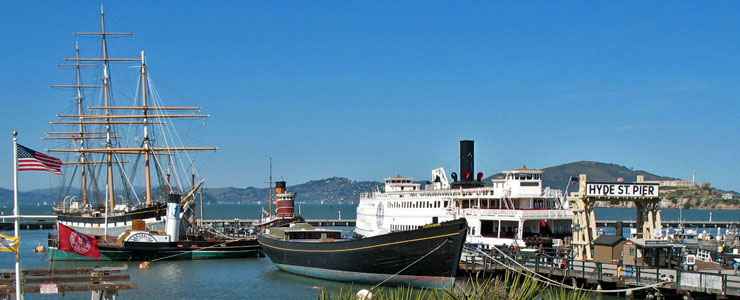 San Francisco Maritime National Historical Park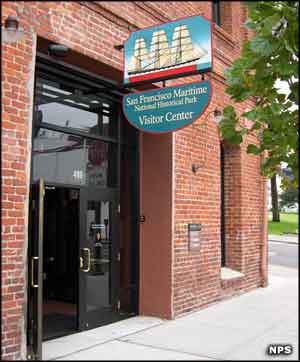 The Visitor Center
The San Francisco Maritime National Historical Park incorporates a visitor center, maritime museum, library/research facility and a fleet of historic ships with the Aquatic Park Historic District on San Francisco's waterfront. The original collection was the San Francisco Maritime Museum, assembled in 1951 but acquired by the National Park Service in 1978 and authorized as a National Historical Park in 1988.
The fleet is moored at the Hyde Street Pier and consists primarily of six ships built between 1886 and 1914. There are also more than 100 smaller craft included in the fleet. At the corner of Hyde and Jefferson (basically next to the pier) is the Visitor Center, housed in a four-story brick warehouse built in 1909. There are a number of historic exhibits inside plus a theater, an information desk and a branch of the park's Maritime Library. This is at the foot of Hyde Street at the western end of the famous Fisherman's Wharf district and adjacent to the Hyde Street terminus of the famous San Francisco trolleys.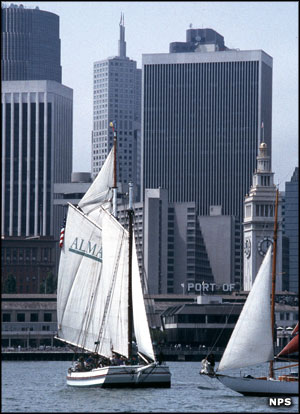 The schooner Alma
A block away on Polk Street (in the Aquatic Park Historic District) is the Maritime Museum, housed in what was originally built as a public bathhouse. There are different exhibits on the first two floors including some beautiful painted murals, photo-murals of the early San Francisco waterfront, exhibits chronicling the technological evolution of maritime power from wind to steam and displays of scrimshaw, whaling guns and lithographic stones. The third floor is a gallery reserved for the display of visiting exhibitions.
The park headquarters and research library are located in Fort Mason (part of the Presidio of San Francisco complex) about 10 minutes walk west of the main body of the park via the Golden Gate Promenade.
The visitor center is open daily (except Christmas, Thanksgiving and New Year's Days) from 9:30 am to 5 pm. Hyde Street Pier keeps the same hours. The Maritime Museum is open daily from 10 am to 4 pm. The Maritime Library at Fort Mason is open to walk-in visitors Tuesdays, Wednesdays and Thursdays from 1 pm to 5 pm and by appointment (415-561-7030) on Mondays, Fridays and the third Saturday of each month (although it is closed on most federal holidays).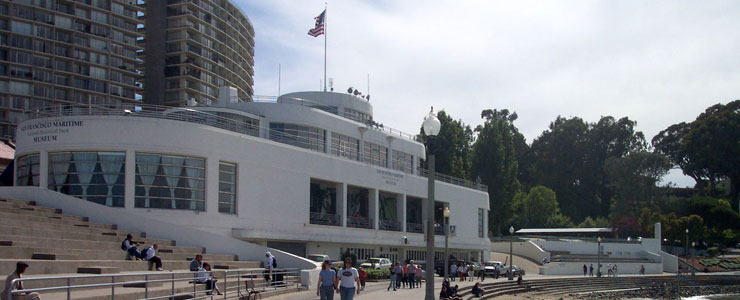 The Maritime Museum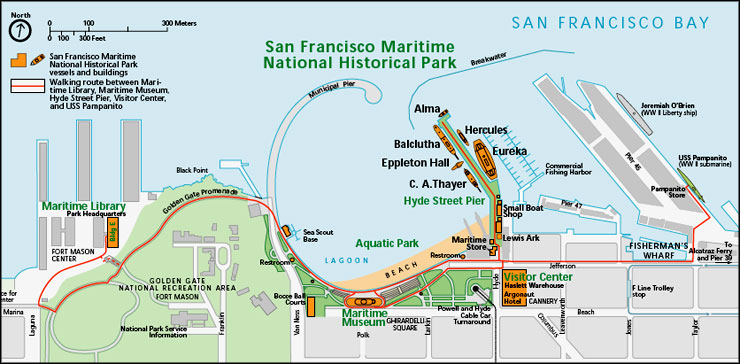 San Francisco Maritime National Historical Park
Fort Mason Center, Building E

,

San Francisco

,

CA

94123
415-447-5000