Muir Woods National Monument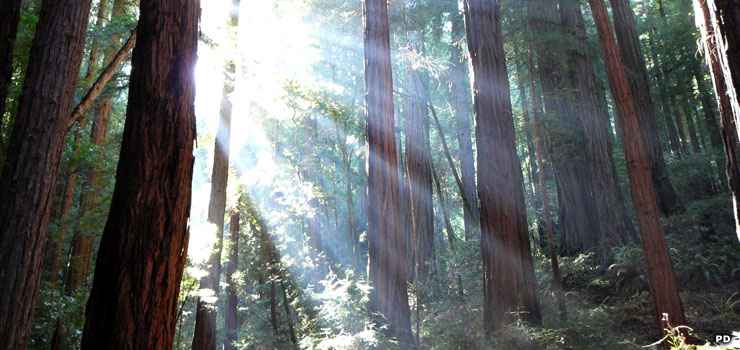 Sunlight through the redwoods in Muir Woods National Monument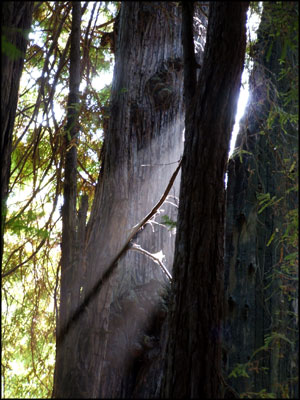 Muir Woods National Monument is a 554-acre property that contains about 240 acres of old growth Coast Redwood, one of the very few stands of redwoods still left in the San Francisco Bay Area. Most of the redwoods in the grove are between 400 and 800 years old but there is at least one that is more 1,200 years old. Due to the proximity to the Pacific Coast, the valley is often shrouded in a coastal marine fog layer that contributes greatly in some seasons to the overall wetness of the valley and makes it an environment very conducive to plant growth. That fog is also a great help for the redwoods during the long, dry summers.
Because of the location, the redwood grove is cool and moist year round and sees daytime temperatures usually between 40°F and 70°F. Summers are usually long and dry, winters short and rainy. But the forest is the forest and its beautiful even on rainy winter days... (I lived up the hill from Muir Woods for a while - I walked among those trees almost daily for months). There are more tour buses in summer but there aren't many less in winter.
Muir Woods National Monument is home to more than 50 species of birds. There might be more birds if there were more insects but the tannin in the trees repels insects and the amount of sunlight that gets through the redwood canopy limits the growth of flowers and fruits that would draw both insects and birds.
Muir Woods is a day-use only park, camping, picnicking and pets are not allowed. Up the hill is Mount Tamalpais State Park and there are picnicking and camping facilities available there. There is a visitor center with a gift shop, cafe, photo gallery and exhibit area. The park offers about 1.5 miles of paved, wheelchair accessible trails through the redwood grove. There are also several unpaved trails that strike out up the hill and connect with other trails outside the monument in the Golden Gate Recreation Area and Mount Tamalpais State Park. There is also a trail that follows Redwood Creek out of the park and down through the valley to Redwood Lagoon where it meets the ocean.
The park opens every day of the year at 8 am. Stinson Beach, Muir Beach, Muir Beach Overlook, the Visitor Center and the Cafe and Gift Shop open at 9 am year round. The park is closed by sunset year round, the visitor center, cafe and gift shop half-an-hour-earlier, the other places an hour later. There are fees in some places.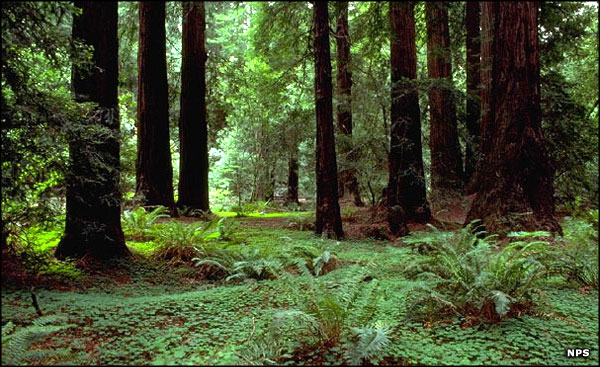 Under the redwood canopy at Muir Woods National Monument
Muir Woods National Monument
Top photo is in the Public Domain
Upper left photo courtesy of Wikipedia userid Tewy,
CCA-by-SA 3.0 License
Bottom photo courtesy of the National Park Service