John Muir National Historic Site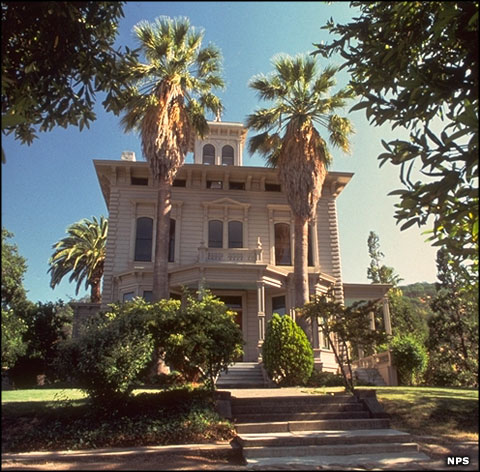 John Muir National Historic Site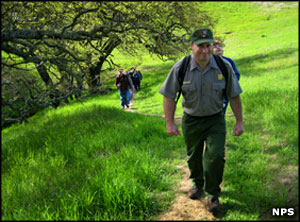 The 9-acre John Muir National Historic Site preserves the 14-room Italianate Victorian mansion where John Muir and his wife lived from 1890 on (she died in 1905, he in 1914) and some of the fruit orchard around it. The home was built in 1883 by Dr. John Strentzel, Muir's father-in-law. Strentzel and Muir had formed a partnership in which Muir managed the 2,600-acre Strentzel fruit orchard around 1880 and by 1890, Muir had been married for 10 years had two young daughters that he often took on trips with him into the wilderness of the Sierra Nevada Mountains.
John Muir was famous as a naturalist, conservationist and writer, founder of the Sierra Club and primary instigator in the creation of several National Parks, Yosemite National Park being primary among them. He also had input into the creation of Sequoia, Grand Canyon and Mount Rainier National Parks. Some people say John Muir was the principal force behind the creation of the National Park Service in 1916. These days, John Muir is credited as being one of the founders of the modern conservation movement and his writings have become gospel in those circles.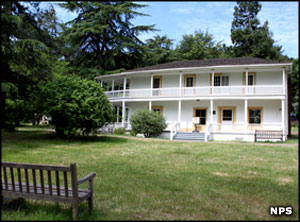 The property became a National Historic Landmark on December 29, 1962, a National Historic Site on August 31, 1964 and was added to the National Register of Historic Places on October 15, 1966. In 1988 the nearby 325-acre Mount Wanda Nature Preserve was added to the Historic Site. Visitors to the John Muir National Historic Site can see biographical films and take tours of the house and nature walks on Mount Wanda. The John Muir National Historic Site is open to visitors from Wednesday through Sunday, 10 am to 5 pm, except on Thanksgiving Day, Christmas Day and New Year's Day.
Also on the property at the western edge of the fruit orchards is the Martinez Adobe, home of bilingual exhibits for the Juan Bautista de Anza National Historic Trail. De Anza led a colonizing expedition from the Presidio at Tubac, Arizona across the desert and up the California coast to the missions around Monterey in 1775-6. From there he discovered the first land route to San Francisco Bay, then returned to Tubac and later became the Governor of Nuevo Mexico.
Mount Wanda is open daily from sunrise to sunset. There are no facilities on the property but there are several developed trails and fire roads. Horses and bikes are allowed on the fire roads only, pets are permitted on leashes only. The primary parking area and trailhead on Mount Wanda is located about 1/4 mile south of the John Muir Visitor Center next to Franklin Canyon Road (just the other side of the John Muir Parkway).
John Muir National Historic Site

Photos are courtesy of the National Park Service