Clear Lake National Wildlife Refuge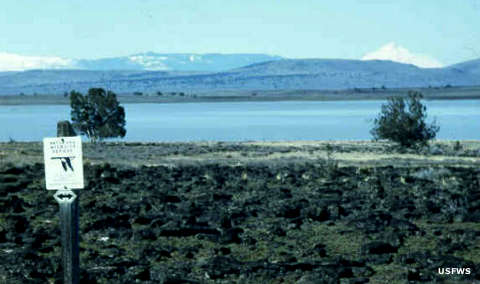 Clear Lake National Wildlife Refuge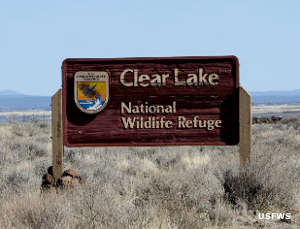 Clear Lake National Wildlife Refuge was established in 1911 "as a preserve and breeding ground for native birds." However, that charter was amended by the Kuchel Act of 1964 to "dedicated to wildlife conservation...for the major purpose of waterfowl management, but with full consideration to optimum agricultural use that is consistent therewith." So this 46,460-acre property that has, in historical times, been part of a 350,000-acre lake, has been limited to an open water area of about 20,000 acres as the US Bureau of Reclamation manages the lake more for the benefit of agricultural interests in the area than for the benefit of the waterfowl that have been migrating through and stopping to rest and eat in spring and fall for millenia.
The uplands around the lake are vegetated mostly with a mix of bunchgrass, low sagebrush and juniper. There are small rocky islands in the lake that provide nesting sites for colonies of American white pelican, double-crested cormorant and other colonial nesting birds. The upland areas are frequented by mule deer, pronghorn antelope and sage grouse.
Except for limited waterfowl hunting and pronghorn antelope hunting during the seasons as designated by California Fish & Game, the Refuge is closed to public access to protect fragile habitats and reduce the disturbance to wildlife. Because the Clear Lake Reservoir is the primary source of water for agricultural programs in the eastern half of the Klamath Basin, the reservoir is becoming heavily silted, the water depth is slowly declining and a particular local population of suckerfish is approaching the state of becoming an endangered species. Management in cooperation with the US Bureau of Reclamation is going against the US Fish & Wildlife Service objective of "maintain habitat for endangered, threatened and sensitive species." The problem is being discussed in regard to other of the National Wildlife Refuges in the Klamath Basin but Clear Lake is specifically segregated from those discussions. The only discussion that directly addresses Clear Lake NWR concerns efforts to support a long cut-off and seemingly dying population of sage grouse...
Clear Lake National Wildlife Refuge does contain one of the two remaining American white pelican colonies in California and that colony produces, on average, 1,400 pelican fledglings every year.
Travelers could catch views of the National Wildlife Refuge and spring displays by strutting sage grouse should they happen to drive along US Forest Service Road 136-Clear Lake Reservoir Road (which runs along and sometimes crosses the refuge's southern boundary) in the appropriate season. Clear Lake National Wildlife Refuge is completely surrounded by Modoc National Forest.
Clear Lake National Wildlife Refuge
Klamath Basin National Wildlife Refuges

Photos courtesy of the US Fish & Wildlife Service