Castle Rock National Wildlife Refuge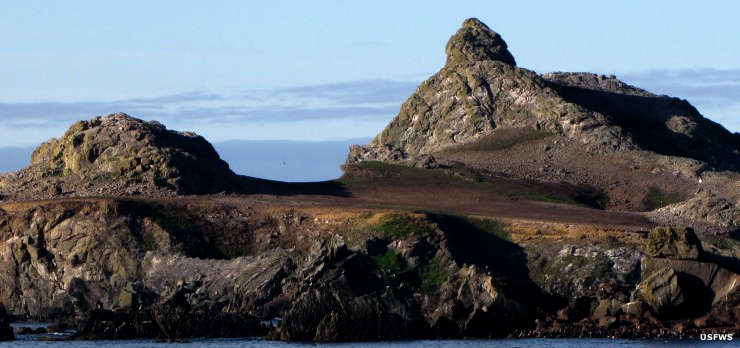 Castle Rock National Wildlife Refuge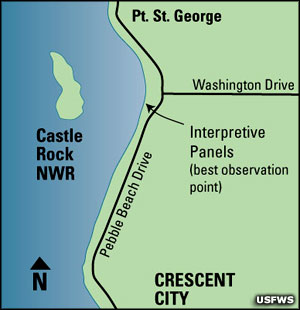 Castle Rock Island is a 14-acre island located about a half mile offshore from Crescent City, California. The high point on the island is about 335 feet above the water and is surrounded with two large inlets, grassy slopes and rock cliffs perfect for summer's nesting visitors. Castle Rock National Wildlife Refuge contains and surrounds the island, an important area as it holds the second largest seabird breeding colony (after the Farallon Islands) on the California coast and sees more than 150,000 migrating seabirds pass through every spring and fall. The shoreline also sees large numbers of marine mammals hanging out in season.
Castle Rock plays a big role in the survival of the Aleutian Cackling Goose, a species thought to have been extinct but a small population was found resting on the island in 1975. At that time, all surviving members of the species were using the island as a staging point for the next stretches of their bi-annual migrations. Now there are more than 20,000 Aleutian Cackling Geese roosting on the island. The fly-off of Aleutian Cackling Geese at first light from February to mid-April is often spectacular: the birds roost on the island every night and feed on mainland pastures by day.
After many years in private ownership, the Nature Conservancy purchased Castle Rock in 1979 and sold it to the US Fish & Wildlife Service later that same year.
Castle Rock is one of the few National Wildlife Refuges that is totally closed to the public. The reason: to prevent disturbance to the sea birds and the marine mammals. The northernmost breeding colony of northern elephant seals, Castle Rock is also a regular breeding site for harbor seals. Steller and California sea lions often haul out on the island but none breed there. The area also sees a lot of cetaceans year round with this area being a favored feeding ground along the gray whales' migration route.
The cliffs of Castle Rock provide nesting habitat for more than 100,000 common murres, making this the largest murre breeding site on the Pacific coast. There are also Leachs' and forktailed stormpetrels, tufted puffins, pigeon guillemots, Cassin's and rhinocerous auklets, three species of cormorants and probably too many western gulls.
There is an overlook (with interpretive panel) on the side of Pebble Beach Drive south of Washington Drive in Crescent City. A good spotting scope and you'll be able to see the birds...
Castle Rock National Wildlife Refuge is unstaffed and is administered as part of the Humboldt Bay National Wildlife Refuge Complex.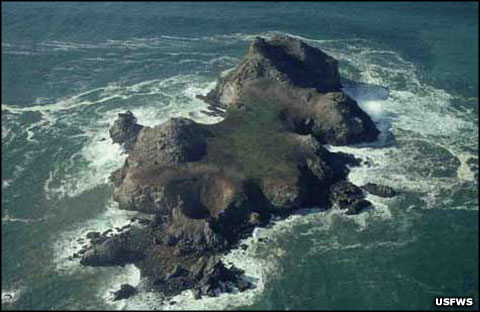 Castle Rock National Wildlife Refuge
Castle Rock National Wildlife Refuge

Top photo and map courtesy of the US Fish & Wildlife Service
Bottom photo courtesy of Stan Harris, US Fish & Wildlife Service