Bald Knob National Wildlife Refuge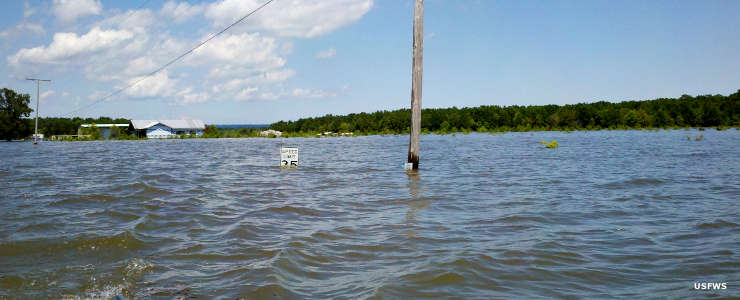 Bald Knob National Wildlife Refuge under water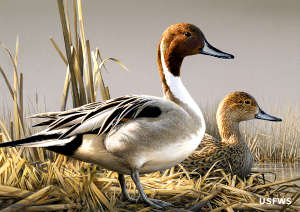 Pintail ducks
Bald Knob National Wildlife Refuge is a 15,022-acre property near Bald Knob, Arkansas. The property is a former rice farm, sold by the John Hancock Insurance Company to the Federal government in 1993. The property consists of about 4,201 acres of bottomland hardwood forest with oxbow lakes and multiple sloughs, about 4,393 acres of croplands and another 6,188 acres of reforested land. The site is important because of the approximately 150,000 geese and 100,000 pintail ducks that winter there annually.
Since being acquired under the North American Waterfowl Management Plan, US Fish & Wildlife Service personnel have used the water management capabilities of the property to create elements like mud flats and shallow pools that attract wading birds and shorebirds. At the same time, they have worked to increase habitat attractive to other waterfowl species. At this point i time, Bald Knob National Wildlife Refuge has become prominent among the bird-watching set as a place to find multiple species of birds in large numbers through the greater part of the year.
The Bald Knob National Wildlife Refuge office and visitor center is open Mondays through Fridays, 7:30 am to 4 pm, except for Federal holidays. The refuge itself is open for day-use only, sunrise to sunset, every day of the year. Motorized vehicles need to stay on designated roads and parking areas. ATVs are allowed for hunting only, from September 1 to February 28. ATVs are restricted to existing ATV roads, levee tops and parking areas. Access to the Mingo Creek Unit is by ATV only.
Immediately to the east of Bald Knob NWR is the Henry Grey Hurricane Lake Wildlife Management Area and to the southeast is Cache River National Wildlife Refuge.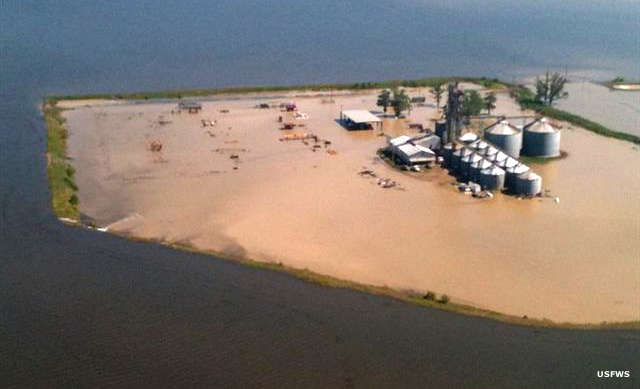 A flooded granary near the refuge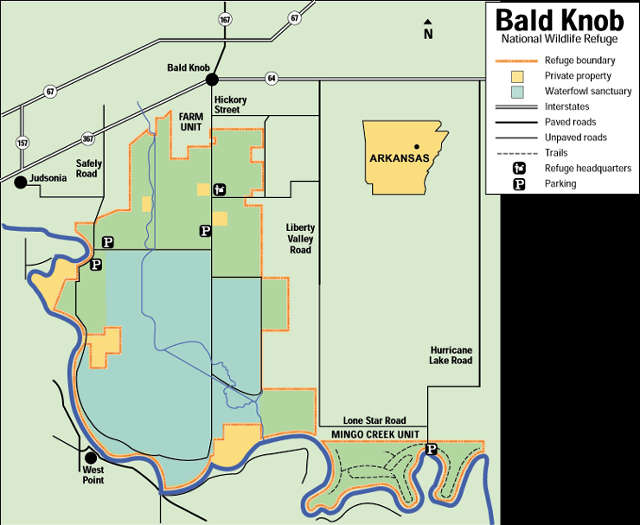 Bald Knob National Wildlife Refuge

Photos and map courtesy of the US Fish & Wildlife Service