Inupiat Heritage Center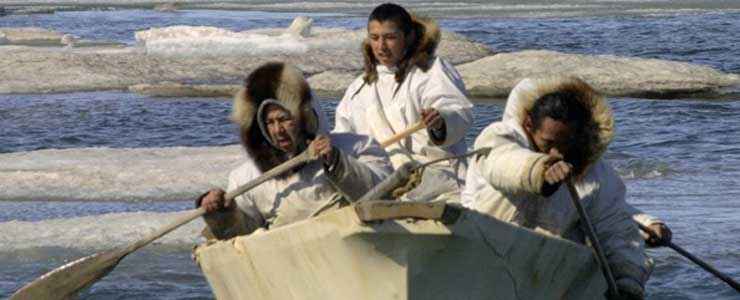 Photo from the Inupiat Heritage Center
The Inupiat have lived in the harsh climatic conditions of the Barrow/North Slope area for thousands of years. The Inupiat Heritage Center in Utqiagvik, Alaska is a facility for the promotion and protection of their language and culture through classes, performances and exhibits. One of their primary foods for many years was the bowhead whale.
In the late 19th and early 20th centuries, more than 2,000 voyages were made by whalers based in New Bedford, Massachusetts to the bowhead hunting grounds off the north coast of Alaska. To get there, they had to sail some 20,000 miles, going south to round Cape Horn at the southern end of South America, then heading north to Hawaii, then through the Bering Sea to the Chukchi Sea.
Many local folks, including many Inupiat, participated in that commercial whaling. In addition to crewing on the ships they also hunted food for the whalers, sold them warm fur clothing and sheltered many a crew that became shipwrecked along the coast. The Inupiat Heritage Center was designated as an affiliated area of the New Bedford Whaling National Historical Park as a means of ensuring that the Alaska Natives contributions to the history of whaling would be recognized.
The Heritage Center is owned and managed by the North Slope Borough on behalf of the whaling villages of the North Slope. The Center was dedicated in February 1999 and offers exhibits, a library, artifact collections, a gift shop and a multi-purpose room where local folks demonstrate and teach traditional crafts. The Center also operates Elders-in-Residence and Artists-in-Residence programs.
The Inupiat Heritage Center is open Monday through Friday from 8:30 am to 5:00 pm year round. As Utqiagvik is located on the Chukchi Sea and is the northernmost community in the United States, the only year round access is via regularly scheduled aircraft.
Inupiat Heritage Center
National Park Service
PO Box 69 5421 North Star Street

,

Utqiagvik

,

AK

99723
907-852-0422

Photo courtesy of the National Park Service