Delta Wild & Scenic River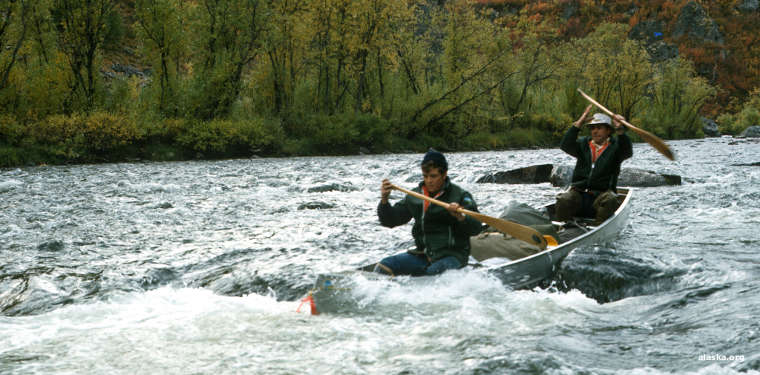 Canoers on the Delta River
Delta River Valley
The Delta River Wild & Scenic River designation covers about 62 miles of the upper Delta River. The watershed includes about 150,000 acres with 21 lakes and about 160 miles of streams. The Tangle River begins the journey by connecting several of the Tangle Lakes before emptying into the upper Delta River. The Delta flows north through the Alaska Range and drains into the Tanana River, which soon after flows into the Yukon River.
The primary put-in place for boaters on the Delta is at the Delta National Wild & Scenic Wayside at mile 21 on the Denali Highway west of Paxson. Nearby is the Tangle Lakes Campground. Boaters tend to go downstream from there. The first 9 miles or so are across several of the Tangle Lakes, connected by narrow streams. The rating is Class I, although in times of low water the connections between lakes may be on foot.
Once clear of Lower Tangle Lake, the river enters the Amphitheater Mountains and crosses through the Alaska Range foothills. The first 1 1/4 miles of river are shallow and rocky, then the next 18-or-so miles is smooth running until you come to the waterfall... The portage trail is on the east side of the river and it's about 1/2 mile long across steep and rocky terrain. Below the falls is a 1-mile section of Class II-III rapids, requiring significant whitewater skills to get through as the river narrows to about 60 feet wide and speeds up considerably down the hill. After that comes 12 miles of meandering Class I water. At Eureka Creek the water turns cold and silty with glacial meltwater. The next 7 miles below there is usually shallow and heavily braided. Then comes the pull-out near Phelan Creek on the Richardson Highway. The actual location changes every year as the river channel changes but it is usually in the vicinity of milepost 212.5.
Really experienced kayakers and whitewater rafters can go another 18 miles further north on the Delta but the water gets really fast with high standing waves and glacial silt. Downstream of the Black Rapids Glacier the river rating is Class IV. It is not recommended for canoes. There are no official take-outs along the way but the river closely parallels the Richardson Highway in many places.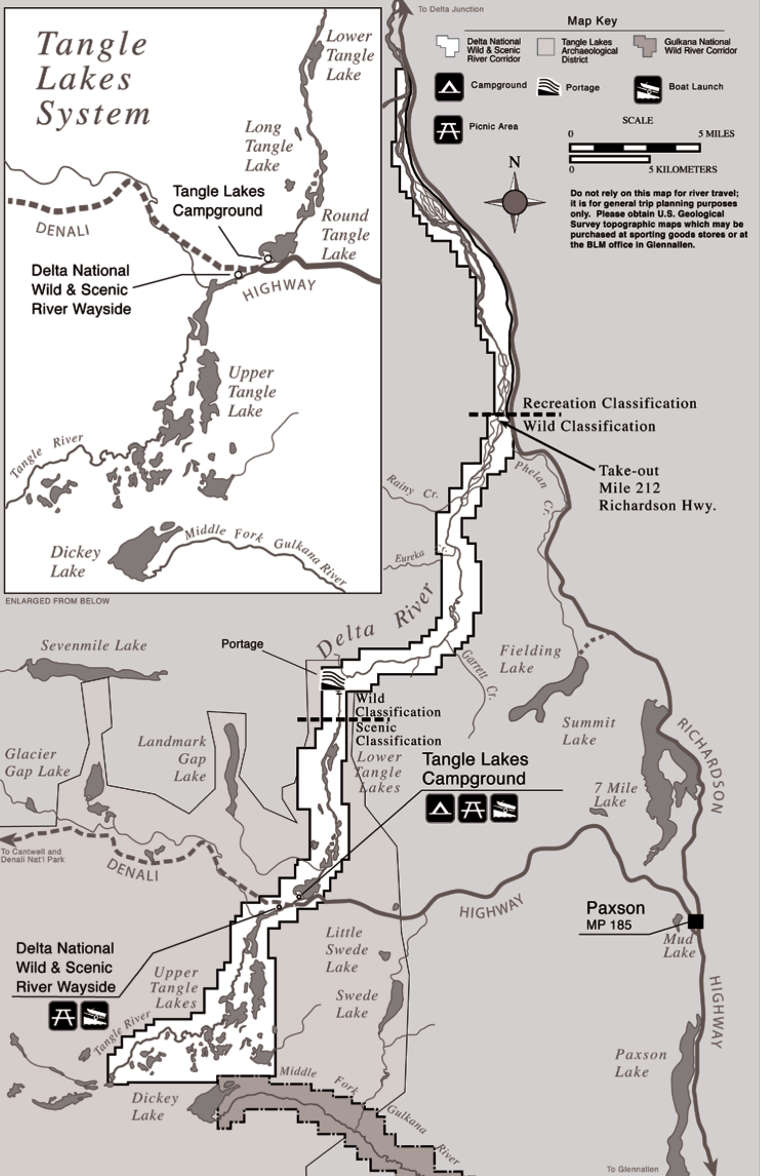 Upper photo courtesy of
alaska.org
Other photo and map courtesy of the Bureau of Land Management