Aniakchak National Monument & Preserve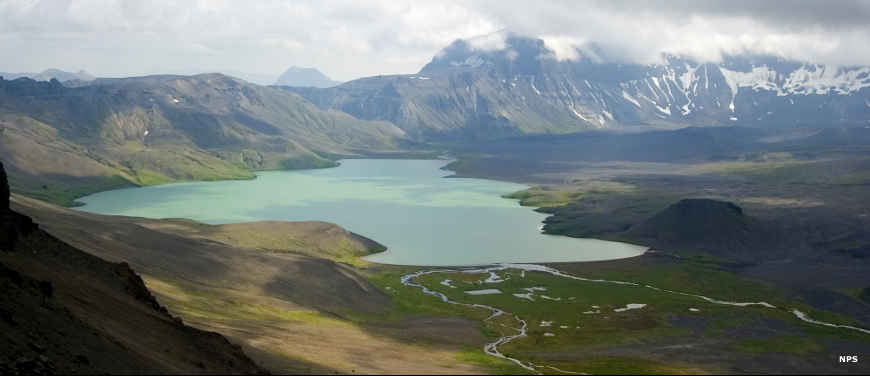 Surprise Lake, on the floor of the Aniakchak Caldera at Aniakchak National Monument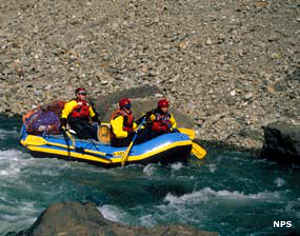 The Aniakchak National Monument and Preserve is centered around the Aniakchak Volcano in the Aleutian Range on the Alaska Peninsula. Aniakchak National Monument contains 137,176 acres, the Preserve another 465,603 acres (of which 25,740 acres is not owned by the Federal Government). The property is administered by the National Park Service. In 2004, there were only 285 documented visits, making Aniakchak National Monument and Preserve the least visited property in the whole National Park System. Most folks visit by flying in, but the weather conditions make landing difficult most of the time. And most aircraft land on the surface of Surprise Lake, an area that regularly sees high winds.
A significant number of those visitors were probably whitewater rafting aficionados, intent on rafting the Aniakchak Wild & Scenic River from Surprise Lake to the bay (about 63 miles and only for the most experienced). One guidebook says, "The weather on Aniakchak is severe; life-threatening conditions can develop rapidly. Extremely violent winds in the caldera, particularly near 'The Gates,' can shred tents and prevent air rescue." Some sections of the river are flat, some very rough.
The river drops more than 1,000 feet in the first 15 miles. The final 12 miles of the float are across open tundra: watch out for the bears, the moose, the wolves and the mosquitoes. Float time: 3 to 4 days from lake to bay. Most folks do it in July, in dry suits and welded into the required life jackets. Most popular raft: 12 to 13 feet long with a rowing platform... and bring lots of repair materials. You might also want to bring your own firewood, too, because dead trees are scarce in all that bare rock and tundra.
This area is a hot spot on the Pacific Ring of Fire with several lava flows and cinder cones present inside the caldera area. The Aniakchak River finds its source inside the caldera at Surprise Lake. The caldera itself is 2,500 feet deep and six miles across, formed during a massive eruption about 3,500 years ago. As this is the Pacific Rim, volcanic activity can recommence at any time.
There are no operating hours or seasonal restrictions imposed by the National Park Service at Aniakchak. However, access to and movement around inside the park may be limited and/or restricted on a moment's notice by weather conditions or volcanic activity. Another thing to be aware of: there are private property inholdings within both the monument and the preserve. Crossing a property line without permission can bring serious consequences.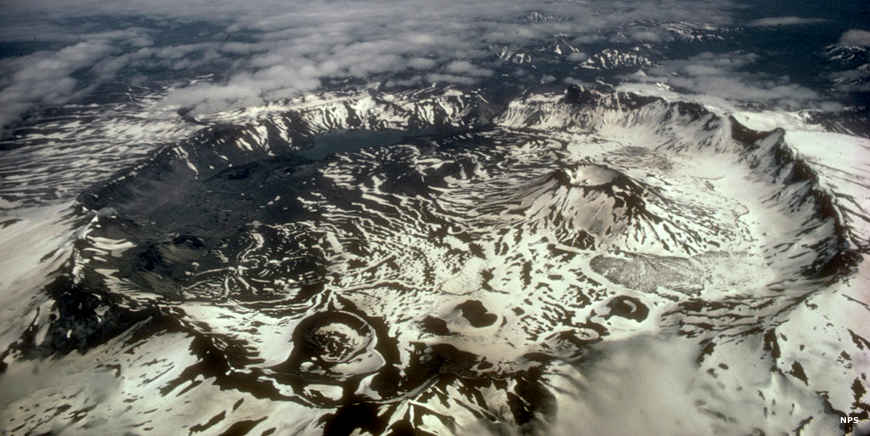 Aerial view of the Aniakchak Caldera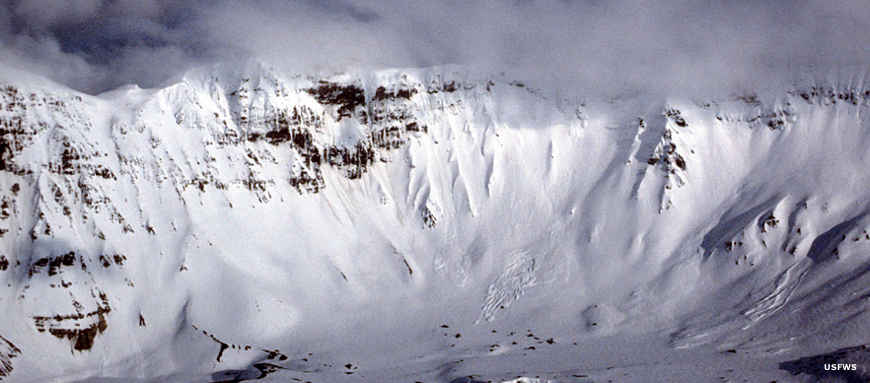 Inside the wall of the Aniakchak Caldera

Photo of Surprise Lake courtesy of Tahzay Jones, National Park Service
Aerial view of the Aniakchak Caldera courtesy of M. Williams, National Park Service
View of the wall of Aniakchak courtesy of the US Fish & Wildlife Service