Bridger Valley Historic Byway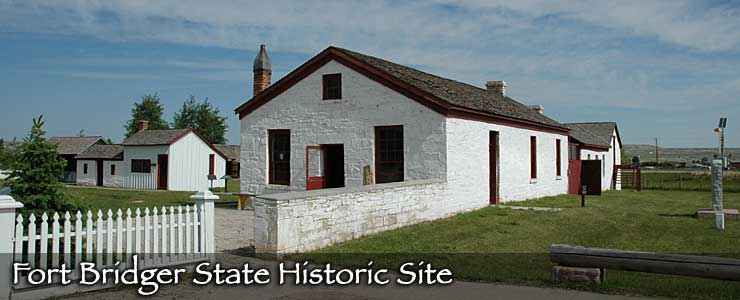 A reconstruction of Fort Bridger on the Bridger Valley Historic Byway
The Bridger Valley Historic Byway is a 20-mile route through some of Wyoming's most historic neighborhoods. Fort Bridger was a major stopping point on the Oregon, California and Mormon Trails in the old days. The Pony Express Route, the first transcontinental railroad, the old Lincoln Highway (America's first coast-to-coast highway) and old US Highway 30 passed through here but when Interstate 80 was built, it bypassed the whole area. Today, the Bridger Valley Historic Byway is a loop that leaves Interstate 80 at Exit 34 and rejoins the highway at Exit 48.
Jim Bridger built his trading post here in 1843. That was in the earliest days of the Oregon Trail. In commemoration, on the first weekend in September, there is a Mountain Man Rendezvous still celebrated every year at Fort Bridger. Bridger did well here until the Mormons arrived in 1847 and he was in trouble with them continually after that. In 1853 they sent a militia to the fort to arrest him for selling alcohol to the Indians but he escaped and headed east. The Mormons then built their own Fort Supply nearby and made some money selling supplies to travelers on the California and Oregon Trails. In 1855, through a bit of fraud the Mormons took over Fort Bridger and used it for their own purposes.
By 1857, relations between the Mormon Church and the United States Government were deteriorating and it looked like a war was inevitable. As the US Army advanced toward Utah from the east, the Mormons burned Fort Supply, then burned Fort Bridger so the Army wouldn't be able to use them. In 1858, two companies of Union infantry stayed at Fort Bridger and rebuilt the place while the rest of the troops moved on to Salt Lake City and established a presence nearby at Camp Floyd.
Fort Bridger did service for a while as a Pony Express Station, then the Civil War started and all the American troops in the area were called back east. The California Volunteer Cavalry and Infantry replaced the military in Utah and two companies of those men were sent to reoccupy Fort Bridger. The volunteers remained until they were replaced by regulars again in 1866. Then the transcontinental railroad was built through the area in 1869. Fort Bridger was finally abandoned in 1878, only to be reestablished again two years later. The fort was finally decommissioned for good in 1890.
Fort Bridger was sold to the Wyoming Historic Landmark Commission in 1928 and is now the Fort Bridger State Historic Site.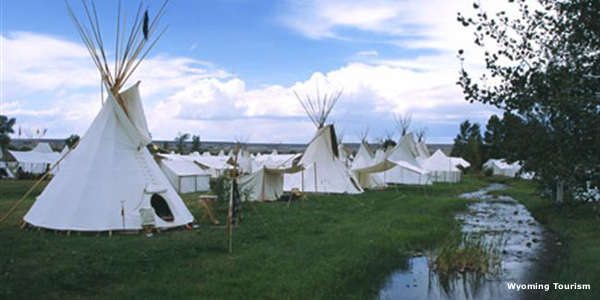 During a modern Mountain Man Rendezvous at Fort Bridger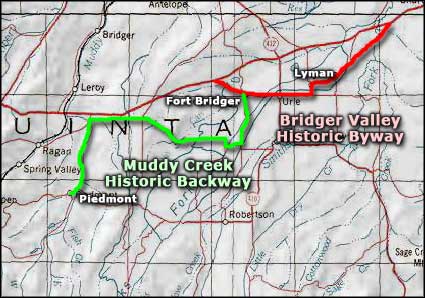 Related Pages
Map courtesy of National Geographic Topo!