Muddy Creek Historic Backway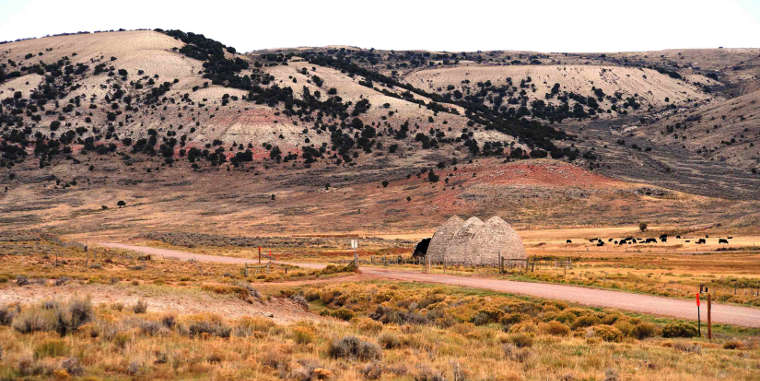 Old charcoal ovens on the Muddy Creek Historic Backway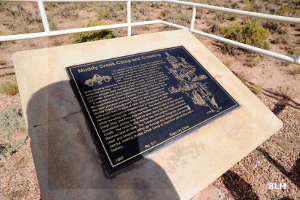 The Muddy Creek Historic Backway is a 25-mile route over a mix of packed dirt and gravel back roads from Fort Bridger to Piedmont. Piedmont is a real ghost town these days but once upon a time...
Piedmont was founded next to Muddy Creek, on one of the most famous campsites on the trunk route of the Oregon, California and Mormon Trails. 2,000 soldiers of the Union Army camped here in 1858, on their way to Utah in case war broke out with the Mormons. This was also the site of the Muddy Overland Stage Stop and a Pony Express Trail relay station. Then came 1867 and the transcontinental railroad built their main trackbed through here and used Muddy Creek as a water stop.
Back in those days, trees were cut in the Uinta Mountains and brought to Piedmont to be cut into railroad ties. Moses Byrne arrived at Muddy Creek in 1869 and built 40 charcoal kilns next to the tracks to produce charcoal for use in the iron smelting industry in Utah. In 1873, his kilns produced about 100,000 bushels of charcoal, nearly all of it shipped to Utah on the Union Pacific Railroad. West of Piedmont was a long, slow grade that required the railroad to station helper locomotives at Piedmont to help get trains up the hill to Aspen Station. In 1910, the railroad completed the Aspen Tunnel, circumventing that long, slow grade and moving the tracks several miles away from Piedmont. From that time on, the tiny town dwindled away. Piedmont never had more than maybe 20 houses, and the best of those were moved to other locations over the years. Only three of the original 40 charcoal kilns have survived.
Piedmont did once figure prominently in the national news. On their way to the big ceremonies at Golden Spike to celebrate the joining of the rails and completion of the first transcontinental railroad, a carload of railroad dignitaries found themselves stopped in Piedmont. 300 road graders and tie hacks had finished their work for the railroad but hadn't gotten paid yet. When the train reached Piedmont, it was prevented from leaving by a stack of railroad ties across the tracks. By the time those ties were manually removed from the route, the rail car carrying a Union Pacific vice-president and the railroad's financial wizard had been de-coupled and moved onto a siding. They were detained in Piedmont until $200,000 in cash was delivered to the workers in Piedmont, then their rail car was re-coupled to a locomotive and they continued on to the big ceremony.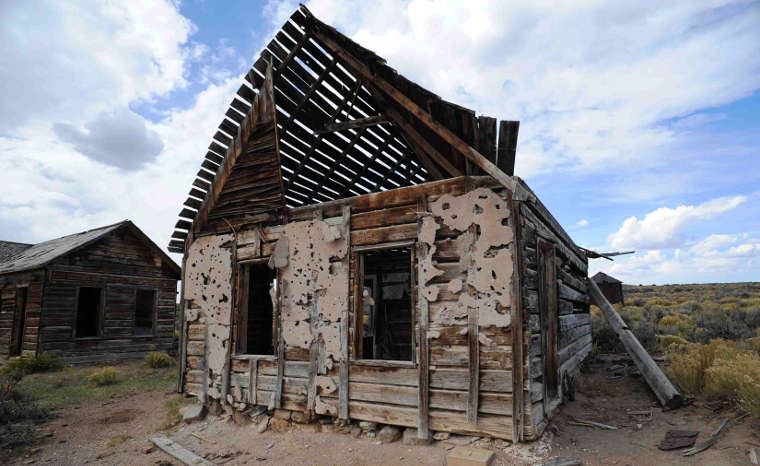 Ruins at Piedmont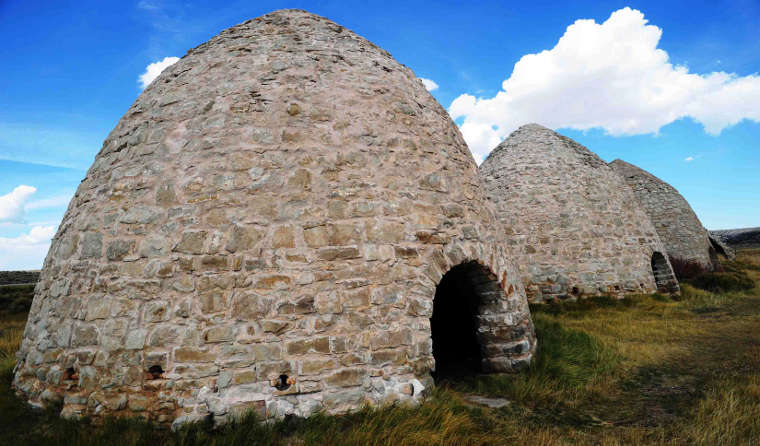 The old charcoal kilns at Piedmont
Photos courtesy of Talbot Hauffe, Wyoming DOT, via Byways.org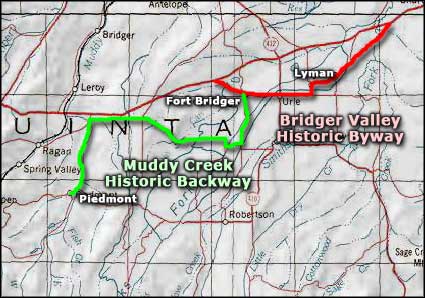 Related Pages
Map courtesy of National Geographic Topo!