Mormon Pioneer National Historic Trail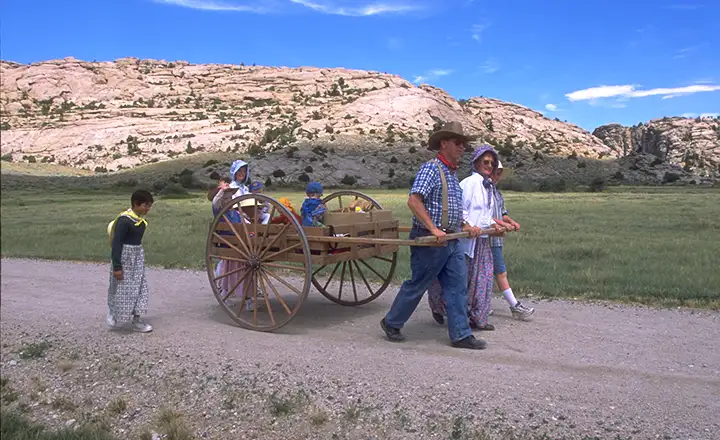 The type of handcart used by many Mormon emigrants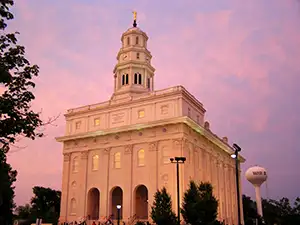 The rebuilt LDS Temple
in Nauvoo, Illinois
The early years of the Church of Jesus Christ of Latter Day Saints (Mormon) were filled with controversy and troubles. The church had originally been founded in New York but had moved its headquarters several times before reaching Nauvoo, Illinois (at the western edge of American "civilization" at that time). At Nauvoo, the Mormons built their version of a New Jerusalem but their obvious prosperity, coupled with their practice of polygamy and their teaching of doctrines outside the confines of mainstream American Christianity caused the hostility and fear around them to continually rise. In response to the hostility and fear, the Mormons also maintained their own large, well-armed militia and had a tendency to mix church and politics in everything they did.
1844 saw their prophet and his brother (Joseph and Hyrum Smith) pulled from a jail in Carthage, Illinois and killed by an angry mob. 1845 saw hundreds of their homes and farm buildings burned by local "Christians" in the Nauvoo area. That became the "last straw."
Since 1842, Brigham Young and other church elders had been discussing moving the entire church west, to somewhere like Texas, California or Oregon, in hopes of finding the religious freedom they'd been guaranteed by the United States Constitution. It was in 1845 that they got a copy of John C. Fremont's story of his journey to California and back that same year. They sent several scouts out to check out the stories of the valley of the Great Salt Lake and when the scouts returned, they made a decision to go there.
That's when planning began to make what is probably the best orchestrated mass emigration in the history of the United States. But even with all their planning, things didn't go well at first: because of military and governmental "saber-rattling" in Illinois, and because the state revoked the city charter of Nauvoo, they were forced to hit the road in the dead of winter. The first of them started west into Iowa on February 4, 1846.
They traveled across Iowa using primitive territorial roads and when those ended, they continued on old hunting trails blazed by Native Americans. It took them four months to reach the Missouri River, beginning to arrive on June 14, 1846. It had been a late winter and spring of heavy rains and deep mud. They'd been forced to stop and wait out the weather many times. During those frequent stops, the elders had gotten together and worked out a method of dividing the many thousands of followers into companies of 100s, 50s and 10s, to make managing the the journey a bit easier. Each successively smaller group had its leaders and responsibilities, but this was a way in which directions could be passed down from the top and reach the individuals who needed to follow those directions.
As they traveled across Iowa, they also established semi-permanent camps along the way to help other Mormons who they were sure would be coming later. Once at the Missouri, they settled in for a bit to get themselves sorted out and prepared for the next big push. They built the beginnings of the community of Kanesville (which later became Council Bluffs), and some of them crossed the Missouri and built Winter Quarters (which is now North Omaha). They planted crops and worked on their equipment and their system of organization.
It was at the Mount Pisgah, Iowa camp where emissaries of the Federal Government appeared and asked if the church would be willing to contribute men to a "Mormon Battalion" for the war with Mexico. Before they had set out on their journey, Brigham Young had written to the Federal Government, offering to build blockhouses and stockades along the California and Oregon Trails in return for government compensation. That offer had been turned down but, with war declared on May 12, 1846, the Army did need men trained in the use of weaponry for the conflict. 500 volunteers, mostly men but with several women and children, left that camp with Captain James Allen in charge and headed for Fort Leavenworth. Captain Smith, of course, found the assignment distasteful and the Mormon Battalion was essentially force marched all the way to New Mexico.
The summer of 1846 was also rainy and their crops didn't do very well. By the time winter rolled around, their camps were overflowing with new arrivals and food was in short supply. Then cholera reared its ugly head. Many people froze and starved to death that winter. By April, they were ready to break camp and get headed west again.
The lead group was composed of 143 men, 2 young boys and 3 women with 52 mules, 66 oxen and 93 horses pulling 72 wagons. They were accompanied by 17 dogs and more than a few chickens. They were a hand-picked group: healthy, strong and prepared for a hard trip. They were much better supplied, better organized and they set off when trail conditions were optimal. It took them less than 4 months to reach the Great Salt Lake.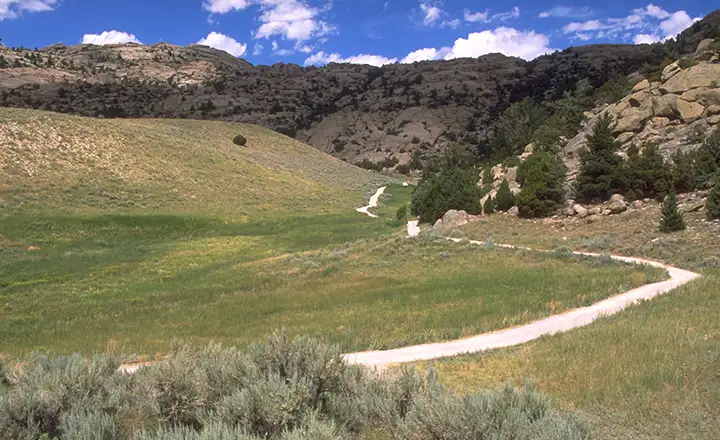 A section of the Mormon Pioneer National Historic Trail in Wyoming
From Winter Quarters they headed for Fort Kearny on the Platte River. That is where they came to the main route of the Oregon and California Trails. Then they followed that main route west, sticking to trails already made until they came to Fort Bridger in southwestern Wyoming. From Fort Bridger they followed the Hastings Cutoff of the Santa Fe Trail. At that time, only a few parties had taken that route and there was no firmly established trail to follow. Of the two routes that had been blazed, they chose to follow the faint traces left by the ill-fated Donner-Reed party who had passed through only the previous fall. In places they had to cut their way through narrow canyons choked with dense willow thickets. The slopes were rocky and often tree-covered. The Wasatch Mountains were no an easy barrier to pass through but eventually they did. That last 80 or so miles took them 14 days to get through, but they left behind them a reasonably decent trail for those who were still on the way.
That first group descended to the valley floor and set up camp. They had a church service and decided "This is the Place" (and there is a historic monument in Salt Lake City that carries that name still). Some of them started plowing fields and planting crops. Some started to build shelters. A group of the elders got everybody organized and planned out their work for the next several months, then the elders headed back over the trail to Winter Quarters.
By the time of the first snowfall, there were about 1,650 people resident in the valley of the Great Salt Lake. Folks settled in for the winter and come next spring, the really big move was on. The elders returned to the "State of Deseret" with their families in 1848. Over the next 20 years, about 70,000 Mormons made the journey from the East to Utah, among them many thousands of their European converts. Most of the Europeans came with only their most prized personal possessions, and they made the journey using human-pulled handcarts (not oxen- or mule-pulled wagons). Of the ten companies of travelers who used the handcarts, only two ran into any serious trouble. Those two started out very late in the season and ran into an early winter storm in eastern Wyoming. Several hundred of them froze to death before help arrived.
In 1869, the Transcontinental Railroad became a reality and overland travel on the Mormon Pioneer Trail came to a halt. The present version of the Trail was designated by Congress on November 10, 1978. The Mormon Pioneer National Historic Trail is managed by a consortium composed of the National Park Service, Bureau of Land Management, National Forest Service and various local and state trail associations and agencies in cooperation with the many private landowners who own title to two-thirds of the route.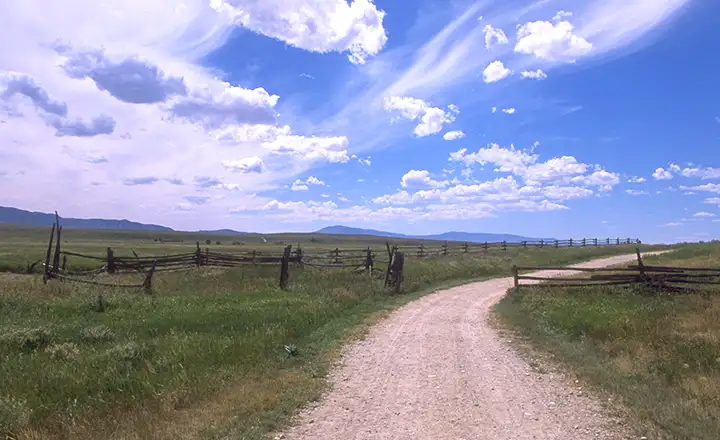 Another piece of the Mormon Pioneer Trail in Wyoming
Photo of the New LDS Temple in Nauvoo courtesy of Ryan Ballantyne,
CCA ShareAlike 2.5 License
Other photos courtesy of the Bureau of Land Management
Map courtesy of the National Park Service