Trail of the Ancients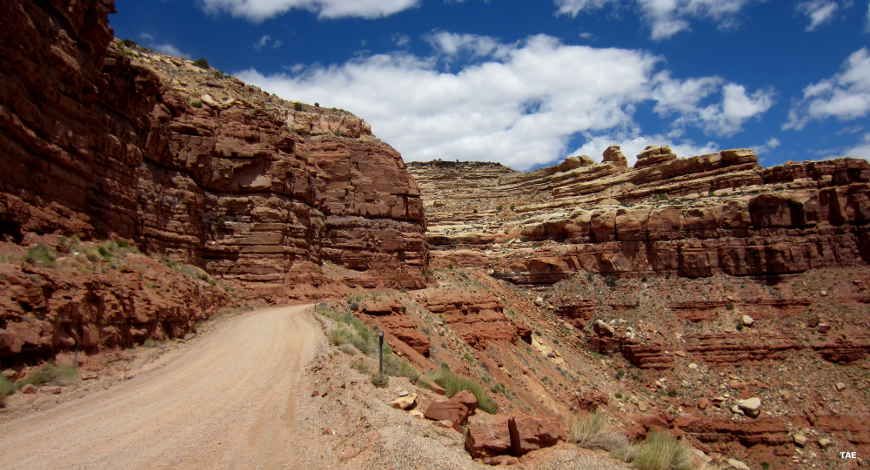 Moki Dugway, along the Trail of the Ancients
The Trail of the Ancients spans southeastern Utah and southwestern Colorado. The Utah section includes about 366 miles of highway, not all of it paved. It passes through a lot of red rock country, between and among many of the ruins left behind by the Ancient Puebloans (the Anasazi) when they abandoned this countryside in the 1200's CE during a major, multi-year drought. Previous to the drought, the area had been considerably wetter and greener, more conducive to human life. There is speculation that conditions were so good, the Ancients overpopulated the area and that hastened their departure when the weather got really dry. Anyway, this is simply gorgeous countryside with multitudes of ancient stone ruins exposed everywhere.
The western loop of the Trail of the Ancients (Utah Highway 261) passes through the high (but heavily eroded) Cedar Mesa country with Grand Gulch Wilderness Study Area to the west and Valley of the Gods to the east. The route is paved except for the section of steep switchbacks where it climbs Moki Dugway. (10% grades - not recommended for RVs. I remember climbing Moki Dugway with my wife in the passenger seat: she had a grip on my arm so fierce it was very hard to steer the car.) The road ascends some 1,100 feet in about three miles at Moki Dugway... SR 261 ends at the intersection with State Route 95, which heads easterly to Blanding around the northern edge of Cedar Mesa. This is where you'll find Butler Wash and Comb Ridge. If you go west on SR 95, you're traveling the Bicentennial Highway...
East of the Blanding-Bluff connector (US Highway 191) is the countryside of Hovenweep National Monument. As soon as you cross into Colorado, it becomes the countryside of Canyons of the Ancients National Monument. This countryside is littered with many, many Ancestral Puebloan ruins but most have not yet been excavated. There are interpretive markers and plaques, even a few hiking trails but be careful where you camp and don't remove anything: to the Navajo, Hopi, Zuni, Paiute and other Native American tribes, this is sacred countryside. To check out some of what's been found here during the few excavations that have officially occurred, check out Edge of the Cedars State Park Museum in Blanding or the Anasazi Heritage Center near Dolores (in Colorado).
In the Valley of the Gods area north of Mexican Hat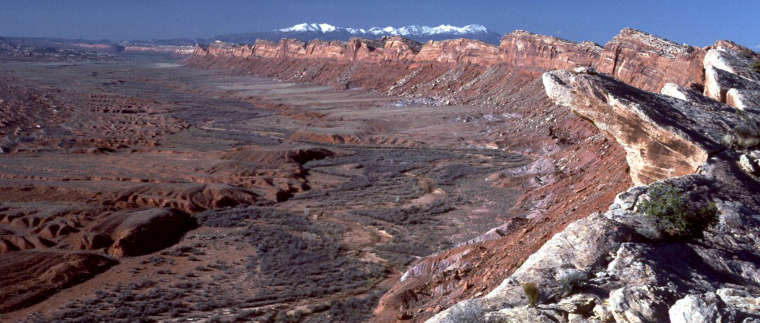 Comb Ridge rises above Comb Wash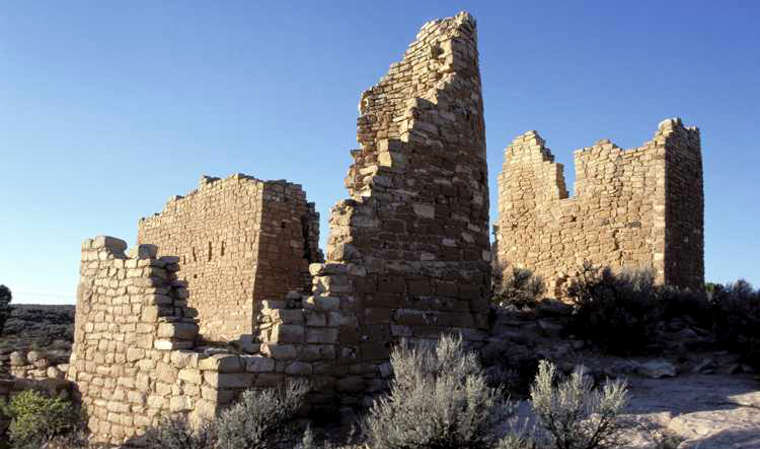 Ruins at Hovenweep National Monument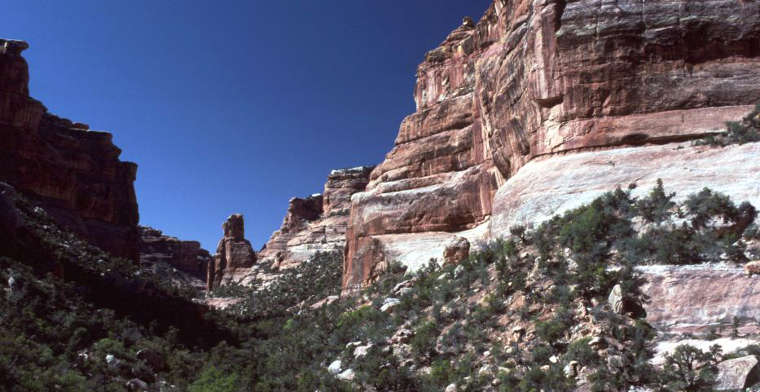 Slickhorn Canyon, in the Grand Gulch Wilderness Study Area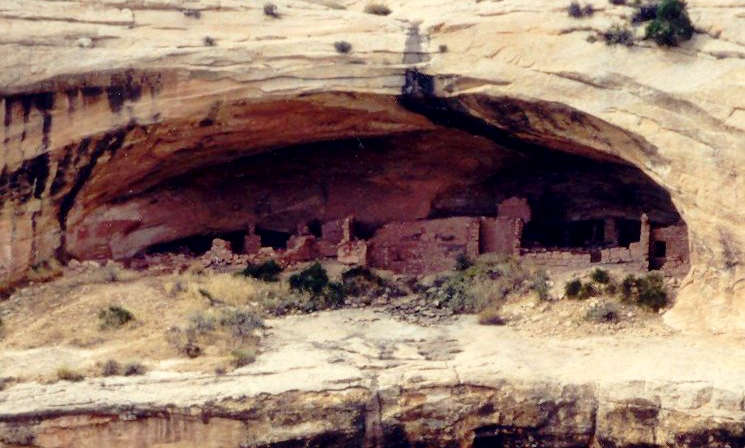 Butler Wash Ruins, along the Trail of the Ancients
Butler Wash Ruins photo courtesy of Susan Taylor
Hovenweep photo courtesy of the National Park Service
Photos of Comb Ridge and Slickhorn Canyon courtesy of G. Thomas
Other photos courtesy of TheArmchairExplorer,
CCA-by-SA 4.0 License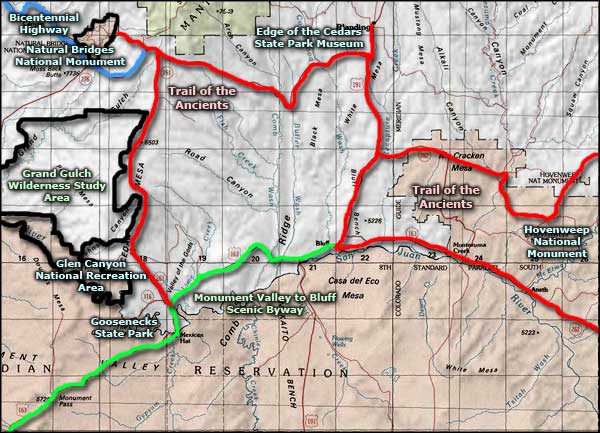 Related Pages
Map courtesy of National Geographic Topo!