East Canyon State Park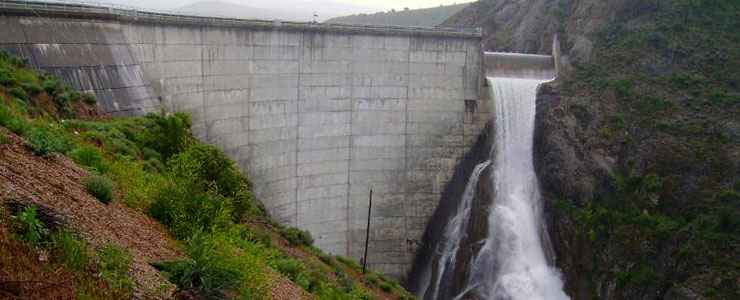 East Canyon Dam at East Canyon Reservoir
Hidden in the mountains northeast of Salt Lake City, East Canyon State Park includes 267 acres around the year-round boating and excellent fishing on 27-acre East Canyon Reservoir. The first Europeans recorded to have come through East Canyon were the Donner-Reed party, a group of Iowa and Illinois farmers on their way to California and into the history books back in 1846. They brought a wagon train through here, not realizing how much the rocky obstacles and high brush would slow their progress down. However, they did a lot of trail work in getting their wagon train through and essentially blazed a trail that was followed in 1847 by the first Mormon pioneers to enter Utah. Four days after passing through East Canyon, Brigham Young and his group reached the Valley of the Great Salt Lake. A lot of folks used this trail over the ensuing years, including the Pony Express and the Overland Stage. The wagon ruts and other trails they left can still be followed through East Canyon State Park.
At the East Canyon State Park Office you can buy a day use pass or an annual use pass (both of which cover use of the water launch facilities). The park is open year round from 8 AM to 10 PM. East Canyon State Park offers 31 RV campsites and 15 tent sites, restrooms, showers, a fish cleaning station, 2 covered group-use pavilions, a snack bar and boat rentals.
East Canyon State Park is about 12 miles south of Morgan off of State Highway 66. Elevation: 5,700'. Acreage: 267.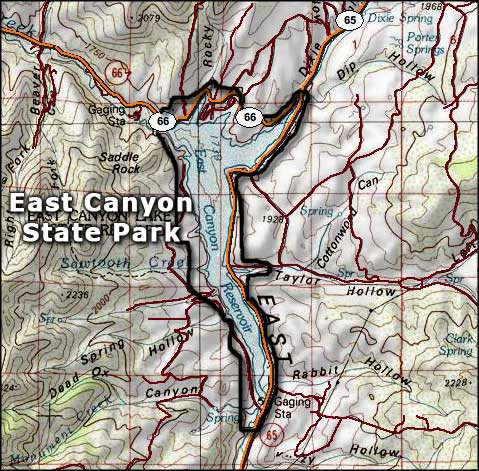 Upper photo courtesy of Antonio Cavallo
Map courtesy of National Geographic Topo!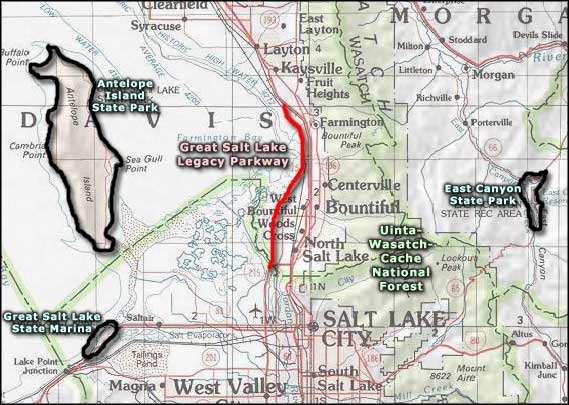 Related Pages
Map courtesy of National Geographic Topo!