Antelope Island State Park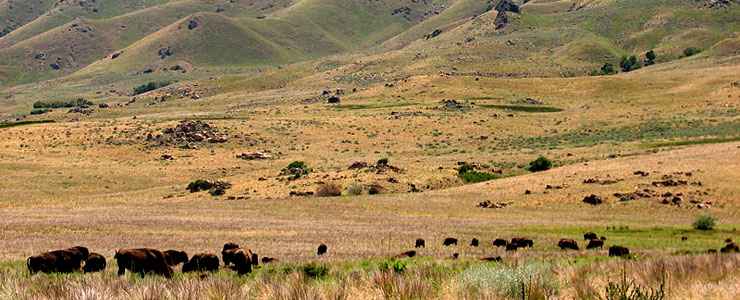 Bison roaming around at Antelope Island State Park
Located on the largest island (about 42 square miles) in the Great Salt Lake, Antelope Island State Park is home to pronghorns, bighorn sheep, a roaming herd of about 500 bison and millions of native and migratory waterfowl. The bison were brought in in 1893 and have since become a valuable resource for breeding and conservation purposes.
Antelope Island is a large piece of rangeland on the southeastern side of the Great Salt Lake that becomes a peninsula when lake water levels get extremely low. There are several back country trails on the island that allow hiking, horseback riding, mountain biking and cross-country skiing. These back country trails also offer some great views and the chance to meet some of the local wildlife up-close and personal (just be careful of the bison). The mountains on Antelope Island reach a maximum elevation of 6,596', which is about 2,500' above the normal lake level. The State Park Visitor Center offers information and some exhibits about the island's unique geology, biology and history. About 11 miles south of the causeway on the east side of Antelope Island is the Fielding Garr Ranch. Fielding Garr Ranch contains one of the earliest Anglo buildings in Utah that still sits on its original foundation.
The Park hours vary by season but the place is generally open from 7 AM to just after sunset (although there is a campground on the island). The Visitor Center and the Fielding Garr Ranch House are open September 15 to April 14 from 9 AM to 5 PM and April 15 to September 14 from 9 AM to 6 PM. Antelope Island State Park is closed on Thanksgiving and Christmas Day.
To get there, take exit 332 off the I-15 and go west on Antelope Drive to the park entrance.
Antelope Island from the causeway
Wave cuts on the land, left from the days of ancient Lake Bonneville
Horses at the Fielding Garr Ranch
Antelope Island State Park map
courtesy of Justin Morris - morris.justin @gmail.com
Antelope Island State Park
Bison, view from causeway and Fielding Garr Ranch photos courtesy of Juozas Rimas,
CCA-by-SA 3.0 License
Photo of Lake Bonneville wave cuts at Antelope Island courtesy of Wikipedia userid Wilson44691
Map of Antelope Island State Park courtesy of Justin Morris,
CCA-by-SA 3.0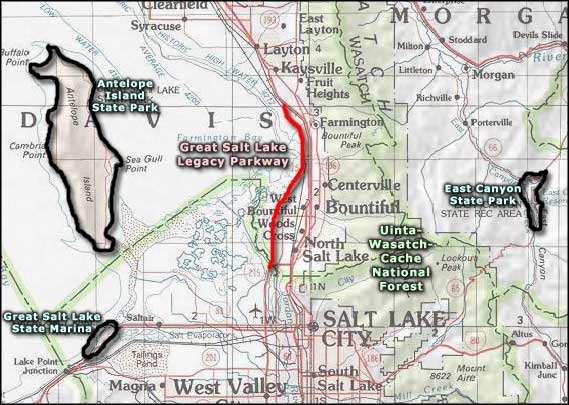 Related Pages
Map courtesy of National Geographic Topo!