Caribou-Targhee National Forest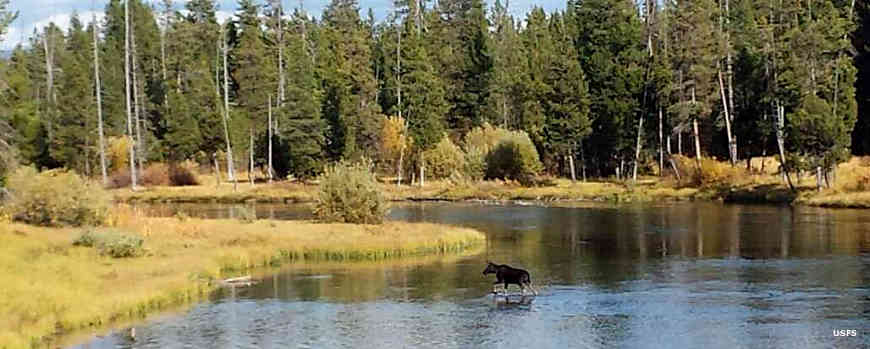 Moose crossing in Caribou-Targhee National Forest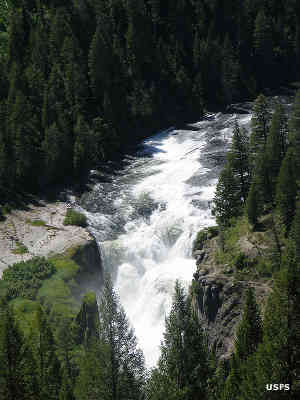 Caribou-Targhee National Forest occupies more than 2.63 million acres across southeastern Idaho with some small sections crossing into Montana, Wyoming and Utah. A large part of Caribou-Targhee National Forest is included in the 20-million-acre Greater Yellowstone Natural Ecosystem. This is an area of rugged mountains, volcanic landscapes, fertile valleys, raging rivers, abundant and varied wildlife, wilderness, campgrounds, solitude, scenery and adventure.
Typical of the Yellowstone area, wildlife in the Forest includes moose, elk, mule deer, white-tailed deer, grizzly bear, black bear, gray wolf, bison, mountain lion, bobcat and pronghorn.
The western portions of the Forest tend to be sage grasslands while the eastern prtions rise up in the mountains to be covered with big pines, firs, spruce and aspen.
There are more than 1,600 miles of trails to explore the forest and dozens of campgrounds to assist in that exploration.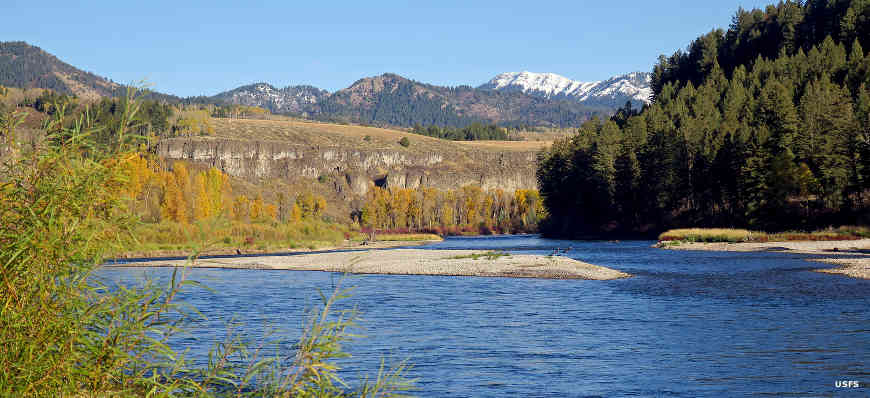 A typical river view in the Forest
Caribou-Targhee is home to or is crossed by several national historic, recreational and scenic trails, backways and byways. Among them are:
Lander Trail
Hudspeth Trail Cutoff
Palisades Creek Trail
Big Springs Drinking water available Trail
Wright's Creek Trail
Highline Trail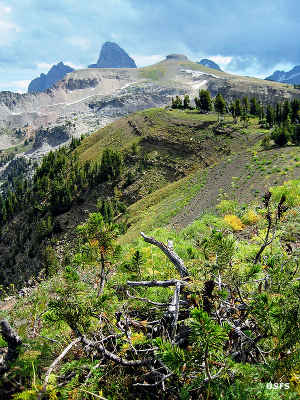 Staff at Caribou-Targhee National Forest also manage Curlew National Grassland, a 47,790-acre property in Oneida and Power Counties, in southern Idaho against the Utah border. The Grassland acreage was assembled between 1934 and 1942 with a plan to improve the soil and vegetation in the area. Today Curlew National Grassland is rather famous for its sage and sharp-tail grouse breeding grounds, sometimes with up to 60 grouse strutting their stuff on a single lek (breeding area). "Drumming season" happens during the months of March and April.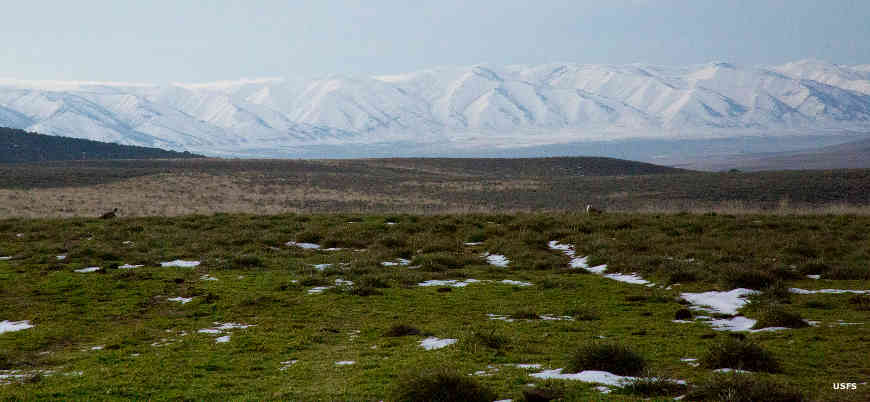 A Curlew National Grassland sage grouse lek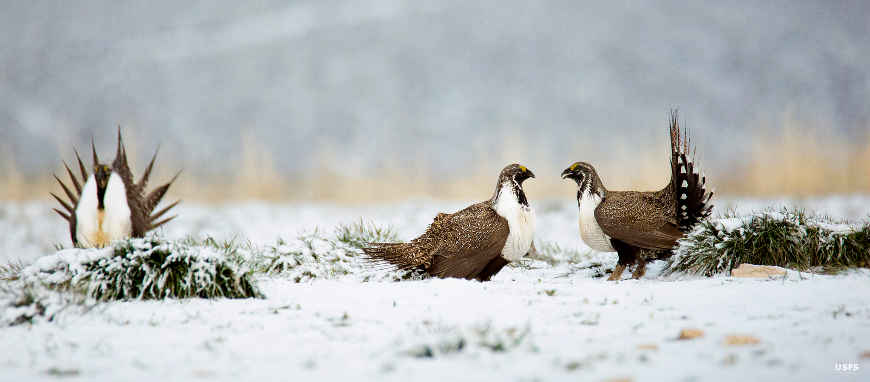 Sage grouse drumming in the snow
Caribou-Targhee National Forest
US Forest Service
 
Photos and small icons courtesy of the US Forest Service
 
Campgrounds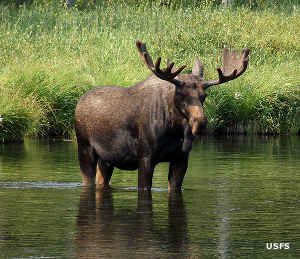 In developed campgrounds, most individual sites are available on a first-come, first-served basis, with fees calculated on the facilities provided. The maintenance and improvement of campgrounds and facilities is paid for with a percentage of those fees. Selected recreation and camping sites may be reserved by calling the National Recreation Reservation Service at 866-444-6777. Service charges and user fees can be paid with a major credit card or by check. Phone operators can either take your reservation or help you to find a site that suits you.
Dispersed camping is allowed in most areas of the Forest, just be at least 1/4 mile from any developed campgrounds or campsites. Dispersed camping tends to be free and also tends to have no amenities available. The stay limit for dispersed camping in any one spot is 16 days. Remember: "Pack it in, Pack it out."
Ashton Island Park Ranger District
Campground Name
When Closed
Elevation
Reservations available
Big Springs
9/30
6,400'
16
16
Yes
No
Yes
Yes
Yes
Vault
Buffalo
9/30
6,200'
105
105
No
Yes
Yes
No
Yes
Pit
Buttermilk
9/30
6,200'
52
52
No
Yes
Yes
Yes
Yes
Vault
Cave Falls
10/30
6,200'
23
23
No
Yes
No
Yes
No
Vault
Flat Rock
10/30
6,400'
38
38
No
Yes
Yes
No
Yes
Vault, Flush
McCrea's Bridge
9/30
6,200'
24
24
No
Yes
Yes
Yes
Yes
Vault
Riverside
10/30
6,200'
55
55
No
Yes
Yes
Yes
Yes
Vault
Coffee Pot
9/30
6,300'
14
14
Yes
Yes
Yes
Yes
Yes
Vault
Warm River
10/30
5,200'
29
29
Yes
Yes
Yes
Yes
Yes
Vault
West End
9/30
6,200'
19
19
No
Yes
No
No
No
Vault
Grandview
10/30
5,800'
No
7
Group Sites 2
Yes
No
No
No
Yes
Pit
Box Canyon
9/30
6,400'
17
17
Yes
No
No
No
Yes
Pit
Dubois Ranger District
| Campground Name | When Closed | Elevation | | | | | Reservations available | | | |
| --- | --- | --- | --- | --- | --- | --- | --- | --- | --- | --- |
| Steel Creek | open | 6,680' | No | No | No | Yes | Yes | Yes | No | Vault |
| Stoddard Creek | open | 6,200' | 21 | 21 | Yes | No | group site | Yes | No | Vault |
Montpelier Ranger District
Campground Name
When Closed
Elevation
Reservations available
Cloverleaf
open
7,100'
18
18
Group Sites-1
Yes
No
Yes
Yes
No
Flush
Porcupine
open
6,900'
17
17
Yes
Yes
Yes
Yes
Yes
Vault, Flush
Summit View
open
7,200'
18
18
Group Sites-3
Yes
No
Yes
Yes
Yes
Vault
Willow Flat
open
6,300'
51
51
Group Sites 3
Yes
Yes
Yes
Yes
Yes
Vault, Flush
Montpelier Canyon
open
6,400'
17
15
No
Yes
Yes
No
No
Vault
St. Charles
open
6,500'
6
6
Group Sites 1
Yes
Yes
Yes
Yes
No
Vault
Beaver Creek
open
8,000'
5
5
Yes
Yes
No
No
No
Vault
Albert Moser
open
6,000'
9
9
Yes
Yes
Yes
Yes
No
Vault
Paris Springs
open
6,000'
9
9
Group Sites 3
Yes
No
Yes
Yes
No
Vault
Eightmile Canyon
open
6,500'
7
7
Yes
No
No
No
No
Vault
Cold Springs
open
>6,500'
3
3
Yes
Yes
No
No
No
Vault
Emigration
open
7,100'
23
23
Group Sites 2
Yes
No
Yes
Yes
Yes
Vault, Flush
Palisades Ranger District
Campground Name
When Closed
Elevation
Reservations available
Alpine
9/30
5,800'
No
16
Group Sites 3
No
Yes
Yes
Yes
No
Vault
Big Elk
9/30
5,800'
No
18
Group Sites 3
No
Yes
for group site
Yes
No
Vault
Blowout
9/30
5,800'
No
16
No
Yes
No
Yes
2
Vault
Calamity
9/30
5,800'
3
41
No
Yes
Yes
Yes
1
Vault
Falls
9/30
5,100'
No
24
Group Sites 1
No
Yes
Yes
Yes
2
Vault
Palisades Creek
9/30
5,700'
No
8
Yes
Yes
No
Yes
No
Vault
McCoy Creek
9/30
5,800'
No
18
No
Yes
No
Yes
No
Vault
Riverside Park
9/30
5,300'
No
22
No
Yes
No
Yes
2
Vault
Table Rock
9/30
5,800'
No
Group Site 1
Yes
No
Yes
Yes
2
Vault
Soda Springs Ranger District
| Campground Name | When Closed | Elevation | | | | | Reservations available | | | |
| --- | --- | --- | --- | --- | --- | --- | --- | --- | --- | --- |
| Pine Bar | open | 6,300' | 5 | 5 | Yes | Yes | No | No | No | Vault |
| Tincup | open | 5,800' | 5 | 5 | No | Yes | No | No | No | Vault |
| Gravel Creek | open | 6,600' | 7 | 10 | No | No | No | No | No | Vault |
| Diamond Creek | open | 6,800' | 0 | open | No | No | No | No | No | Vault |
| Mill Canyon | open | 6,400' | 10 | 10 | No | Yes | No | No | No | Vault |
Teton Basin Ranger District
| Campground Name | When Closed | Elevation | | | | | Reservations available | | | |
| --- | --- | --- | --- | --- | --- | --- | --- | --- | --- | --- |
| Mike Harris | 9/30 | 6,200' | 12 | 12 | Yes | No | Yes | Yes | No | Vault |
| Pine Creek | 9/30 | 6,600' | 9 | 9 | No | No | No | No | No | Vault |
| Reunion Flat | 9/30 | 6,900' | 9 | 9 | No | Yes | Yes | Yes | Yes | Vault |
| Trail Creek | 9/30 | 6,600' | 11 | 11 | No | Yes | Yes | Yes | Yes | Vault |
| Teton Canyon | 9/30 | 7,200' | 20 | 20 | Yes | Yes | Yes | Yes | No |   |
Westside Ranger District
| Campground Name | When Closed | Elevation | | | | | Reservations available | | | |
| --- | --- | --- | --- | --- | --- | --- | --- | --- | --- | --- |
| Big Springs | open | 6,300' | 29 | 29 | Yes | Yes | Yes | Yes | Yes | Vault |
| Cherry Creek | open | 4,800' | Yes | 5 | Yes | No | No | No | No | No |
| Curlew | open | 4,700' | Yes | 32 | No | Yes | Yes | Yes | Yes | Vault |
| Mink Creek | open | No | Yes | Yes | Yes | Yes | Yes | Yes | Yes | Vault |
| Malad Summit | open | 6,100' | 10 | 13 | Yes | Yes | Yes | Yes | Yes | Vault |
| Scout Mountain Campground and Picnic Area | open | 6,900' | 22 | 25 | Yes | No | Yes | Yes | Yes | Vault |
| Third Creek | open | No | Yes | Yes | Yes | Yes | group site | Yes | Yes | Vault |
| Twin Springs | open | No | Yes | Yes | Yes | No | No | No | No | Vault |
| Dry Canyon | open | No | Yes | Yes | Yes | No | No | No | No | Vault |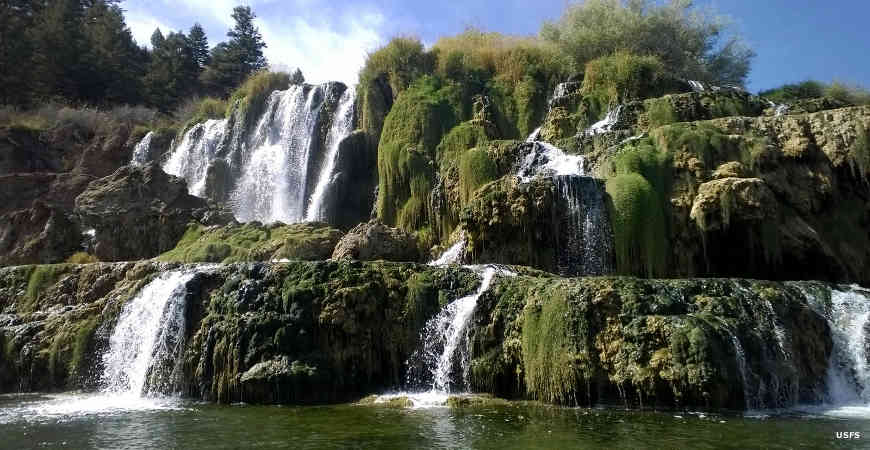 Fall Creek Falls