Curecanti National Recreation Area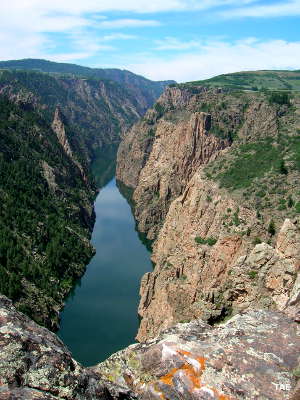 Curecanti National Recreation Area is composed of three reservoirs (Blue Mesa Reservoir, Morrow Point Reservoir and Crystal Reservoir) on the Gunnison River upstream from Black Canyon of the Gunnison National Park. The countryside is spectacular and draws a lot of visitors in the summer.
Curecanti National Recreation Area is a 41,972-acre property with a 6,700-acre archaeological district containing traces of dwellings and inhabitants from up to 10,000 years ago. There has also recently been a significant find of dinosaur fossils on the property.
Beginning in 1882, the Denver & Rio Grande Railroad ran their main line to western Colorado beside the river but the line was hard to run and harder to maintain so when a route was finally forged through Glenwood Canyon further to the north, traffic on the narrow gauge line through Gunnison Canyon was cut back until it was finally stopped in 1949. Portions of the railroad bed still remain, mostly in the area of the railroad museum in Cimarron.
Blue Mesa Dam was built at the mouth of the Black Canyon of the Gunnison primarily to store water. The dam was completed in 1965 and now holds back Colorado's largest body of water. Twelve miles downstream in Black Canyon, Morrow Point Dam was built in 1967, primarily to produce electricity. Six miles further downstream, Crystal Dam was built in 1976. Between Crystal Dam and Morrow Point Dam is where the Gunnison Diversion Tunnel was constructed in the early 1900's to funnel water through a 6-mile tunnel beneath the mesa to the Uncompahgre Valley for irrigation purposes. Just downstream from Crystal Dam is the boundary with Black Canyon of the Gunnison National Park.
Blue Mesa Reservoir offers four boat launches and two marinas. Morrow Point Reservoir offers a tour on a 42-passenger pontoon boat from Memorial Day weekend through Labor Day. There are also eight developed campgrounds, multiple hiking trails, several developed overlooks and three visitor centers within the National Recreation Area. All motorized watercraft are subject to inspection for invasive mussels before and after launching. Because water releases from Morrow Point Dam regularly cause strong currents and severe water fluctuations in Crystal Reservoir, there is very little boating on the lake. There are no boat launch facilities and small craft must be launched by hand. There is a walk-in picnic area on the north shore of the reservoir and the fishing is supposed to be pretty good.
Surrounding Curecanti National Recreation Area are hundreds of thousands of acres of BLM land mixed with private land, state land and state wildife areas. The West Elk Loop Scenic Byway travels along the shores of Blue Mesa Reservoir until it crosses Blue Mesa Dam and begins the rise up the hills on the north side of Morrow Point Reservoir. Near the east end of Blue Mesa Reservoir is the junction between the West Elk Loop and the Silver Thread Scenic Byway (which heads south from there to Lake City, Creede and South Fork, Colorado).
In the heart of Morrow Point Reservoir is the Curecanti Needle, a granite obelisk that rises about 700 feet above the lake's waters. A significant number of people try to climb this rock each year but it's only for the most advanced. There is a trail heading down the canyon of Curecanti Creek from the Pioneer Point Overlook that brings you to the water's edge at the foot of Curecanti Needle. It's a two-mile hike (one way) and is significantly harder coming up than going down: the elevation change is 900 feet. There are two primitive campsites at the water's edge with picnic tables, fire grates and vault toilets.
Curecanti National Recreation Area
National Park Service
Photos are courtesy of TheArmchairExplorer,
CCA-by-SA 4.0 License
Maps are courtesy of the National Park Service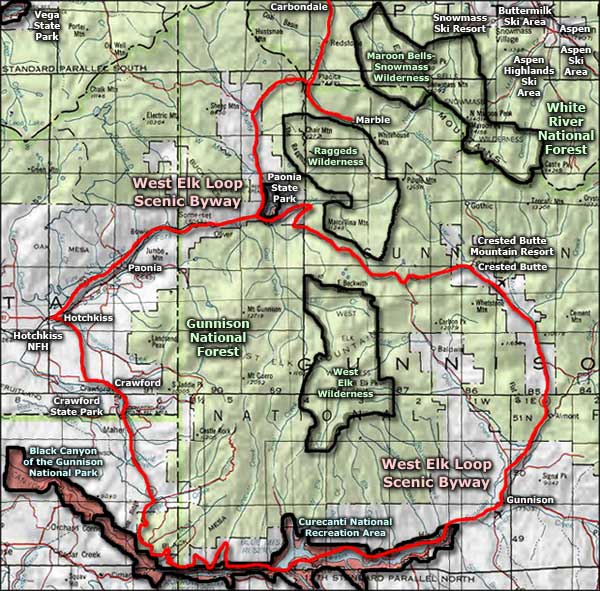 Related Pages
Map courtesy of National Geographic Topo!