Rug Road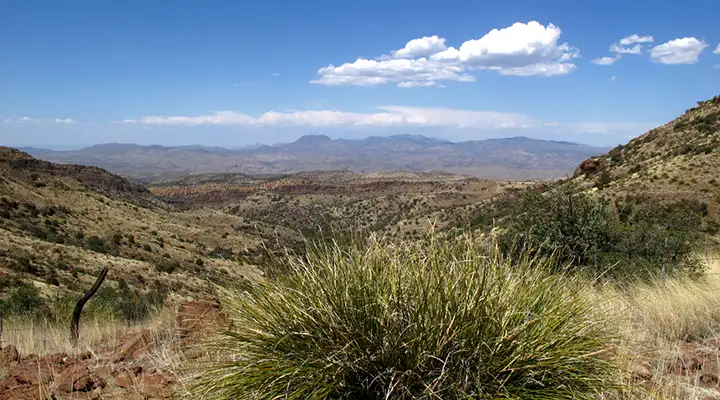 A view from the top of the Rug Road Backcountry Byway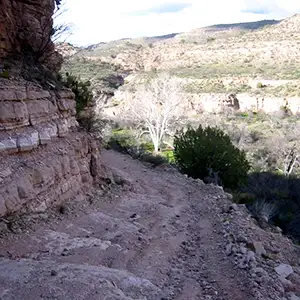 Rug Road is not a designated scenic byway, although the Bureau of Land Management does class the road as a backcountry byway and it's about as scenic as it gets. However, the road is definitely only for the 4WD types, or those who travel by mountain bike, dirt bike or on foot or horseback. I've included it on my list because this is the kind of road I like... of course, any road that has folks using carpet remnants to smooth out the road and give some traction will get my attention...
For most folks, Rug Road is little more than a legend spoken of in hushed tones in the back of the room. In actuality, it's a 70-mile white knuckle journey over the northwestern side of the Galiuro Mountains between Mammoth and Klondyke just south of the justly famous Aravaipa Canyon Wilderness. When you consider that a normal vehicle traveling from Mammoth to Klondyke is going to travel at least 150 miles to end up at the same place, it doesn't sound too bad. But the 4WD folks recommend short wheelbase, 33" tires, locking differentials and miscellaneous other specialty gear. And no one travels the route over and back again in the same day...
Going from west to east, Rug Road really starts just east of the San Pedro River on the edge of Mammoth and makes a long, convoluted climb up and over Table Mountain before descending into Turkey Creek Canyon on the eastern edge of Aravaipa Canyon Wilderness. Technically, Rug Road ends at the foot of that descent when the route connects with the Turkey Creek Canyon Road which leads downstream (north) to Aravaipa Canyon before turning southeast and heading to Klondyke.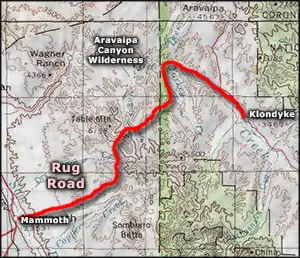 But getting out of Mammoth is going to have you traveling up Copper Creek Hill, past the old mining camps and into the foothills of Table Mountain. That area is typical Sonoran Desert vegetation and wildlife: cactus, ocotillo, mesquite, catclaw, creosotebush, javelina, desert bighorn sheep, mountain lion, mule deer, coyote... The tablelands around Table Mountain are covered with a desert shrub and oak woodland while the descent into Turkey Creek Canyon is a descent into a lush riparian zone with perennial waterflows.
After passing the Table Mountain high point, you'll be traveling along the rim of Oak Creek Canyon with some great views down into a typical riparian zone in this area. There is at least one marked cliff-dwelling along the route but there are several historic homesteads out there, too.
Legend has it the road was first built to service the Salazar Ranch. Old man Salazar was driving back and forth to Mammoth regularly in his 2WD pickup in the early 1950's and got nervous about the way the road was eroding. So he went down to Tucson and gathered a truckload of old carpet remnants. On his way back home he stuffed those remnants into rough spots along the road to smooth out the road, give him better traction and slow down the damage from erosion. That part of the road is now known as "Carpet Hill," and it's a nasty, loose-rock, deeply rutted, steep slope that rises 650 feet in about 3/4 of a mile.
If you stop and get off the path up above, you'll be in the tablelands to the south of and above Aravaipa Canyon. This is the Galiuro Mountains, an extremely rugged high plateau deeply incised by water-eroded canyons. The photos on this page should give you some idea of what's out there... and as beautiful as it is, it isn't for the faint of heart. While actual elevation difference on the route is only a bit more than 3,000 feet, the accumulated elevation gain (from all the up and down) is more than 8,400 feet.
While nearly the whole of Rug Road is on BLM property, there is one private property owner near Turkey Creek Canyon who sometimes shuts and locks a gate across the road, apparently in a half-hearted attempt to extort a few bucks from the federal government. On the other hand, the BLM has removed most mention of Rug Road from their website...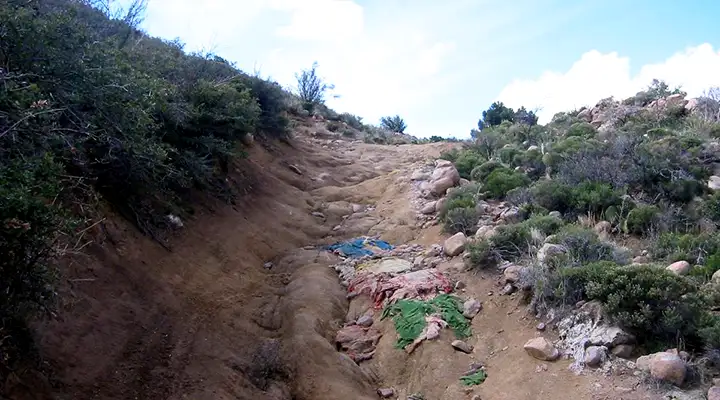 That part of Rug Road which earned the name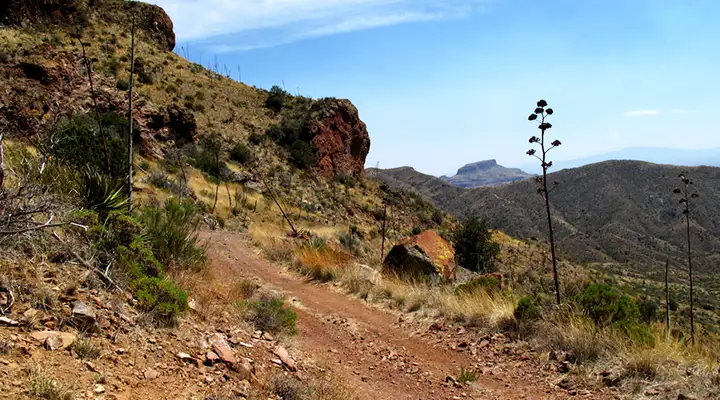 High above Copper Creek on the Rug Road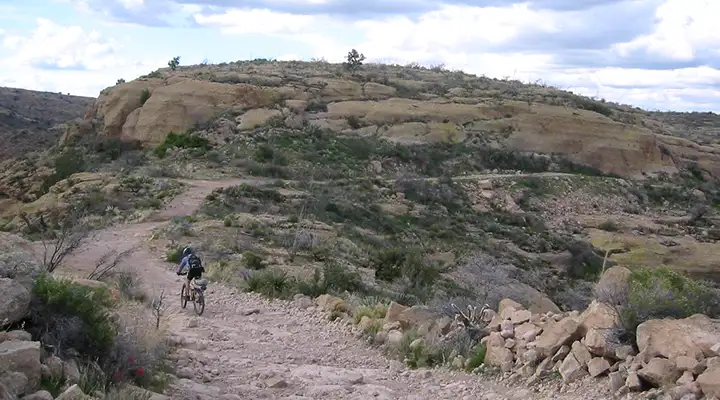 Up near the Table Mountain summit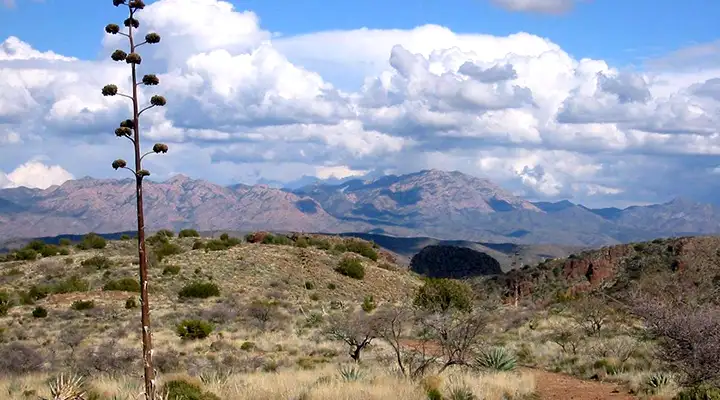 The Galiuro Mountains from the Table Mountain high point
Photos courtesy of
HikeArizona.com
Map courtesy of National Geographic Topo!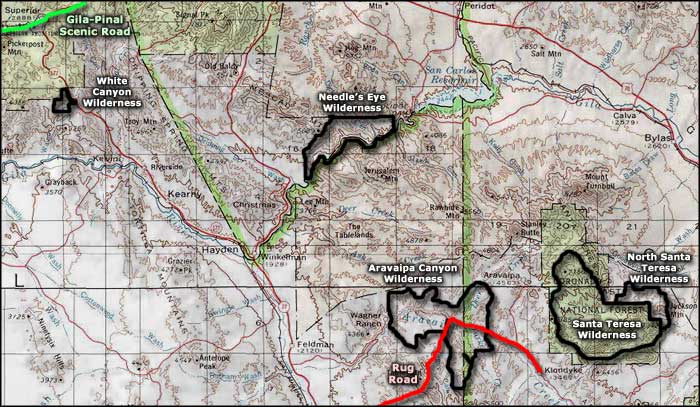 Related Pages
Map courtesy of National Geographic Topo!