Alabama's Coastal Connection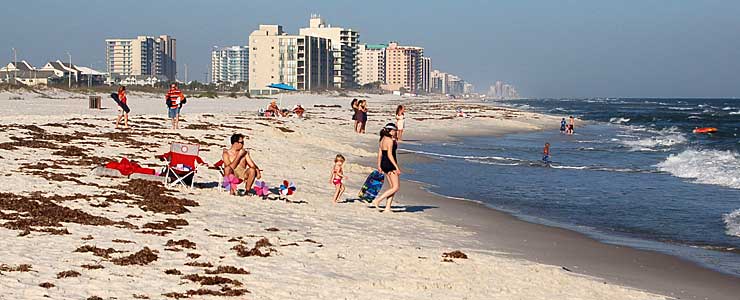 White sand on the Gulf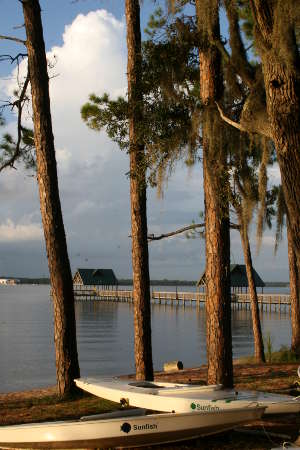 Alabama's Coastal Connection is a scenic byway that almost completely circumnavigates Mobile Bay. This is a 130-mile drive along the shoreline, beside the bay and across several gulf islands. There are pre-historic shell mounds, old forts from the days of the Civil War, the Dauphin Island Audubon Bird Sanctuary, Gulf State Park, the Bon Secour National Wildlife Refuge and the Weeks Bay National Estuarine Research Reserve. A short side trip off the main route will also take you into the beautiful Bellingrath Gardens.
It was here on Mobile Bay that Admiral Farragut made his famous statement: "Damn the torpedoes, full speed ahead!" However, this is such a beautiful drive you're going to want to take your time and enjoy the many delights along the way.
This is a busy harbor with ocean-going freighters, shrimp boats, charter boats and research vessels. On both sides of the mouth of Mobile Bay stand two National Historic Landmarks: Fort Morgan and Fort Gaines. These are brick and wood fortresses that stood guard during the Civil War, and still live to tell their stories.
The Dauphin Island Audubon Sanctuary, Gulf State Park and Bon Secour National Wildlife Refuge protect more than 12,000 acres of precious, undeveloped wildlife habitat here. This is an area of sand dunes and beaches, fresh water swamps and uplands, scrub forests and fresh and salt water marshes. You'll find thousands of shorebirds, wading birds and migratory waterfowl hanging out here for the winter.
There are several waterfront parks along the scenic byway at places like Orange Beach, Dauphin Island and along the eastern shoreline of Mobile Bay. There are seafood restaurants and hiking trails everywhere. This is a great area for sailing on the bay, enjoying a good game of golf or just strolling along the water's edge and watching the sunset. Public and private campgrounds are scattered along the route, as are luxury hotels, beach houses and everything in between.
If you're really into seafood, Bayou La Batre Harbor is the "Seafood Capital of Alabama." This is a place where you can sit by the bay and watch your lunch being unloaded on the docks just before it arrives on your plate. Just up the road from Bayou La Batre you'll find the Bellingrath Gardens and Home: a 65-acre estate overflowing with roses blooming in summer, chrysanthemums in the fall, camellias in winter and azaleas in the spring. Tours of the Bellingrath Museum Home are also offered.
The Dauphin Island Audubon Sanctuary is a 164-acre property containing dunes, beach, swamp, lake, marshes and a maritime forest. Some of the multiple walking trails are universally accessible. There are also multiple interpretive signs along the trails to help the bird watchers figure out what they're looking at/for.
Gulf State Park offers 6,500 acres with fresh water lakes, nature trails and 2.5 miles of gorgeous beach. There is primitive and "modern" camping available, as well as cottages, an 18-hole golf course, tennis courts, group pavilions, picnic areas, nature programs and guided tours. You'll also find the longest (1,512') fishing pier on the Gulf of Mexico at Gulf State Park.
The Eastern Shore Trail is well named: 32 miles of multi-purpose recreation on the eastern shore of Mobile Bay. History, wildlife, vegetation, bay views, birds... it doesn't get much better.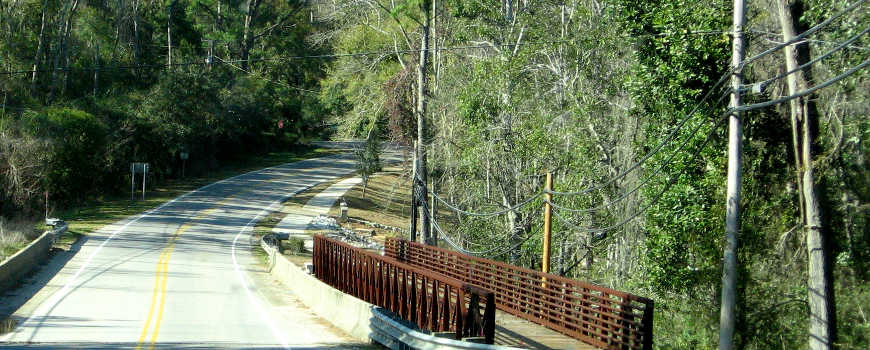 Along the Eastern Shore Trail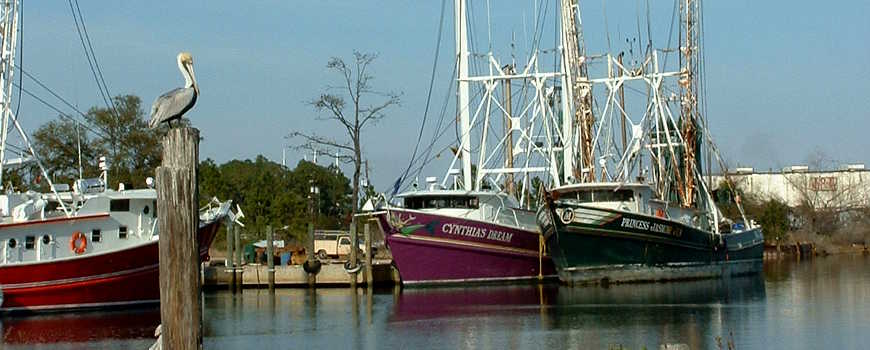 Shrimp boats in Mobile Bay
Photos courtesy of byways.org
Map courtesy of National Geographic Topo!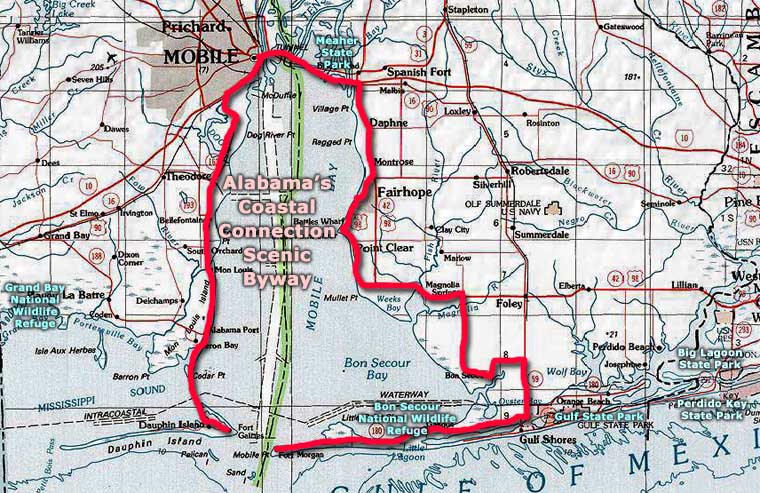 Related Pages
Area map courtesy of National Geographic Topo!