South Big Horn-Red Wall Scenic Backway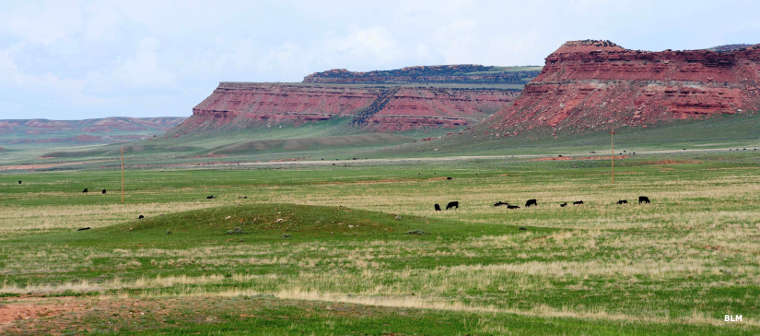 Along the South Bighorn-Red Wall Scenic Backway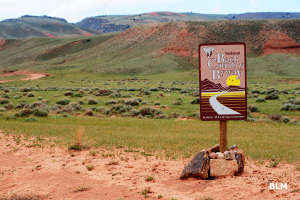 The 101-mile drive along the South Big Horn-Red Wall Scenic Backway will take you across some of the historic open range that is still used by Wyoming ranchers for grazing their cattle and sheep. This is a BLM Back Country Byway and is mostly a good gravel road, but it may require high-clearance and 4WD in spots, depending on weather and how recently the road was last graded. There are no services along the road so make sure your tires are in good shape, your gas tank is full and you have food, water, blankets and clothing, just in case. Depending on the time of year, you might not encounter another human along this whole route. If there's snow on the ground, don't do it! This is also not a route for trailers, fifth-wheelers or RVs.
The South Big Horn-Red Wall Scenic Byway is in an area made famous by the presence of many of the Old West's most famous outlaws, because this is the southern gateway to Hole-in-the-Wall country, the stomping grounds of Butch Cassidy, the Sundance Kid and various other members of the Hole-in-the-Wall gang.
The scenic backway begins on the plains and travels north into the foothills of the Big Horn Mountains. There's a lot of sagebrush and grassy prairie but not a lot of tree cover. You'll quickly see why cattle and sheep ranchers use this land the way they do. Fifty-Mile Flat means what it says, and as you approach the northern end of that, the Red Wall will begin to appear. The Red Wall is a long, southeast-to-northwest escarpment of red sandstone and shale that marks the southern end of the Big Horn Mountains. In the area of the Red Wall is where you'll see some stands of Ponderosa pines.
There are a lot of seasonal streams and small rivers along the route with limited-facility campgrounds at Grave Springs and Buffalo Creek. At the north end of the horseshoe-shaped road you'll find Roughlock Hill on the Red Wall: a place where emigrants maneuvered their covered wagons down the steep, rocky slope by locking their wagon wheels and skidding the wagons down. You'll also find a few rock cairns scattered along the route with plaques commemorating the old-time sheep men and women of the region. Along the main route you will also find many connecting roads that lead deeper into the countryside, some into the vastness of Bighorn National Forest and the canyons along the southern edge of the Big Horn Mountains.
This is a 101-mile route but most folks will take at least four hours to drive it, more if they slow down and enjoy themselves.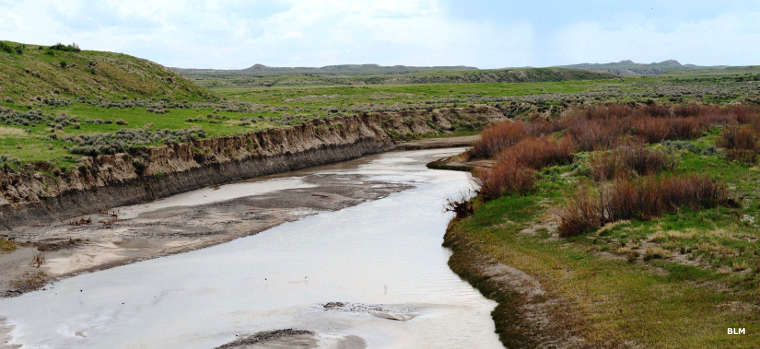 South Fork of the Powder River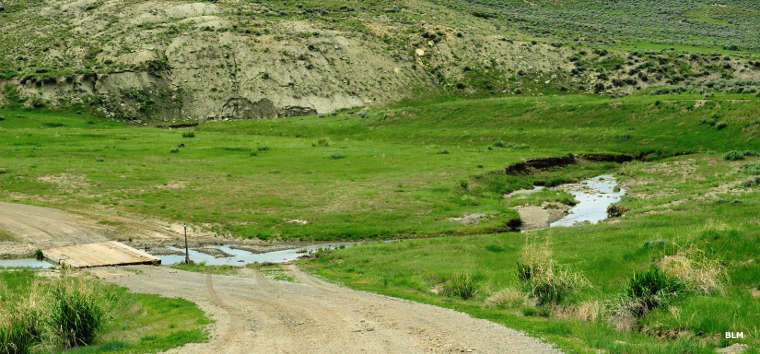 Crossing at Alkali Creek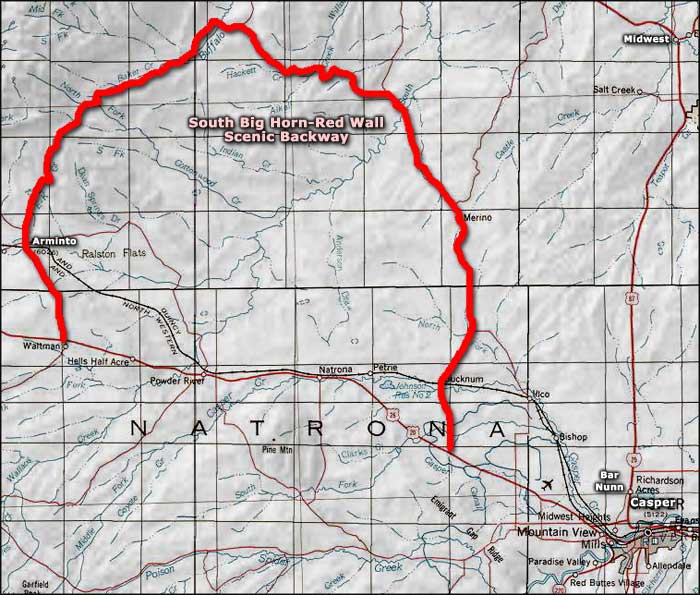 Photos courtesy of Talbot Hauffe, Wyoming DOT, via Byways.org