Klondike Gold Rush National Historical Park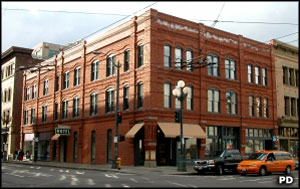 The Klondike Gold Rush National Historical Park is a "distributed" park with units in Seattle, Washington and Skagway, Alaska. In 1969 an agreement was made with Canada to make the whole into the Klondike Gold Rush International Historic Park by joining the Chilkoot Trail, a 30-mile section of the Yukon River and the Dawson Historical Complex National Historic Site in Dawson City, Yukon Territory with the two main American units.
The Seattle unit of Klondike Gold Rush National Historical Park is primarily a Visitor's Center with interpretive exhibits and a museum. The Visitor's Center is located in the Cadillac Hotel, a site that was one of the main points for outfitting and departure in the days of the actual gold rush. The Cadillac was built in 1899 but was severely damaged in the 2001 Nisqually earthquake and subsequently scheduled for demolition. Historic Seattle got involved and presented a plan to save the building. Shortly afterward, they bought the property and rehabilitated and renovated it in 2004-5 to become the home of the Seattle Unit of Klondike Gold Rush National Historical Park. The new Visitor's Center was dedicated (and opened to the public) on June 26, 2006 with exhibits on the ground and first floors commemorating and preserving the story of the 1897-98 rush to the gold fields in the Yukon Territory.
It has been estimated that some 100,000 people from all parts of the globe started out on the Klondike Trail. At most, 40,000 people actually made it to Dawson City. Only a few hundred found enough gold to make it worth the trip and only a handful of those were able to hold onto any of the wealth they found. On the other hand, many of those who set out on the quest spoke of the journey as the greatest adventure of their lives...
The Visitor's Center is open every day of the year except Thanksgiving, Christmas and New Year's Days. From Memorial Day Weekend to Labor Day the open hours are from 9 am to 5 pm. The rest of the year 10 am to 5 pm. Admission is free.
Klondike Gold Rush National Historical Park
National Park Service
Upper left photo is in the public domain