Spearfish Canyon Scenic Byway
Spearfish Creek runs beside the road for most of the route
Spearfish Canyon Scenic Byway is a 20-mile route through narrow Spearfish Canyon in the northern Black Hills. The route parallels the path of Spearfish Creek between the narrow granite walls colored in shades of gray, pink and brown. The canyon is so narrow that in some parts, the sun only reaches the bottom for an hour or so at lunchtime and then is gone again.
The forest in the area is quite dense and composed of Ponderosa pine, spruce, firs, aspen, oak and birch. It's all the light-absorbing Ponderosa needles that gave the area the name "Black Hills."
The Spearfish area saw lots of gold miners in the old days but that activity faded quickly into interest in the timber resources in the area. Then about thirty years ago logging tapered off and now the local economy revolves a lot around tourism and vacation homes.
According to Bicycling Magazine, Spearfish Canyon Scenic Byway is one of the top 50 scenic bike routes in the United States. Part of what allows for that rating are the four-foot shoulders on the road that easily accommodate pedestrians and bikes.
Yet more waterfalls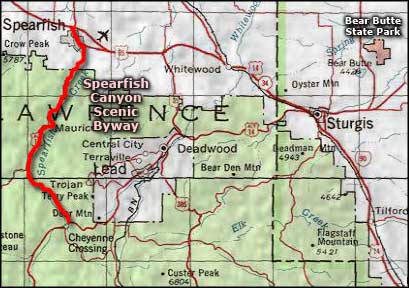 Photos courtesy of Jerry J. Boyer © 1999, Spearfish Canyon Photo Journal, via Byways.org
Map courtesy of National Geographic Topo!