Ninety Six National Historic Site

The Star Fort at Ninety Six National Historic Site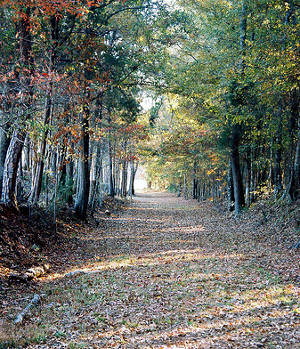 Island Ford Road
Ninety Six is the name of a couple early pioneer settlements and a modern town located a couple miles to the north. At the beginning of the Revolutionary War, the pioneer settlement at Ninety Six had about 100 inhabitants. In 1775 the first land battle fought in South Carolina happened at Ninety Six when Patriot troops tried to recapture weapons and ammunition that had been taken by the Loyalists. Outnumbered and outgunned, the Patriots were able to forge a truce and walk away.
Ninety Six was a Loyalist stronghold throughout the war. The British came officially in 1780 and fortified the settlement by building a "Star Fort" (earthen ramparts laid out in the shape of a star). The southern contingent of the Continental Army, under the command of Major General Nathanael Greene, beseiged the community from May 22 to June 18, 1781. About 1,000 Patriots against about 550 Loyalists. The fighting mostly centered around the Star Fort and it achieved its objective: The longest land siege in the Revolutionary War ended in a draw with the Patriots walking away.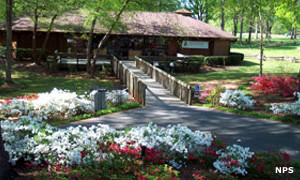 The Visitor Center
The site of Ninety Six was declared a National Historic Landmark in 1973 and became a 1,022-acre National Historic Site in 1976. The visitor center offers a video about the battles and a museum exhibiting historic artifacts found on the property. Behind the visitor center is a one-mile interpretive trail that leads past the remains of the Star Fort and through the pioneer settlement of Ninety Six. There are multiple cross-trails leading to other destinations in the area, too.
The visitor center is open Wednesday through Sunday, 9 am to 4 pm, except closed on Thanksgiving, Christmas and New Years Days. The Star Fort Pond and parking lot are closed from 9 am Sunday to 9 am Tuesday. Park grounds are open daily from sunrise to sunset but restrooms and gates close at 5 pm. The park is day-use only and there are no fees involved.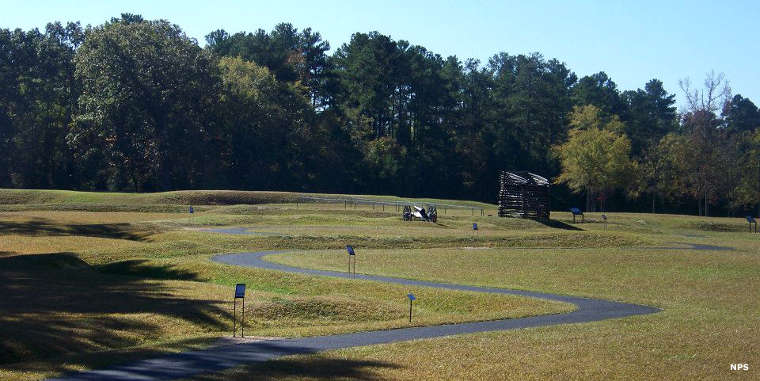 Along the Interpretive Trail
Ninety Six National Historic Site
Upper left photo courtesy of Christina Croft,
CCA-by-SA 3.0 License
Other photos and maps courtesy of the National Park Service